John Lepore | May 28th, 2019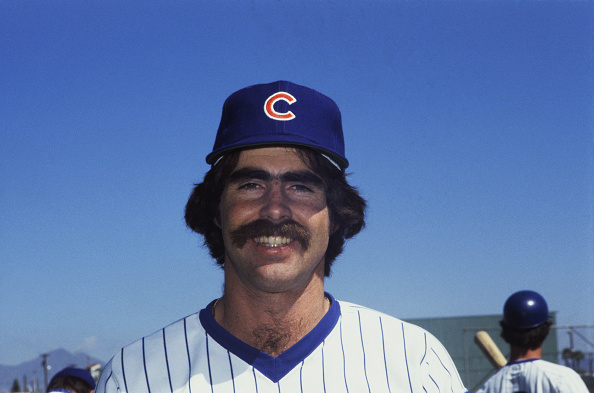 Bill Buckner passed away yesterday at the age of 69 from Lewy Body Dementia. It is a sad day when baseball loses one of its prominent players and Buckner is no exception. 22 years in the Show and you tend to make some friends. Billy Buck had a ton.
Buckner was drafted in the second round of the 1968 amateur draft by the Los Angeles Dodgers. He made his debut at 19 years old in 1969. Buckner began playing regularly in 1971 in right field. In 1972 he hit .319 and cemented himself as a middle of the lineup hitter on the Dodgers. In 1974 he was playing left field when Hank Aaron hit his record-breaking 715th HR. After the 1976 season, he was traded to the Chicago Cubs. Buckner won a batting title in 1980 hitting .324. He would man first base for them for the next seven and a half years before being moved on to the Boston Red Sox. In his two full seasons with the Sox, Buckner would drive in 100+ along with collecting 201 hits in 1985. His career would ultimately end in Boston in 1990.
Lewy Body Dementia
Here is where we get to what happened to Billy Buck toward the end of his life. Our physician @GAPeachPolymer was kind enough to break down the horrible disease that took one of baseball's good men.
It is the second most common type of progressive dementia after Alzheimer's disease dementia. It currently affects over 1.4 million people in the United States. Very few have heard of this condition. Protein deposits, called Lewy bodies, develop in nerve cells in the brain. The regions usually involved affecting thinking, memory, and movement resulting in tremors, gait disturbance, cognitive impairment and defects in short and long-term memory. People with Lewy body dementia may experience visual and auditory hallucinations and alterations in alertness and attention deficits.
Lewy Body Dementia is more common, but because of other related conditions that also have similar symptoms, it is currently underdiagnosed. Lewy body dementia is characterized by an abnormal buildup of the protein alpha-synuclein into masses known as Lewy bodies. This protein is also associated with Parkinson's disease. People who have Lewy bodies in their brains also have the plaques and tangles associated with Alzheimer's disease. Research is ongoing to try to determine why one condition rather than another is developed.
Because the associated conditions all have similar symptoms, LBD is underdiagnosed but as the disease progresses all three presentations of LBD will develop very similar cognitive, physical, sleep, and behavioral features. Some individuals will start with movement disorders like a tremor or shuffle gait leading to the diagnosis of Parkinson's disease. They later develop dementia leading to a diagnosis of Parkinson's disease with associated dementia. The second group of individuals will first experience a cognitive/memory disorder that may be mistaken for Alzheimer's Dementia, but over time two or more distinctive features become apparent leading to the diagnosis of dementia with Lewy bodies' (DLB). Finally, a small group will first present with neuropsychiatric symptoms, including hallucinations, difficulty with complex mental activities and behavioral problems, also leading to an initial diagnosis of DLB.
Early diagnosis is essential because the condition can actually worsen if it is misdiagnosed as one of the other associated conditions and treated with medications prescribed to help the symptoms. If you know someone who has the symptoms described above, they need to be evaluated by their physician because the best outcome is related to early diagnosis.
Legacy
Bobby Valentine was a good friend of Buckner's and tweeted out the news of his passing.
He had many other friends throughout baseball.
And an amazing fact about Bill Buckner…
Bill Buckner was a very good hitter in his time in the majors with a career average of .289 along with 2,715 hits, but he seemed to be an even better friend and teammate. He will be remembered for the lives he touched and the impact he made off the field as much as on it. William Joseph Buckner is survived by his wife Jody and three kids, Brittany, Christen, and Bobby. RIP Billy Buck.
Questions and comments?
thescorecrowsports@gmail.com
Follow Us on Twitter @thescorecrow
Follow Us on Reddit at u/TheScorecrow
Follow Us on Facebook at The Scorecrow
Follow Us on Instagram at The Scorecrow
Follow John Lepore on Twitter @jball0202
Follow Beth Sullivan on Twitter @GAPeachPolymer
Main Credit Image: Embed from Getty Images