Tom Greene | May 24th, 2019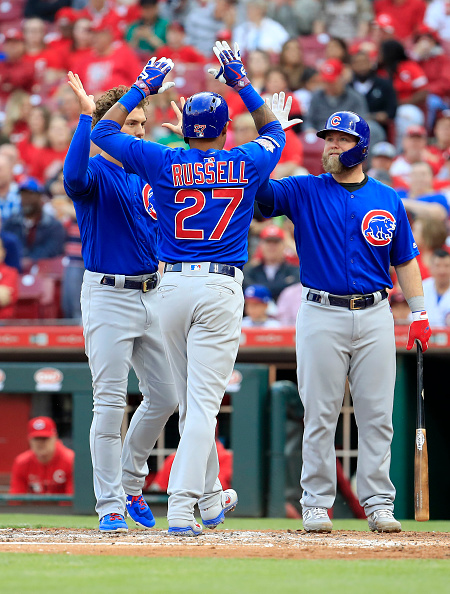 The Chicago Cubs sit at 29-19 and atop the NL Central as we approach Memorial Day Weekend. Is this a surprise to anyone? No, except if you live in the states of Wisconsin or Missouri. However, if the script were flipped, Wrigleyville would probably be stirring up a storm like the one that's brewing across the plains as we speak. Here's the scoop about the Cubs, with three things nobody's talking about, and three things everyone is.
Three things nobody is talking about
Cubs fans know exactly what I'm referring to when mentioning that name. If you don't know, read about it here. People would be seriously talking about if he should be a member of the Cubs… or even in the Major League system as a whole. He was suspended for 40 games. He served it and is now back on the club. Say what you want, but winning has seriously helped his case and curbed the debate
The Sign
This one is up for a cleaner debate than the Russell story. This incident can be read here. Whether or not you think the sign meant what it did, Doug Glanville had a very professional reaction
My statement regarding last night. @Cubs #Cubs @NBCSCubs @NBCSports @NBCSChicago https://t.co/W3reObcHLn pic.twitter.com/HLh3NXHMdX

— Doug Glanville (@dougglanville) May 8, 2019
to the incident. Clay Travis reacted to it in a very Clay-Travis way
The Cubs have banned a fan for life for trying to make you look so he can punch you in the arm. The country has gone absolutely insane. pic.twitter.com/WVizOnwixX

— Clay Travis (@ClayTravis) May 9, 2019
Again, the point here isn't whether or not you think the symbol meant white supremacy, "OK", or the circle game. The point is that this isn't mentioned, either, because the Cubs are winning.
At the start of the year, with the 2-7 start (wait, what? They started 2-7?), people on Twitter were calling for Joe Maddon's job #FireMaddon. After going 27-12 afterward, do you think that debate is curbed? Thankfully for Joe and the team, it sure has. Sure, the Cubs have fallen a step backward each year since the World Series title in 2016. But Counting Crows said it best, "You don't know what you got 'till it's gone.". Clearly, Maddon's paved paradise and put up a parking lot for this team. No need to call for his job at this time. Now, to three things everybody's talking about.
Three things everybody's talking about
The Bats
The Cubs are only hitting .257 as a team, but don't let that fool you. No non-pitcher has less than a .200 average. Plus, they're hitting home runs, too. Willson Contreras and Kris Bryant both have 11 homers. Anthony Rizzo and Javier Baez both have 12 (and a broken Budweiser sign).
Clearly, it was the right decision to fire Chili Davis at the end of last year, as the bats grew colder than the weather in October. Anthony Lapoce has done a great job so far. Let's see if this continues.
The Pen
Ah, yes, the thing that agonized Cubs fans during the 2-7 start seemingly a zillion years ago. The pitching staff as a whole now has a 3.59 ERA, good for fifth in the majors. Better than most? Yes, Verne Lundqvist, Better than most. The team is still jostling around who will be their closer with Pedro Strop on the IL, but Steve Cishek and Brad Brach have done nice work around Strop's injury. This is something the Cubs will have to address at the July trade deadline.
The Future
As mentioned earlier, the pen is something that will be address later in the year. Perhaps signing Craig Kimbrel after the draft could put a boost into a pen that could use it. We saw this with Aroldis Chapman in '16, and this led to the 108-year drought being over. Before the season started, Kris Bryant was negotiating a contract extension. If that doesn't go through, the Cubs are looking for a third baseman/outfielder. Also, the Cubs are making their own network, similar to YES with the Yankees, effective next year. Let's hope this is a great changeover, and that the team of Len Kasper, Jim Deshaies and Kelly Crull remain on for the new network. They provide great commentary… and Kelly is very sweet. Sinclair, let's nail this transition down smoothly!
The Point of it All
Winning cures all, and hopefully it's apparent in this article. The Cubs are 29-18, and it seems as if joy is abound in Wrigleyville. However, if they were 18-29, it would be a whole lot different.
Questions and comments?
thescorecrowsports@gmail.com
Follow Us on Twitter @thescorecrow
Follow Us on Reddit at u/TheScorecrow
Follow Us on Facebook at The Scorecrow
Follow Us on Instagram at The Scorecrow
Follow Tom Greene on Twitter @TomTV23
Main Image Credit: Embed from Getty Images