Kody Clawson | May 24th, 2019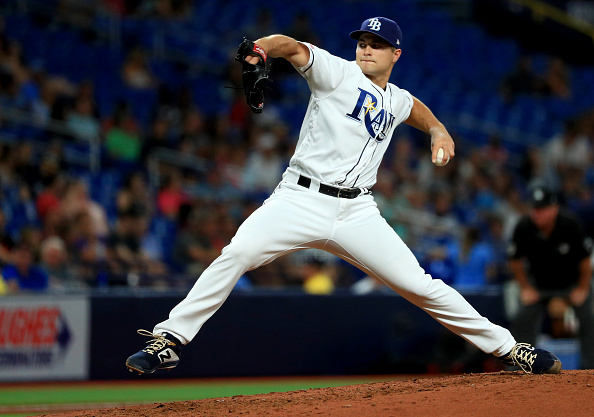 Friday, May 24th
Lucchesi has seemingly struggled this season compared to last, as his strikeout rate and his ERA have regressed. However, his walk rate and HR/9 have both decreased as well, leading to a lower FIP. His xFIP and SIERA both point to him being better than his ERA currently shows, making him an interesting pitcher going forward. He gets an interesting matchup here, going against a Toronto offense that has a 65 wRC+ at home and a 72 wRC+ against lefties.
Others Receiving Votes:
Pablo Lopez, MIA @ WSH (4% Owned)
Zack Godley, ARI @ SF (15% Owned)
Saturday, May 25
This pick might really be nothing more than me picking on the Giants, as their abysmal offensive production continues, holding a 65 wRC+ at home and an 82 wRC+ against righties. Cal Quantrill might be just as useful here, but I decided to pick the better park. Also, watch out for whatever situation the Rays decide to use on Saturday, as there could be an opener used in front of a bulk reliever, which could be useful if you need an innings eater in starts limits leagues.
Others Receiving Votes:
Cal Quantrill, SD @ TOR (1% Owned)
Tampa Bay Opener/Bulk Reliever
Sunday, May 26
There will be an opener for Jalen Beeks, which means he will not be a starter. All the better, as he will not get the "start" and therefore will not count against you in leagues that count start limits. In any regard, Beeks has been a useful pitcher for fantasy, having a 9.08 K/9, 2.95 BB/9, and a 0.25 HR/9, earning him a 3.19 ERA and a 2.64 FIP. He's pitched in 36.2 innings through 12 games, so that's about three innings per game so far, yet he pitched 4.2 innings in his last appearance, so it seems as though there's possibly some interest in letting him eat more innings each appearance. He gets a Cleveland lineup with very little punch in it right now, having an 81 wRC+ at home and an 81 wRC+ against lefties.
Others Receiving Votes:
Mike Leake, SEA @ OAK (8% Owned)
Shaun Anderson, SF vs ARI (2% Owned)
Questions and comments?
thescorecrowsports@gmail.com
Follow Us on Twitter @thescorecrow
Follow Us on Reddit at u/TheScorecrow
Follow Us on Facebook at The Scorecrow
Follow Us on Instagram at The Scorecrow
Follow Kody Clawson on Twitter @kodyclawson
Main Image Credit:  Embed from Getty Images