Dale Money | May 22nd, 2019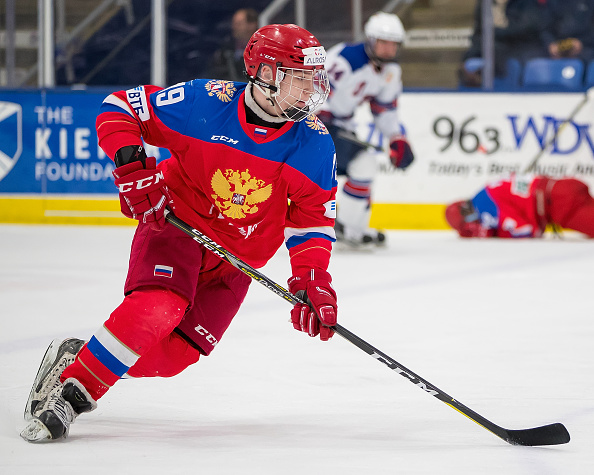 Quite possibly the player with the biggest question marks, for the 2019 NHL Entry Draft is Vasili Podkolzin. However, in terms of sheer talent, there is little to question about what Podkolzin, brings to the table. The powerful winger impressed on the international and domestic scenes, climbing up the rankings with his performance at the 2018 Hlinka/Gretzky Cup. He recorded 11 points in five games, which tied with top 2020 draft prospect Alexis Lafreniere, for most points scored in the tournament, and his eight goals were the most among players. Most impressively was how, he was able to make the Russia U20 roster, contributing three points in seven games.
Russia's head coach Valeri Bragin is known for favoring the most experienced players available, but in the same breath is not too stubborn, in giving a player a shot, if he sees the potential, regardless of the time put in.  Podzolkin also has very good passing skills with the vision to find open teammates and the skill to open up passing lanes. With sound stickhandling skills which make him tough to defend in one-on-one situations. One aspect of his game, that speaks volumes, is his work ethic, he is a player with a continuous motor, who doesn't give up on a play.
Has good leadership qualities, showing by example on the ice. Has a great knack for putting the puck in the back of the net., using a strong wrist shot with an explosive release. While he possesses all of the skills needed to dominate in the NHL, his lone ranger style of game could end up getting him into trouble. He has to take that next step and learn how to work well with his teammates. He is as big of a boom or bust player, as you are going to get in this Draft. 
Projection: Rumoured to be going third overall to the Chicago Blackhawks. The one glaring problem, that may put a team off from taking him with one of the very early picks, are the questions, surrounding his intentions to stay overseas. Podkolzin has stated he wants to stay in Russia until he's ready to play in the NHL. Personally, that wouldn't really give me pause. Let's not overlook the fact, he is still a very young lad, at nearly 18 years of age, when he gets Drafted, this June. With two years remaining on his contract with SKA, expect him to be ready by the time it expires, to move on with his Pro career. A team certainly needs to be patient if they decide to take the gamble, with their early selection. His skillset and raw tools will no doubt be too much, for a general manager to pass up on.
Questions and comments?
thescorecrowsports@gmail.com
Follow Us on Twitter @thescorecrow
Follow Us on Reddit at u/TheScorecrow
Follow Us on Facebook at The Scorecrow
Follow Us on Instagram at The Scorecrow
Follow Dale Money on Twitter @packerd_00
Main Image Credit:  Embed from Getty Images