Givanni Damico | May 19th, 2019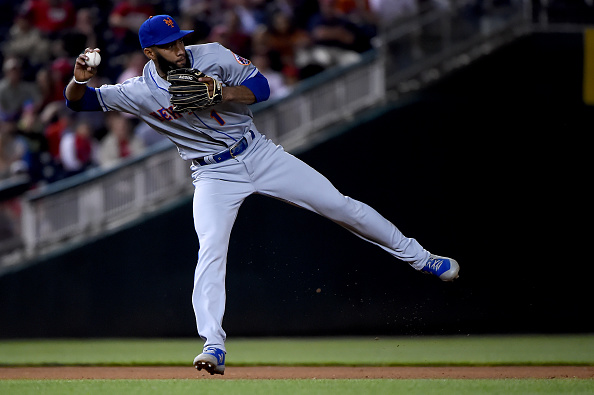 I have decided to join Frank in his "Deep Dive" articles because it's a great concept that puts a spotlight on underperforming players who aren't reaching their full potential. Amed Rosario had loads of potential when he got the first call-up but he has fallen out of favor. Let's dive into it.
At one point, Amed Rosario was the top prospect in baseball. The Mets don't have a stellar farm system so the Mets' faithful have a lot riding on him. Rosario doesn't have a ton of power in his repertoire, so he's had to rely on his ability to get on base and swipe some bags. In 2017, Rosario appeared in 46 games and did not impress. He slashed .248/.271/.394 with four home runs and ten RBIs. He struck out 49 times while only walking three times. Rosario lacked plate discipline as his O-Swing% (Swing Percentage Of Pitches Outside The Strike Zone) was very high at 45.5%. His Z-Contact% (Contact On Pitches Inside The Strike Zone) was low as well at 75.9%. This tells me that he was guessing at the plate. He would sit on a certain pitch and wouldn't have time to react if he guessed incorrectly.
In 2018, Rosario improved his O-Swing%, bringing it down from 45.5% to 41.2%. His Z-Contact% also spiked to 85.1%. Rosario slashed .256/.295/.381 with nine home runs and 51 RBIs. He totaled 43 extra-base hits and swiped 24 bags during 154 games played. His Hard% (hard hit balls) jumped from 24.1% to 27.7%. Despite all these jumps in statistics, the most important thing to notice about 2018 is that Rosario's slugging percentage took a hit. We all know that Rosario doesn't hit for power, but nine home runs in 554 at-bats for someone who scouts say is supposed to have "raw power" is far from impressive. Rosario is nowhere near a Gold Glove shortstop either, as he made 16 errors last season.
Now, here we are in 2019. Amed Rosario is making strides towards the player that he is supposed to be. As of May 16th, Rosario is slashing .277/.317/.413 with three home runs and 24 RBIs. His Hard% has skyrocketed from 27.7% to 35.1% while his Soft% has gone down to 14.9%. His O-Swing% has gone down from 41.2% in 2018 to 37.5% so far this season. One problem with Rosario so far this season is that his Z-Contact% has gone down below what it was last season to just 80%. This isn't a bad number but it would be great to see this number stay the same or go up. Nevertheless, Rosario seems to be making strides at the plate, but in the field is another story. Rosario has already made ten errors this year and has an atrocious .927 Fld% (Fielding percentage). I'm not sure what the Mets are going to do about this pressing issue, but if Rosario keeps stepping it up at the plate, he should have a spot in the lineup whether at shortstop or somewhere else.
It's important to note that Rosario is only 23 years old. A lot of prospects aren't even in the majors yet at age 23. Rosario is in a good place to make a huge impact and to really break out at the dish this season. A good final stat line would be .285/.335/.425 with 15 home runs and 35 stolen bases. If he can hit somewhere around there, he will only make bigger leaps towards being the player that the Mets expect him to be.
Check Out The Other Deep Dives: Lucas Giolito | Rafael Devers | Corey Seager | Eduardo Rodriguez
Questions and comments?
thescorecrowsports@gmail.com
Follow Us on Twitter @thescorecrow
Follow Us on Reddit at u/TheScorecrow
Follow Us on Facebook at The Scorecrow
Follow Us on Instagram at The Scorecrow
Follow Givanni Damico on Twitter @giodamico15
Main Image Credit: