Josh Elias | May 15th, 2019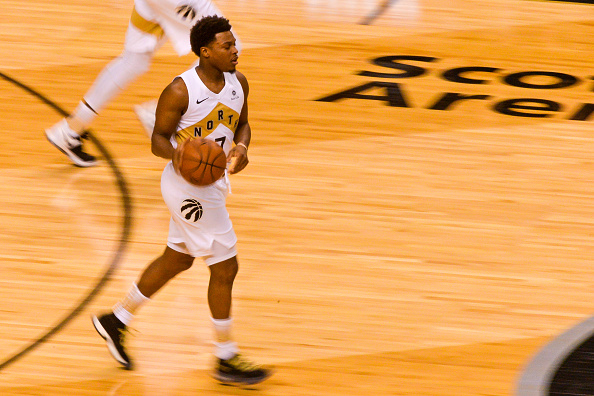 We've known all year long that the Eastern Conference would have a new champion this year, and now we've finally reached the moment of truth.
The Milwaukee Bucks and Toronto Raptors face off for a chance to play in the NBA Finals, and the winner will, in all likelihood, be the first team not led by LeBron James to get a shot to stop the Golden State Warriors reign over the league.
Despite holding the tenth-best all-time record in the NBA, the Bucks haven't made a Finals appearance since their 1974 seven-game loss to the Boston Celtics, when the team was still led by Kareem Abdul-Jabbar, Oscar Robertson, and Bob Dandridge. Meanwhile, their Canadian counterparts are hoping to finally get over the hump and make their first Finals ever, after years of disappointing finishes at the hands of the Cleveland Cavaliers.
After last night's draft lottery chaos, this series is a great follow-up to the NBA's discouragement of tanking, with Brook Lopez being the only lottery pick involved on either side thanks to Pau Gasol's injury.
Milwaukee's Biggest Pro – Cohesiveness
The Bucks have been the most dominant team so far in the playoffs, winning their opening two series by a combined 8-1 games. A big part of that has been because they've been a much more cohesive unit than both opponents. Detroit and Boston are both very talented teams, but they've had clear chemistry and effort issues throughout the year. Milwaukee, despite being the favorite, didn't play down to their opponents and controlled the flow of nearly every game.
The team building process is a big part of what made this team fit together as well as it has, as has the expert coaching of Mike Budeholzer this season. They've known for a couple years now that Giannis was going to be their future, and the future is now. The presence of floor spacing ability in every player anywhere near the rotation allows them to play in a way that maximizes Giannis' impact while avoiding an overreliance on him to have great games for them to win. In fact, amazingly, they've managed to go 12-2 this season (including the playoffs) in games where Antetokounmpo was held under 20 points.
Kawhi Leonard has been arguably the league's best player these playoffs, and the shot that sent them into the Conference Finals immortalized him in Toronto and throughout the league.
Averaging 31.8 points per game and 8.5 rebounds per game through the first two series, Leonard has been playing the best basketball of his career and no one's figured out a way to slow him down yet. With it unlikely for Budenholzer to directly match up Antetokounmpo against him for the sake of his conserving his energy for the offensive side of things, Leonard should be expected to continue to score from everywhere on the court at historic rates. If the Raptors end up in the Finals, it 100% comes down to Kawhi Leonard.
Milwaukee's Biggest Con – If They Can't Get Their Shots to Fall…
While they've easily flown through the playoffs so far, Milwaukee's actually been far from perfect. Their opponents have just been completely unable to capitalize on them. Two of their most key players this season outside of their two all-stars have been Eric Bledsoe and Brook Lopez, but both of their impacts have been somewhat diminished so far in the postseason as they've each failed to shoot above 30% from three-point range. One of Milwaukee's matchup strengths theoretically is Lopez against an aging Marc Gasol, with his ability to float around the perimeter. If he can't start getting those shots to fall again like he has throughout the regular season, that advantage will largely be squandered.
As an inside-out team, Milwaukee heavily relies on the impact of being able to kick the ball out to shooters, but especially with their fast pace, the possibility of a continued inconsistency to their shooting has to be acknowledged.
Toronto's Biggest Con – Inconsistency
Toronto has underperformed, and there's no chance they would still be in the running if it wasn't for Kawhi Leonard. From the first game of the Magic series, things haven't entirely felt right with this team. Kyle Lowry started out the playoff run with a scoreless Game 1, and Marc Gasol didn't double-digits for the rest of the series after that.
There seemingly hasn't been a game yet where all four of their big-name players have turned on the jets at the same time, and they badly need that to happen multiple times in this series if they want to win the series and have a shot at the Finals.
My Prediction: Milwaukee in Five.
Follow Us on Twitter @thescorecrow
Follow Us on Reddit at u/TheScorecrow
Follow Us on Facebook at The Scorecrow
Follow Us on Instagram at The Scorecrow
Follow Josh Elias on Twitter @thejelias
Main Credit Image: Embed from Getty Images