Josh Elias | May 13th, 2019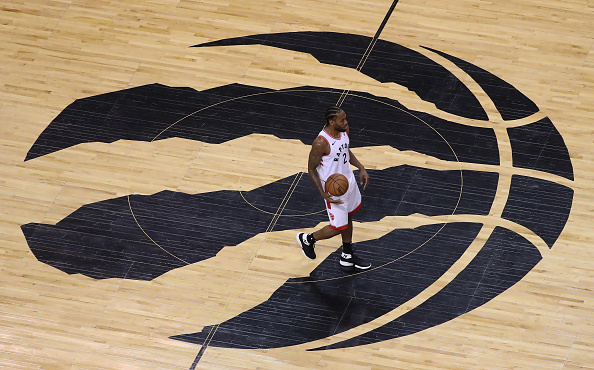 What a day. Seriously. And I'm not just saying that as a Blazers fan.
Great moments in sports are hard to come by. There have to be so many things that come together to create a moment™. That's something I've talked about at length before, particularly last year when I examined one of my favorite moments in sports history that isn't a moment, and how just about nothing that could've made the best seven seconds of Rodney Rogers' career into a moment went right.
Perhaps it's divine intervention that led to these playoffs being as full of these moments as they are. After all, we did just lose John Havlicek, the man responsible for arguably the first great NBA moment that's still remembered to this day.
Maybe he decided to leave behind a little of that playoff magic for us that he gave us 54 long years ago.
Either way, the 2019 playoffs are a classic so far, even without the generational talent that is LeBron James. In fact, his absence might be part of why things are so great. It gives more room for other players to take over the league, at the very least.
The drama showcased in the Portland vs. Oklahoma City matchup in the first round was the first real tension – the first reality TV-style entertainment – we got to see. Damian Lillard and Russell Westbrook have been subtly feuding for years now, and it finally boiled over when their teams met up in the first round. Lillard ended that series with a moment, that's for sure.
Yesterday was something else though. And it wasn't just because the man formerly referred to as Big Game Dame was far from Portland's hero. Yesterday could, and, more importantly, should go down in NBA folklore as one of the best days for basketball ever.
Game sevens are already big enough. Win or go home, kill or be killed. This is survival of the fittest, applied to sports, to the nth degree. We've come a long way from the first ever game seven when the Warriors blew out the St. Louis Bombers in St. Louis 85-46 in April of 1948 thanks to a 17-97 shooting night from the home team. That game featured such noted basketball luminaries as Bob Doll (who shot 0-11 and had no other recorded stats – a legitimate case for the worst performance by anyone ever), Chink Crossin, and Hank Beenders.
They're rarer than you'd think too. In fact, ten teams – a full third of the league – have played five or fewer game sevens in the history of their franchises. The Timberwolves have played one. The Trail Blazers have played four. The Kings have played only six despite being the oldest team in the NBA, having existed for almost a quarter of a century longer than the league itself has.
The infrequency of series going to seven games means it's quite rare for, like yesterday, there to even be two game sevens on the same day in the first place. It's been a little over three years since the last time that happened prior to this series, when the Heat beat the Hornets and the Raptors eliminated Indiana on May 1, 2016. And that was just the first round anyway, so that day never even had the chance of producing the magic we just saw, even if they had been this close.
2014 was particularly interesting because the first round had five different series go to seven games. That meant one day there were three game sevens and then the very next day there were two more. Unfortunately, only one game from each of those days ended up coming down to the wire; the Clippers beat Golden State by five after knocking down some clutch free throws, and then the next day the Nets advanced courtesy of Paul Pierce's clutch block on a would-be game-winner by Kyle Lowry.
There have certainly been some great Finals series recently that have gone to seven, and that's the one thing I'm not going to compare yesterday's slate of games to. Game 7 of the NBA Finals is a whole nother ball game. The most recent iterations of the championship that have gone to seven games have been a couple of the most legendary series ever. Cleveland's win over Golden State three years ago and Miami beating the Spurs in 2013.
In fact, those two series were so good that it's easy for many to forget that the previous seven-game Finals series – between Los Angeles and Boston in 2010 – was one of the best down-to-the-wire series ever too, with clutch shots traded back and forth between Rasheed Wallace, Metta World Peace, Ray Allen, Kobe Bryant, Rajon Rondo, and none other than Sasha Vujacic!
So were most of the previous seven-game championships actually. How long do you have to go back to find a Finals Game 7 that wasn't a single-digit game? Try 1974. A series that saw the aforementioned late great John Havlicek named MVP.
But as I said, I'm not going to put this series up against the Finals. That would be crazy. All I'm arguing for is that this was the best day in NBA history that didn't feature a Finals game.
Low bar to meet, I know.
But aside from those 2016 and 2014 series that I referenced earlier, it's actually kind of hard to find any individual day with multiple great elimination games. The most recent time before 2014 where two game sevens happened on the same day at all was 2009, and both games were pretty lopsided. At least those were Conference Semi-Final games like yesterday's games though.
So was 2006. That year, the eventual champions from Miami were the only team not forced into seven games in the second round, and that meant May 22 would see two games. One of those games was great and even needed overtime for Dallas to pull it out after Dirk Nowitzki saved them with a three-point play with 21 seconds left in regulation. The other game that day was a 20-point win for Phoenix where Shawn Marion did his best Larry Bird impression (a pretty challenging feat considering his shooting form).
May 4, 2003, wasn't even close. Two double-digit games in the first round.
May 20, 2001, though, might have been. Two Eastern Conference Semi-Finals game sevens in the same day, featuring Allen Iverson vs. Vince Carter and Ray Allen vs. Baron Davis. Some of the most exciting basketball in the league for sure.
Forget the fact that Iverson and Carter combined to shoot 14-45 and forget that the game largely turned into a back-and-forth battle between Aaron McKie and Antonio Davis; that was a good basketball game. A great one even.
A one-point win for Philadelphia was the final result after Vince Carter clanked the buzzer-beater off the back of the rim. Some argue that had he not attended his college graduation earlier that day and just flown in before the game, they'd have won, but the one-point loss for Toronto is what's in the history books. For some reason though, I don't think they're too upset about that shot anymore today.
Charlotte vs. Milwaukee was a pretty close one too, but it was never a one-possession game within the fourth quarter, which certainly took away from the suspense somewhat.
Before 2003, the first round was only best-of-five instead of best of seven. Which certainly cut down on the number of seven-game series we saw. Lucky for us, I was already largely discounting the impact of first-round game sevens for our purposes since they're objectively worse than game sevens later on in the playoffs, so let's just take that as a side note and move on.
In the entire decade of the nineties, there was a grand total of two times where two game sevens happened on the same day. All four of those games were double-digit wins, so they're not worth talking about beyond that.
Before that though, this scheduling had only happened once, ever. April 19, 1981, had most attention on the matchup between the 76ers and the Bucks, and for good reason. The duelings of Julius Erving and Marques Johnson on offense made for a memorable series at the very least. A memorable series with a one-point win in the final game for Erving's Sixers. Still not the same though. Philadelphia stayed just barely too far ahead, the Bucks never even had a chance for a game-winner. It would have been a four-point game if it weren't for Junior Bridgeman's consolation three-pointer, which was too little too late.
On the other side of the country that same day, the Suns were just outside of striking distance against the Kings and ended up losing by seven.
And that's the full history of days with two game sevens at the same time.
I think at this point it should be clear exactly how special yesterday was. There's literally been nothing like it. Two separate game sevens on the same day, for a spot in the Conference Finals, both with outcomes so close that they both have definitive game-winning shots.
And that doesn't even factor in how much more special it makes it that one of those shots absolutely, positively, was a moment.
You know how certain stars have one specific play in their career you can point out to people to sum up their entire career? That probably was what we just got out of Future Hall of Famer Kawhi Leonard.
And don't even pretend for a second that Portland fans won't also be showing CJ McCollum, with both the chase down block and the dagger in the heart of Denver with his last shot, to their grandkids years down the line, exaggerating just a little bit by telling them he did to the Nuggets exactly what LeBron did three years ago in the Finals against Golden State.
Questions and comments?
thescorecrowsports@gmail.com
Follow Us on Twitter @thescorecrow
Follow Us on Reddit at u/TheScorecrow
Follow Us on Facebook at The Scorecrow
Follow Us on Instagram at The Scorecrow
Follow Josh Elias on Twitter @thejelias
Main Credit Image: Embed from Getty Images