Joey Ricotta| May 13th, 2019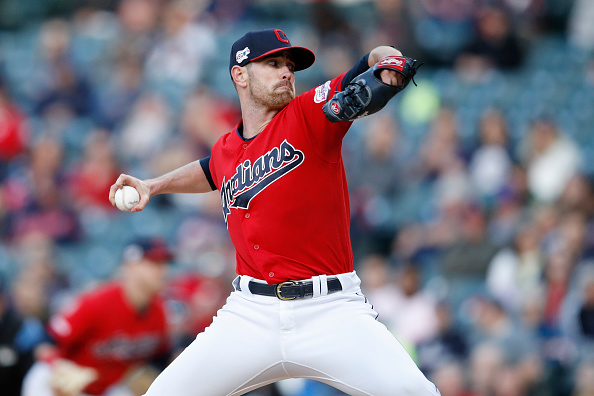 Many teams are off tonight, which is normally the case on Mondays, but the slate tonight on Draftkings seems even lesser with only six games. That shouldn't stop us from trying to make some money, and may even help us narrow down the best options. Without further ado, let's get right into the best spend up, value, and stacks for tonight.
Pitching
Shane Bieber ($9K on DK and $9.5K on FD)
The White Sox are striking out at the second highest rate, out of the teams on this slate at 26.1% against right-handed pitchers. Bieber is definitely a guy who can rack up some strikeouts with a 9.97 K/9. The Sox also have the lowest hard contact rate against righties out of any team playing tonight at 32.1%.
Brad Peacock ($8.5K on DK and FD)
Peacock has been hit or miss this season, but he had an excellent outing his last time out. The right-hander went seven strong shutout innings, allowing only three hits while striking out 12. The Detroit Tigers will likely counter with a lot of right-handed batters, which would be great for Peacock. He's striking out 29.7% of righties compared to a 20% rate against lefties. Peacock has allowed zero homers to righties in nearly the same amount of innings and is holding them to a .162 batting average.
Reynaldo Lopez ($6.8K on DK and $7.1K on FD)
I'll be targeting against him tonight, but if that doesn't work I'll also be hedging those lineups with some Reynaldo Lopez lineups. If he shuts down the Indians and has another huge strikeout game as he can, our butts will be covered. Do not use him in cash games, tournaments only.
Spend Up
C Omar Narvaez ($4.3K on DK and $2.9K on FD)
Narvaez has put up at least 12 DK points in each of his last three games. He has hits in each of his last three and home runs in back to back games. Although Seattle is traveling from the East to West coast and Mike Fiers is fresh off of a no-hitter, I like Narvaez in this spot. Surely Fiers won't be able to get as lucky and duplicate what he did in his last outing, right?
1B C.J. Cron ($4.3K on DK and $3.5K on FD)
Cron is tearing the cover off of the ball right now. He has hits in four straight games, during which he is 10 for 17 with three home runs. Cron is 1 for 5 against Tyler Skaggs, but that one hit was a home run.
2B/OF Ketel Marte ($5.2K on DK $3.7K on FD)
Marte is one of the best switch hitters in baseball this season. He's hitting .263 with 9 HR and 28 RBI. It's tough to get to his price tag in cash games, but he makes for an excellent tournament option.
SS Francisco Lindor ($4.7K on DK and $3.6K on FD)
Lindor is getting a favorable matchup against Reynaldo Lopez in Chicago. He's one of the few players at the shortstop position I like on the slate tonight. Lopez has an HR/9 rate of two versus lefties, and a FIP and xFIP of nearly two full points higher than he does against righties. Lindor's seven-game hitting streak makes him a near lock for cash games.
3B Jose Ramirez ($4.3K on DK and $3.5K on FD)
Are you seeing a theme? I love the Cleveland Indians left-handed bats tonight against Lopez. J-Ram is still hitting below the Mendoza line, but it is only a matter of time before he starts to break out. This past week he walked-off the White Sox with a two-run homer. He is still stealing bags when he gets on-base, tied for third in Major League Baseball with 10 stolen bases. Steals equal points.
OF Bryce Harper ($4.4K on DK and FD)
The price is right when it comes to Harper. You will rarely see him in the mid $4,000 range. He has as much potential as anyone to have a huge game and tonight is no exception. While the price tag keeps decreasing, the recency bias against his lack of production is increasing. Ownership levels could be down in a potential double dong game for Harper.
Other Targets: David Peralta, Alex Bregman, and Matt Chapman.
Value
C Francisco Cervelli ($2.8K on DK and $2.3K on FD)
Cheap catcher punt options are something I'm always looking for. It is something that is very popular among the industry, the best cheap option at catcher usually garners a lot of ownership. Cervelli will be on a few rosters, but maybe not as many as he normally would at this price. Robbie Ray is a good pitcher who could sway people off of using Cervelli.
2B Jason Kipnis ($3.6K on DK and $2.5K on FD)
For all of the reasons I like Lindor and Ramirez, I like Kipnis tonight. Plus he is a lot cheaper and will likely be sandwiched in between the two of them in the Indians' order. Also, Kipnis is three of his last nine with two stolen bases.
SS J.P. Crawford $3.3K on DK and $2.3K on FD)
With Dee Gordon out of the lineup, the Mariners called up J.P. Crawford on Friday. Crawford has hits in each of his first three games since getting the call. Mike Fiers should come back down to earth after his no-hitter. Crawford makes for a good value play, especially if he is hitting in the two hole again.
3B Travis Shaw ($2.6K on DK and $2.2K on FD)
Shaw has been abysmal so far this season, but just hear me out on this one. He's a better hitter than what he has shown this year and still has some pop. Aaron Nola can give up the long ball, he has given up eight bombs in eight games started this season. This is a tournament play only, to me, but at this price, he could put you over the top if he gets a hold of one.
1B/OF Marwin Gonzalez $3.3K on DK and $2.6K on FD)
The collision at first base Friday night with Niko Goodrum hasn't slowed him down at all as he continues to see his slow start turn around. In fact, it might've brought him even more to life. He has hits in five straight games and is 4 for 8 with a home run since the incident that forced him to exit the game. In a short sample size, Gonzalez has hit Tyler Skaggs very well. He is 7 for 12 lifetime against him.
Other Targets: Stephen Piscotty, Khris Davis, and Yuli Gurriel.
Stacks
CLE vs Reynaldo Lopez
There aren't a whole lot of crappy pitchers to pick on tonight, and while Lopez might not be a complete scrub, he struggles a lot more against left-handed hitters. Lopez has as much potential to implode as anyone on the docket and the Indians hitters are relatively cheap across the board.
MIN vs Tyler Skaggs
Even with Nelson Cruz expected to be out due to a wrist injury, this Twins lineup is dangerous. They've proven to be one of the best DFS stacks we can play on a day-to-day basis.
ARI vs Nick Kingham
Arizona has been surprisingly good this season. Kingham will be making only his second start of the year and his first one was rather forgettable. Last season, he had an HR/9 rate over two and a FIP over five. He's a lot worse against left-handed batters, but anyone in this Arizona offense could have a field day against him.
PHI vs Freddy Peralta
Peralta has been more bad than good this year and has given up two homers in a game three different times. The high potent, high upside Phillies offense could make it a long night for Peralta.
Joe Ricotta has been playing fantasy sports for a little over 10 years. Ricotta began playing daily fantasy shortly after its inception. He has taken down a few large field tournaments and regularly cashes in his head to head matchups. This is not to say that he always will, but he always has a reason behind his lineup constructions. Fanduel pricing has been included but for all intents and purposes, the article was based on DraftKings research. The main slate of games beginning at 7:05 EST were the ones addressed. The New York Yankees versus the Baltimore Orioles are not included in Draftkings main slate of games tonight. Recheck starting lineups and weather concerns before the games start and make changes accordingly.
Questions and comments?
thescorecrowsports@gmail.com
Follow Us on Twitter @thescorecrow
Follow Us on Reddit at u/TheScorecrow
Follow Us on Facebook at The Scorecrow
Follow Us on Instagram at The Scorecrow
Follow Joey Ricotta on Twitter @theriot326
Main Image Credit:
Embed from Getty Images