Kit Shepard | May 12th, 2019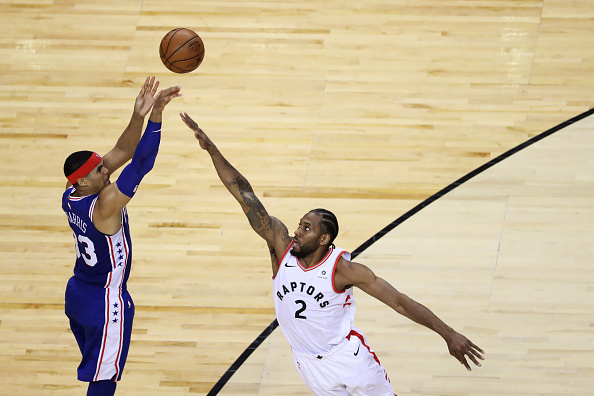 The Toronto Raptors and the Philadelphia 76ers both prioritized the present over the future this season. By sacrificing continuity and steady progression for star power, both have transformed their rosters over the last 12 months to become true contenders. And after a chaotic six games between the two Eastern Conference heavyweights, they are each four quarters away from triumph or disaster.
It was clear that Toronto was throwing everything at this season from as early as last summer. Their trading of DeMar DeRozan for Kawhi Leonard saw the Raptors lose a good player who seemed destined to remain in Canada for years to come, and acquire a great player who would likely return to the States when he hit free agency in 2019. With Leonard seemingly hell-bent on playing basketball in Los Angeles when his current contract expired, this campaign could be the Raptors' last chance to reach the Finals for the foreseeable future. GM Masai Ujiri was well aware of this, and he reinforced his now-or-never approach by trading several solid role players for former All-Star Marc Gasol just before the trade deadline.
Meanwhile, in Philadelphia, 'The Process' was still alive and well at the start of the season. With Joel Embiid and Ben Simmons both impressing the previous year, the 76ers appeared to be on the path to perennial contention once the young core matured. Yet just a month into the season, the Sixers' pragmatic, long-term approach that defined them for much of this decade was thrown out the window in dramatic fashion, as Process darlings Robert Covington and Dario Saric were traded to the Minnesota Timberwolves in return for All-NBA forward Jimmy Butler. Months later, at the same time that Gasol was getting his passport ready, Philadelphia again discarded promise for established talent, exchanging Landry Shamet and draft picks (among other pieces) for Tobias Harris. Just like Leonard; Butler and Harris will be free agents this summer and can walk away from the City of Brotherly Love for nothing.
Yet despite both teams seemingly upgrading their personnel, the current second round series between them has exposed major flaws on either side. Leonard has been magnificent throughout, averaging 33.7 points per game on a remarkable 57% shooting, while being his usual transcendent self on the defensive end. However, he has not received consistent help from his fellow Raptors in the series. Pascal Siakam looked good in the early encounters, but a calf injury in game three has hampered Kawhi's usual running mate. Gasol has defended Embiid admirably, but has been curiously passive on offense. Kyle Lowry has been unable to banish fully the demons of previous playoff shortcomings. The Toronto bench, save for valuable contributions from Serge Ibaka in games four and five, has been atrocious.
As for the 76ers, the health of Joel Embiid continues to be a problem. Be it his knees, his sinuses or his, erm, poop, the growing list of ailments has hindered the Cameroonian throughout the series, limiting him to an unsatisfactory 17 points and eight rebounds in only 32 minutes, which have overshadowed flashes of brilliance, particularly in game three. Elsewhere, the performances of Simmons have been, at times, further causes for concern. The problems with his shot have limited his effectiveness as expected, but baffling turnovers in transition have been all too common for a player who supposedly thrives in the open floor. The 22-year-old bounced back with 21 points, six assists and zero turnovers in game six, but his overall performance against the Raptors will not have filled 76ers fans with confidence that their team's future is in safe hands. Butler, in contrast, has looked much more reliable than his youthful team-mates, averaging 23 points and leading the offense for long stretches.
The positive showings from Leonard and Butler, and the disappointing ones from many of their team-mates only raise the stakes heading into game seven. Kawhi will turn 28 in the offseason, indicating that he is in the prime of his career. The contract he signs this summer will likely be the final one of his peak, meaning he will be looking for evidence that he has a championship-level team around him for its entirety. Undoubtedly, Siakam, Gasol and Lowry have proven themselves to be a solid supporting cast, but their shortcomings in the playoffs could be all that is required to deter Leonard from defying the odds and staying in Toronto.
Butler will be 30 at the beginning of next season, suggesting that the deal he signs this summer will be the final one with his game at this level, and it thus represents his last chance to make max money. Will he be willing to put the final years of his apex in the hands of Embiid's health and Simmons erratic style?
Losing Kawhi and Butler would have disastrous consequences for their respective franchises. The Raptors, never a free agent destination, would surely look to rebuild around Siakam, but their years at the top of the East would be over. The 76ers would likely offer Harris, who has also underperformed in this series, a max contract, but this series has shown that a nucleus of him, Simmons, Embiid would have significant faults.
Game seven will not be the sole factor in the decisions that both teams' free agents make this summer. Money, location, and off-court chemistry will all play a role. Nevertheless, it could be the tipping point either way. The victorious team will live to fight another day, justifying their dramatic transactions over the past year, and build their case to re-sign their out-of-contract leader. The outfit that loses will suddenly face serious questions over their immediate future, and endure the ignominy of risking everything for a second round exit.
It remains to be seen whether the Raptors actually have enough pieces around Leonard, or if Simmons and Embiid can be a winning combination but, fair or not, the outcome of tonight's decider will dictate these narratives, as well as the future of the NBA.
Questions and comments?
thescorecrowsports@gmail.com
Follow Us on Twitter @thescorecrow
Follow Us on Reddit at u/TheScorecrow
Follow Us on Facebook at The Scorecrow
Follow Us on Instagram at The Scorecrow
Follow Kit Shepard on Twitter @KitShepard
Main Credit Image: Embed from Getty Images