Brendan Abban | May 10th, 2019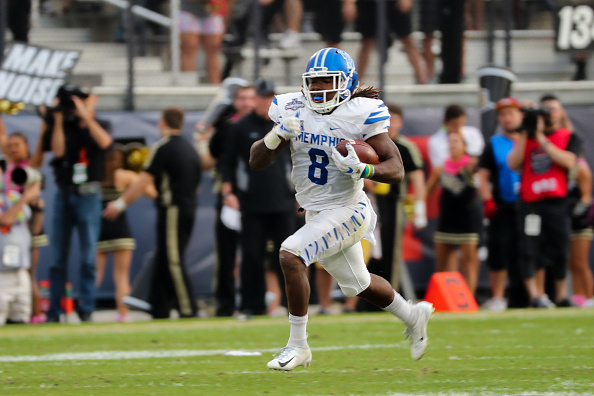 The Los Angeles Rams went through the 2019 NFL draft addressing the team's need of depth. Particularly, at the running back position with Darrell Henderson. The Rams took Henderson with pick No. 70 in the third round to prolong their peak.
Los Angeles had a great year last season by practically every standard apart from that of the New England Patriots. They were 13-3 in the regular season with a Super Bowl appearance where they lost to New England.
However, a big plot point following the end of the season was the health of running back Todd Gurley. Gurley missed the last two games of the regular season due to knee issues.
Despite rushing for 115 yards and a touchdown on 16 carries against the Dallas Cowboys, Gurley struggled in the postseason. He had a total of 14 carries for 45 yards and a touchdown in the last two games.  Averaging just 3.2 yards per carry in the final two games.
The season did take its toll on Gurley and the Rams tried to make adjustments for it. Last year they brought in RB C.J. Anderson to shoulder some of Gurley's load. Anderson was a viable option but the Rams wanted a different look.
Hence the Henderson pick. The Rams want Gurley's health to last all season. Having a different type of running back in Henderson gives them some flexibility.
Henderson's playing style is different than both Gurley and fellow backup RB Malcolm Brown. His 5'8 stature makes him a smaller target to bring down and his acceleration allows him to break the game open.
The Rams expect their offense to be more explosive with this addition. General manager Les Snead said as much per therams.com:
"If you go back to when we signed Lance Dunbar, Sean's always felt like his offense would be, let's call it, slightly more explosive when you have a change-of-pace-type running back".
Henderson opens up the playbook more as well with his receiving capabilities. He has the ability to line up on the outside as a threat in the passing game. His 4.49 speed will be useful in the open field against coverage linebackers.
Henderson's exact role is still unknown, but he definitely will have a spot in this offense come the start of the season.
Questions and comments?
Follow Us on Twitter @thescorecrow
Follow Us on Reddit at u/TheScorecrow
Follow Us on Facebook at The Scorecrow
Follow Us on Instagram at The Scorecrow
Follow Brendan Abban on Twitter @AbbanBrendan
Main Image Credit:  Embed from Getty Images