Kody Clawson | May 9th, 2019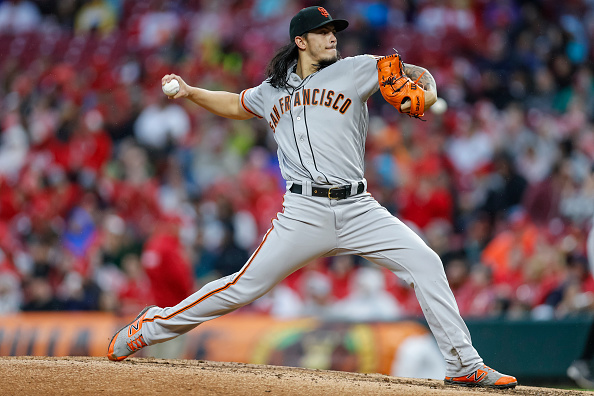 Sorry for missing the early part of the week for the Stream Machine. It sucks when you have a busy weekend and you plan out a part of it to write, only for mother nature to decide to try to throw her own curveball at you and send you to another person's basement for the majority of said time to write. Oh well, at least nothing was damaged from the storms. Let's jump right into the matchups for this weekend.
Friday, May 10th
Dereck Rodriguez, SFG vs CIN (11% Owned)
Usually, we like to pick on the Giants, since their offense has been pretty putrid so far this year. Friday would probably be no different, except the Reds' pitcher is Luis Castillo, who has been excellent so far this season and was drafted highly in most leagues anyway. The fortunate thing is that the Reds offense hasn't been hitting very well, either. So far this season, Cincinnati has hit at a 49 wRC+ away from home and a 71 wRC+ against righties. Rodriguez should be able to keep the damage at a minimum, and while the win may not be likely, if the Giants could poke a few runs in against Castillo, it's still possible. Call me an optimist here.
Others Receiving Votes:
Jake Odorizzi, MIN vs DET (34% Owned)
Dylan Covey, CWS @ TOR (0% Owned)
Saturday, May 11th
Frankie Montas, OAK vs CLE (47% Owned)
If Montas performs well here, this may be the last time I get to use him in this format. He's already nearing my 50% owned threshold, and another solid start should all but push him over it. He's cut his walk rate to 6.0%, allowing his 21.1% strikeout rate to play up. He probably won't stay at his 2.75 ERA all season, as ERA estimators xFIP (3.83) and SIERA (4.00) both show him being well over that mark, but he might be able to stay under those numbers thanks in part to this spacious home park. The Indians offense still doesn't have anything working for it yet, posting a measly 71 wRC+ on the road and a 72 wRC+ against righties. If he's still available in your league, consider him a stream and hold, or maybe try to flip him in a two-for-one to upgrade at a hitter spot after this start if it goes well.
Others Receiving Votes:
Anthony DeSclafani, CIN @ SFG (22% Owned)
Ivan Nova, CWS @ TOR (1% Owned)
Sunday, May 12th
Griffin Canning, LAA @ BAL
Canning's first start was a short one against the Blue Jays, and while the Angels don't have much for pitching depth right now, I wasn't sure how much longer he'd make it in the rotation. He threw 82 pitches and faced just 18 batters. He made another start against Detroit, throwing 86 pitches and facing 21 batters. The good news is that there seems to be a slight increase, hopefully meaning that the Angels are stretching him out more in the majors. He's also struck out 33.3% of batters faced so far. It will be interesting to see how long the Angels keep him out for this start, but if he can keep up his recent strikeout rate, he should be able to mow through the awful Orioles lineup that has posted an 86 wRC+ at home and an 85 wRC+ against righties.
Others Receiving Votes:
Lucas Giolito, CWS @ TOR (7% Owned)
Tyler Mahle, CIN @ SFG (4% Owned)
Questions and comments?
thescorecrowsports@gmail.com
Follow Us on Twitter @thescorecrow
Follow Us on Reddit at u/TheScorecrow
Follow Us on Facebook at The Scorecrow
Follow Us on Instagram at The Scorecrow
Follow Kody Clawson on Twitter @kodyclawson
Main Image Credit:
Embed from Getty Images