Alex Kielar | May 8th, 2019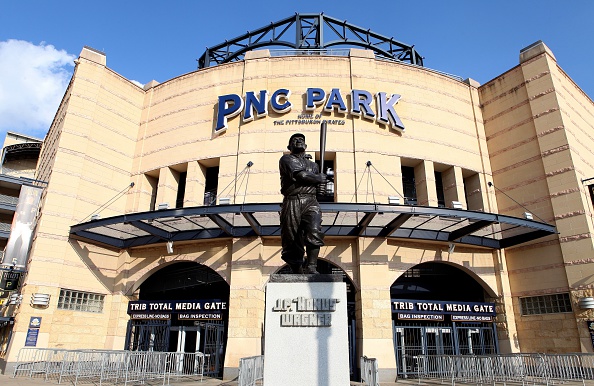 Every Wednesday we will take a look at the history of one team. You will get some background, iconic players and moments, and postseason results. For this week, let's take a look at the Pittsburgh Pirates who have a long history with many iconic moments and players.
Early Years
The Pirates' earliest roots go back as far as 1876 when the Pittsburgh Alleghenys played their first game. The Alleghenys were accepted into the minor-league International Association in 1877 but only lasted one season before being disbanded. At the start of the American Association in 1882, the Alleghenys were reformed, joined the American Association, and baseball in Pittsburgh was back for good. A few seasons later following the 1886 season, the Kansas City franchise, which started out as the Cowboys, was expelled from the National League, and Pittsburgh's application for membership into the league was accepted. Pittsburgh opened their inaugural season with a 6-2 win over the defending league champion Chicago White Stockings, but the success wouldn't last.
Pittsburgh would finish higher than 5th place in the league only once the final 13 seasons of the century. Their struggles partly resulted from most of their key players moving to a new rival league, the Players League, and in 1890 they lost a club-record 113 games. The Players League only lasted one season, however, and all players were expected to go back to the teams they played for in 1889.
Some Nicknames Stick
Even though players from the recently disbanded Players League were expected to go back to their teams from 1889, one such player didn't do that. Louis Bierbauer was a second baseman who played for Brooklyn in the Players League, and prior to that was a member of the Philadelphia Athletics for four seasons (read Athletics team history here). In 1891, Pittsburgh signed Bierbauer, and Philadelphia along with other teams in the American Association immediately started to accuse them of "pirating" (stealing) him away from them. I bet not many of you reading this knew that was where their name came from, as they would keep Bierbauer and the name, and of course, they are still to this day, known as the Pirates.
Turn of the Century = Turn of Fortune
At the turn of the century in 1900, the National League reduced from 12 to eight teams, and owner of the recently broken up Louisville Colonel team, Barney Dreyfuss, acquired control of the Pirates. As a part of this move, Dreyfuss brought 14 players from the Louisville team with him to Pittsburgh, including one of the best players of all time in shortstop Honus Wagner, and future Hall of Famers Fred Clarke and Rube Waddell. Wagner, Clarke, and Waddell, along with other standouts Deacon Phillippe, Chief Zimmer, Claude Ritchey, and Tommy Leach, led the Pirates to three straight pennants from 1901-03. The Pirates made an appearance in the first World Series in major league history in 1903, where they would face off against the Boston Americans. Dreyfuss is sometimes referred to as "The Father of the World Series" because he challenged Boston to a playoff series to determine baseball's best team. Phillipe would take down the great Cy Young in the first game, but the Pirates would lose in eight games, as Wagner struggled with injuries and only batted .222 and committed six errors. This was after the Pirates started off with a 3-1 series lead, and if social media were around then, you know they would've been trolled with "the Pirates blew a 3-1 lead."
The Pirates finished as the runner-up for the next five years before getting another shot in the World Series in 1909. The Bucs, as they were commonly referred to, won an impressive club-record 110 games led by three pitchers combining for 66 wins, Howie Camnitz (25), Vic Willis (22) and Lefty Leifield (19), and Honus Wagner winning the National League batting title with a .339 average. The World Series saw Wagner going up against the American League batting champion Ty Cobb of Detroit, but the Series star for the Pirates was actually rookie pitcher Babe Adams, who went 12-3 during the regular season. The star pitchers of the regular season in Camnitz, Leifield, and Willis didn't win one game, while Adams won three, including the deciding seventh game, where he pitched a six-hit shutout. This led to the Pirates winning their first World Series title, but they would struggle and not see another one for over a decade.
Pittsburgh once again became a contender in the early 1920s with future Hall of Famers Pie Traynor, Kiki Cuyler, Rabbit Maranville, and Max Carey. They did, however, finish third for three straight seasons from 1922-24, before winning the National League in 1925. Their opponent in the World Series was the Washington Senators, and Pittsburgh fell into a 3-1 hole. But the Pirates then took the next three games to win the Series, including knocking the great Walter Johnson around for 15 hits in Game 7. After another third-place finish in 1926, the Pirates again won the National League in 1927, led by rookie phenom Lloyd "Little Poison" Waner hitting for a Pirates rookie record .355 average, and his brother Paul "Big Poison" Waner, who won the MVP. Paul had made his debut a year earlier. Unfortunately for the Pirates, they ran into arguably the greatest team in Major League history, the "Murderer's Row" Yankees with Lou Gehrig and Babe Ruth, and were swept. After this World Series loss, the Pirates didn't see another pennant for many years.
Most Iconic Players
Honus Wagner had a phenomenal 21-year career mostly with the Pirates and is considered to be possibly the greatest all-around player of all-time. Wagner started his career with the Louisville franchise in 1897, putting up a .335 batting average and stealing 20 bases. He had two more seasons in Louisville before going over to Pittsburgh with owner Barney Dreyfus. Wagner's first season with the Pirates in 1900 was his best yet and the start of things to come, with a slash line of .381/.434/.573 with 100 RBI, 38 stolen bases, and only 17 strikeouts. His .381 batting average earned him his first of eight career batting titles. Wagner had a career batting average of .328, batting at least .300 in 16 of his 21 seasons. He also stole 723 bases in his career while getting caught only 26 total times. Wagner drove in 100 RBI or more in nine of his 21 seasons and retired with more hits, runs, RBI, doubles, triples, games, and steals than any other National League player. Wagner, after his performance in the 1903 World Series, was distraught and refused to send his portrait to the Hall of Fame for his batting title. He got his redemption in the 1909 Series that belonged to the Pirates, as he faced off against Ty Cobb, and outhit him .333 to .231, and picked up six stolen bases. Wagner picked up his 3,000th career hit at age 40 in 1914, the second player to record this milestone. When he retired officially after the 1917 season, he held the NL's all-time hit total, which lasted for 45 years before Stan Musial surpassed his total. Wagner briefly interim managed, but after a 1-4 start, he told Dreyfuss managing wasn't for him. Baseball historian Bill James named Wagner as the second greatest player of all-time behind Babe Ruth. Wagner served as a hitting coach for the Pirates from 1933-1952 and 39 total seasons as a coach. The Pirates retired Wagner's number 33 in 1956, 20 years after he became one of the first five members to be enshrined in Cooperstown in 1936. The Honus Wagner baseball card, T206 Honus Wagner, is known to be the most famous — and valuable — baseball card in the world. The card was produced by the American Tobacco Company, and there are less than an estimated 60 of them left after their production was cut short due to a dispute between Wagner and American Tobacco. Anyway, I could write a whole article on this, so let's get back to the Pirates.
Following the 1954 season, Roberto Clemente was taken by the Pirates in the Rule 5 Draft for $4,000 from the Dodgers. Clemente struggled to find his stride during his first five years in the Majors after making his debut in 1955 with the Pirates, battling through injuries and not having any place to live in the states. Clemente finally broke through along with the Pirates, as the right fielder hit .312 with 94 RBI and led the Pirates to their first World Series appearance since 1927. In the World Series, a rematch of the 1927 matchup versus the Yankees, Clemente hit .310, but was overshadowed by the biggest home run in Pirates' history. We'll get to that home run a little later. Over the next seven seasons, Clemente won four batting titles in 1961, 1964, 1965, and 1967, won the MVP in 1966, and took home 12 straight gold gloves. In his MVP season, Clemente slashed .317/.360/.536 with 29 home runs and 119 RBI. In 1971, at 37 years old, Clemente led the Pirates back to another World Series and hit a massive .414 in the Series to power his way to the MVP of the Series and help Pittsburgh to their fourth championship. Clemente became the 11th hitter to reach the 3,000 hit milestone, doing so in 1972, and led the Pirates to an NL East title, but they would lose to the Cincinnati Reds in the Championship Series. Then, in an unfortunate incident on December 31, 1972, Clemente boarded a plane to assist with earthquake relief in Nicaragua, and the plane crashed just off the coast of Puerto Rico, Clemente's body never being found. The mandatory five-year waiting period for the Hall of Fame was waived for Clemente and a special election was held in 1973 to enshrine him into the Hall.
I'm sure everyone who knows anything about baseball history, knows what home run I was talking about that overshadowed Roberto Clemente in the 1960 World Series. Yes, that would be the one that ended the World Series, a walk-off home run by Bill "Maz" Mazeroski in Game Seven to send all of Pittsburgh into oblivion. This is still the only home run to end a World Series Game Seven in history. Maz may have been known famously for this moment, but he wasn't just built on it, he was one of the best second basemen in the '50s and '60s, winning eight gold gloves, and making seven All-Star teams. Maz played for 17 seasons, had a career .260 average, hit 138 home runs, and had 853 career RBI. Maz was elected into the Hall of Fame in 2001.
Ralph Kiner only played seven full seasons for the Pirates, but he certainly made the most of it, stealing the hearts of all Pirates fans. Kiner won or shared the home run title each of the seven seasons, with his highest in 1949 with 54 (Pirates record), when he also had a career-best 127 RBI. He hit home runs at a pace of one every 13 at-bats and finished his career with a ratio of a HR every 14.1 ABs, fifth in MLB history. Kiner also made the All-Star team five of his seven seasons in Pittsburgh. The Pirates' attendance topped 1.1 million fans four times during his stint after previous attendance had never topped 869,720 in any season. The Pirates traded Kiner to the Cubs in 1953 midseason, and they never topped 573,000 fans over the next three seasons, and in the next 36 years, only topped the 1.517 million that was drawn in 1948 once. Kiner was elected into the Hall of Fame in 1975 after retiring in 1955 with Cleveland.
Willie Stargell was another lifetime Pirate, playing with them for 21 seasons, in which he was one of the most feared power hitters of the time. Hall of Fame pitcher Don Sutton said, "he didn't just hit pitchers, he took away their dignity." In 1964, Stargell smashed 21 home runs, the first of 13 consecutive seasons he would amass 20 home runs or more, on his way to his career 475 home runs. His 475 home runs, 1,560 RBI, and 953 extra-base hits are all Pirates records. During Stargell's prime, he averaged 39 home runs and 110 RBI while batting .288. Stargell's most memorable season was 1979 when he led – more like carried on his back – the Pirates to their fifth and most recent World Series championship. The Pirates, after falling behind 3-1, came back to win three straight to take the Series, in which Stargell went 12-for-30 with three home runs, seven runs scored and seven RBI. This performance, in addition to a go-ahead two-run home run in the sixth inning of Game Seven, led Stargell to win the Series MVP against the Baltimore Orioles and turned Stargell into a Pittsburgh legend. Stargell's World Series MVP added to him already winning the NL MVP (shared with Keith Hernandez) and NLCS MVP, and he became the first player in Major League history to collect all three awards. The Pirates won six division titles and two World Series during Stargell's time, as he was also on the team in 1971, where he led the league with 48 home runs. Stargell, a seven-time All-Star, retired following the 1982 season and was elected into the Hall of Fame in 1988.
Check out our Other Team Histories: San Diego Padres | Oakland A's | Cincinnati Reds   Los Angeles Angels
Questions and comments?
thescorecrowsports@gmail.com
Follow Us on Twitter @thescorecrow
Follow Us on Reddit at u/TheScorecrow
Follow Us on Facebook at The Scorecrow
Follow Us on Instagram at The Scorecrow
Follow Alex Kielar on Twitter @KielarScorecrow
Main Credit Image: Embed from Getty Images