Givanni Damico | May 8th, 2019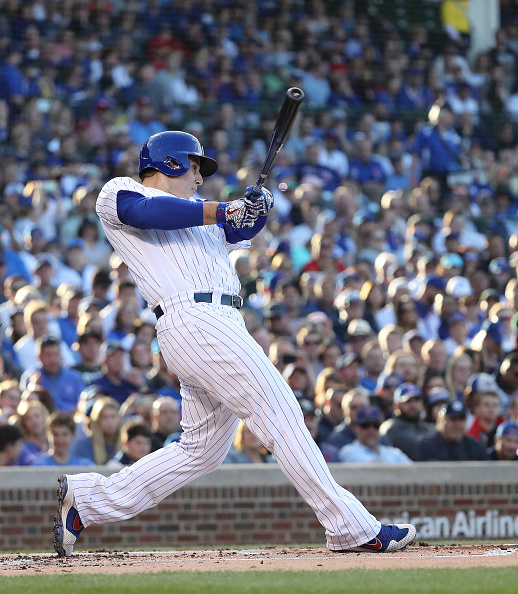 Welcome back to 7&7. I'll be filling in for Supi this week, so you don't have to worry about any Game of Thrones' spoilers since I've never seen an episode. Let's get into it.
Besides making an exceptional eye-black mustache, Dietrich hit the ball very well this week. He slashed .412/.500/1.118 with four home runs and eight RBIs. Dietrich didn't even start every game this week. In fact, he only had 17 at-bats, but his power numbers were great and he seems to be coming around and hopefully putting himself into an "everyday player" role.
Going into the week, Rizzo was seriously struggling, but hopefully, this was a step in the right direction for him. He slashed .409/.481/1.000 with four home runs and 11 RBIs in 22 at-bats. To be fair, the entire Cubs' team was struggling to begin the season, but they've managed to bring their record from what was once 2-7 to 19-13. Rizzo is a catalyst for Chicago, especially with Kris Bryant struggling as well so far. Javier Baez can't put the entire team on his back, so it's good for Cubs' fans to see Rizzo finally putting the bat on the ball.
The Brew Crew went into 18 innings on Friday against the Mets. Braun went off that game, recording six hits in eight at-bats (2 doubles, four singles). He also had two home runs over the course of the week. Braun has been very up-and-down this season so far, so a little bit more consistency would be nice to see, but I had to put a spotlight on him for this stellar performance.
Kurt Suzuki (Washington Nationals)
Now here is a catcher who rakes. Suzuki went deep three times in 15 at-bats while also recording a double and two singles. The sample size is smaller than the others with Suzuki, but anytime I see someone who doesn't usually hit the ball out of the yard hit it out multiple times over the course of the week while also sporting a great batting average and good defensive ability, I have to highlight it. Suzuki slashed .400/.438/.1.067 this week. He also made his first two errors of the season this week, but it's a good thing that we're focusing on hitting.
Did you guys really think that I forgot about Nolan Arenado? Arenado had a fantastic week, hitting .462 with three home runs, seven RBIs, and three doubles. He's another stud who got off to a slow start to begin the season (as did his whole team), but he is really starting to hit the ball now. His season average is now back over.300 where it needs to remain if he wants to be involved in the MVP conversation, which may be hard with guys like Christian Yelich and Cody Bellinger also in the National League. It's also important to note that all three of his home runs were away from Coors Field, so there goes the excuse that Coors Field is an unfair advantage for him.
Finally, a player from the American League cracks the list. Bregman's average was solid this week at .308, but what is more important is his home run total. Bregman led the league with five home runs this week while boasting a 1.242 OPS. Bregman was my prediction to win the AL MVP, so he needs to keep having weeks like this where he flashes his power. I imagine that his average will hover around where it is now at .282 for the remainder of the season. If Bregman can hit .282 with 40 home runs, he'd make a strong case for the AL MVP.
Two members of the Chicago Cubs crack this list as Contreras rounds it out. He had one of the best batting averages in baseball this week at .471. He also had a stellar slugging percentage at .882 and his OPS was at 1.428. He hit two home runs, a double, and five singles to help his team go 5-1 this week. The Cubs are a scary team if they get all of their stars hitting at once. Right now, Kris Bryant is the one struggling the most, but we could very well see the Cubs make another World Series run in 2019 if they keep playing like this. Their downfall is their pitching which was up and down this week. Kyle Hendricks and Jon Lester were great, while Quintana was good and the rest struggled. The Cubs were my pick to make the World Series in the NL, so let's see how they play this coming week so they can prove that this week was not a fluke.
I hope you guys enjoyed this week of 7&7 and don't worry, Supi should be back next week for another edition.
Questions and comments?
thescorecrowsports@gmail.com
Follow Us on Twitter @thescorecrow
Follow Us on Reddit at u/TheScorecrow
Follow Us on Facebook at The Scorecrow
Follow Us on Instagram at The Scorecrow
Follow Givanni Damico on Twitter @giodamico15
Main Image Credit:  Embed from Getty Images