Givanni Damico | May 7th, 2019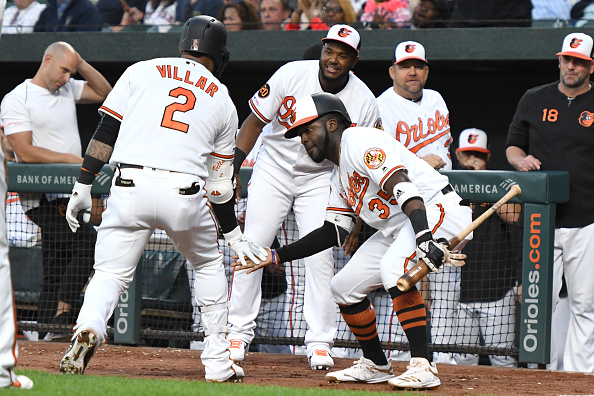 "Let The Kids Play" Featuring Tim Anderson
For those of you who haven't heard the new agenda that Major League Baseball is pushing, "Let The Kids Play" implies that players are able to have fun while playing and be as flashy as they want. Now, before I get into the article, let me be clear that I love this agenda that the MLB is pushing. I just have an issue with the hypocrisy of the MLB front office as well as some of the players who pushed for this to be a thing.
So, unless you live under a rock or are Amish, you saw the situation when Tim Anderson flipped his bat after hitting a huge home run off of Brad Keller of the Kansas City Royals. Well, it was more of a javelin throw than a bat flip, but Anderson was amped up and excited. He threw his bat towards his dugout and rounded the bases. Next time Anderson came up to bat against Keller, Keller threw at Mr. Anderson. This is exactly the hypocrisy that I am talking about. Let the kids play, right? Then why is Brad Keller throwing at Anderson because he flipped his bat after he hit a home run off of Keller? Because the players only want to "let the kids play" when it benefits them. Keller was suspended for five games, which is the equivalent of one start for him which is not substantial enough in my opinion. Where the MLB front office was in fault was when they gave Tim Anderson a one-game suspension which was apparently for his "vulgar language" used during the altercation. The umpire also threw Anderson out of the game after he was hit. Oh, come on, MLB. You're better than this. Don't try and tell me that umpires have never heard players use vulgar language on the field. Ok guys, so now if this is the case, every time a player uses vulgar language in any situation, the umpire has to throw them out of the game. That's the standard that Major League Baseball is setting.
Now I'm aware that this situation was a few weeks ago now, but the point of this article is not to recap that specific altercation, but rather to discuss what needs to happen when future altercations happen. The second point is also to discuss how important players like Tim Anderson and Derek Dietrich are to the future of Major League Baseball and how the league is run.
Trevor Bauer and Tim Anderson are treasures…😂😂😂#MLB #whitesox #RallyTogether pic.twitter.com/EVZLToxxpk

— Johnnie Black (@Jball0202) May 6, 2019
So, when it comes to future altercations, Major League Baseball needs to handle the situation much better. As I said earlier, Tim Anderson should have never been ejected nor suspended for using a vulgar word towards Brad Keller. Am I condoning this poor choice of language? No, but players should be allowed to get passionate, and sometimes passion leads to stuff like that. This is setting a narrative that any player who uses vulgar language towards another player should be immediately ejected (which has happened multiple other times in the past) and suspended. Now, I am not 100 percent opposed to Anderson being tossed from that game because players should still have to have some sort of filter, but the one-game suspension was excessive and ridiculous.
When it comes to Brad Keller's role in that altercation, I believe that the punishment dealt to Keller by the MLB was sufficient. The home plate umpire of that game did the right thing by throwing Keller out. No pitcher should ever be able to throw at a hitter on purpose and simply receive a warning. That's an immediate ejection. This is where the hypocrisy of the players comes in. The players are all supporting the "Let the kids play" initiative, but the players are the problem. Brad Keller should not have retaliated after Anderson hit that home run off of him. Maybe don't throw a meatball over the plate if you don't want to be taken yard? Just food for thought, Brad. Here's my opinion on the matter. Keller is a softy. He is sensitive and soft for throwing at Tim Anderson, as is every pitcher who throws at hitters on purpose. You know how he should have come back in the next at-bat against Anderson? He should have struck him out and then did a giant fist pump. If hitters can flip their bats after hitting a home run, then pitchers can pump their fist after striking someone out.
A similar situation that happened this season was between Chris Archer of the Pittsburgh Pirates and Derek Dietrich of the Cincinnati Reds. In this scenario, Derek Dietrich hit a moon shot off of Archer and stayed in the box, admiring his home run for about 15 seconds. So, Archer came back and struck Dietrich out on three pitches in the next at-bat, right? No, he threw behind Dietrich, and of course, this led to a bench-clearing brawl. I wasn't a huge fan of Dietrich staying in the box for as long as he did, but Archer was 100 percent in the wrong here. To clarify, I'm not against what Dietrich did, but I thought it was a bit much. This situation was handled much better by the MLB. Dietrich did not receive a suspension unlike Tim Anderson, but this was once again because of the language used by Anderson. Archer received a five-game suspension.
Players with style and flair like Anderson and Dietrich are so important to the future of baseball. They make the game fun. The other day, Derek Dietrich gave himself an eye-black mustache and proceeded to hit two bombs. The guy just likes having fun. Anderson is flashy. He's like Ken Griffey Jr. when Griffey brought swagger to baseball, but in this instance, Anderson is bringing swagger BACK to baseball by being flashy. And you know the best thing about Anderson? He isn't going to change. He said this himself. He likened himself to Jackie Robinson in how he's changing the game, which I thought was a little bit inaccurate since Anderson is trying to change the game in a completely different way. Either way, the MLB should love these guys. Some people who aren't fans of baseball argue that it's boring and uneventful, and guys like this add some flair and excitement.
So, a message to the players: Let the kids play! Stop getting bent out of shape when something doesn't go your way, and recover next time. Finally, a message to the MLB: Be consistent. Don't give Tim Anderson a suspension for profanity when so many players use profanity. It isn't something that should be condoned, but this sets a precedent that any derogatory language towards someone else leads to an ejection and a suspension.
Questions and comments?
thescorecrowsports@gmail.com
Follow Us on Twitter @thescorecrow
Follow Us on Reddit at u/TheScorecrow
Follow Us on Facebook at The Scorecrow
Follow Us on Instagram at The Scorecrow
Follow Givanni Damico on Twitter @giodamico15
Main Image Credit:  Embed from Getty Images