Nick Lynch | May 5th, 2019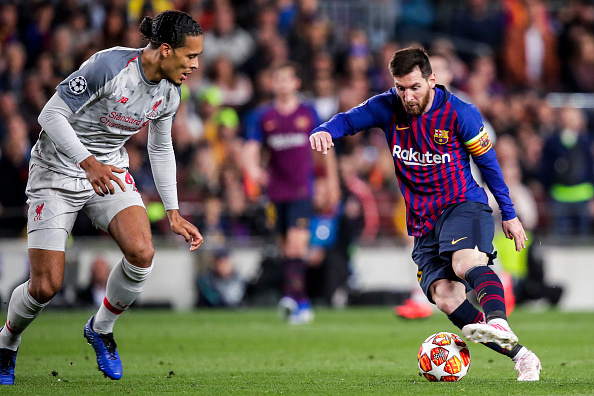 Back in September, the UEFA Champion's league started with 32 of Europe's best teams. Now in May, only four teams remain: from the English Premier League, Tottenham Hotspur, who take on Dutch club Ajax. On the opposite side, you have Spanish giants FC Barcelona who are pitted against last year's runner up in the competition, Liverpool, who also hail from England. Let's take a look at what each of the four remaining teams must do to have the opportunity the hoist the most coveted trophy in all of club football.
Liverpool
The English side has dug themselves a massive hole to try and climb out of after falling 3-0 Wednesday. Conceding three to Barcelona at the Camp Nou is something that you can potentially live with. However, late in the game, they had several chances to grab an away goal that is so important in a Champions League tie. Give them credit for not putting their heads down after watching a fantastic Lionel Messi free-kick hit the back of the net to put them down three goals. The game was long over at that point, but the tie was not.
They had the mental fortitude to come right back down and see Roberto Firmino strike a ball past Barcelona keeper Marc-André Ter Stegen, which was cleared off the back line. It then fell right to the foot of star winger and Premier League record holder for goals in a season, Mohamed Salah. This could be the ultimate turning point in the tie. Had he been able to finish there on an empty net it would have made the score 3-1 and only required a 2-0 victory in the home leg at the Anfield.
Instead, the ball struck off the post and was the ultimate gut punch. Now they'll have to win 3-0 just to extend the tie into extra time. You don't need me to tell you that history is against the Reds. Eight teams in history have won 3-0 in the first leg of a knockout stage home game. All eight have advanced through to the next round. It will take a whole lot of magic and more to see themselves through to the final. You cannot completely count them out though. To give themselves a chance they'll need an absolute masterclass from their defense, headed by PFA player of the year Virgil van Dijk, who, for much of the game, held Barcelona's potent offense in check. In addition to that, they'll need to play well on the counter attack and bury the chances they let slip away in the first leg. Liverpool will certainly believe in themselves, but it will take more than belief as things look grim for last year's runner up.
FC Barcelona
As stated in the above breakdown of Liverpool, Barcelona holds a massive advantage going into the second leg of the semi-final tie. The Spanish side will feel good going on the road up three goals, considering they did not at all times play like the Barcelona team
we've all come to know. If you look back at their matches over the years, Barcelona dominates possession of the ball and string together beautiful passes – oftentimes doubling up their opposition in these facets of the game. This did not hold true for the game against Liverpool and they were nearly dead even in these areas.
However, Barcelona have something that no other team in the world can claim. The ever-potent duo of Lionel Messi, who bagged two goals, and former Liverpool striker Luis Suárez, who added another to the scoresheet. I don't think you'll see them come out and play ultra-defensive for the full 90 minutes. However, if they get an early goal or see Liverpool fail to score in the first half I have no doubt they'll park the bus and look to
frustrate Liverpool by dominating control of the ball.
Barça will need to stay focused as last year they held a three-goal advantage in the knockout stage only to be bounced out of the competition by sleeper team Roma. I expect nothing less than a clinical game from the Spanish team as they look to reach their first Champions League final since 2015.
Ajax
Here we look at the Dutch club. They earned a spot in the semis by taking down Italian powerhouse Juventus, who were led by the greatest player in Champions League history in Cristiano Ronaldo. Prior to that, they dispatched of Real Madrid. These upsets have many people labeling them as the "team of destiny."
Nobody would have pegged this team as a semi-finalist in UCL, but make no mistake, they are the textbook definition of a side that play as a team. Going into English side Tottenham's brand new stadium it would have been understandable for them to look lost against the bigger club. The exact opposite would take place, however. Ajax looked completely dominant in the first half of the match and it only took 15 minutes to see an absolutely clinical finish from Donny van de Beek and give them an important away goal. Before the match, they certainly would have taken a one-goal lead going home, but not taking advantage of the opportunities they were presented with could come back to haunt them.
To advance to this year's final Ajax will have to stay aggressive. If they sit back and try to defend, then Tottenham's offense will prove to be too much in my mind. More important for them is they will have to maintain the belief they've had all competition and not listen to the cries that teams like them are not meant to win this competition.
Tottenham Hotspur
Finally, we come to English Premier League side Tottenham Hotspur. Things did not go to plan and in the early going of the first match and it looked as though they were going to be blown off of their home pitch and possibly concede two, three or even more goals. It certainly hurt them by not having their two best goal scorers in Harry Kane and Son Heung-min. To say the least, this did not look like vintage Spurs soccer.
They played a style which no one who follows the EPL closely would say even remotely looked like the team we've seen over the last few seasons under brilliant manager Mauricio Pochettino. However, they did have their chances to score goals on a few wide open headers in the second half where they looked much more comfortable. Going into the second leg, they'll likely have their two forwards back in the lineup which will certainly give them a boost. Don't expect to see them shut out of the scoresheet this go around.
However, the key for Tottenham will be applying pressure against Ajax from the back. They gave Ajax ample time to make passes amongst their surprisingly good midfield. If they do this and gain the upper hand in possession I don't see Ajax being able to contain Spurs offense. The question is will they have enough to outscore the Dutch side by a goal. Keeping them off of the scoresheet will be critical, but I believe Tottenham will fancy their chances.
Questions and comments?
thescorecrowsports@gmail.com
Follow Us on Twitter @thescorecrow
Follow Us on Reddit at u/TheScorecrow
Follow Us on Facebook at The Scorecrow
Follow Us on Instagram at The Scorecrow
Follow Nick Lynch On Twitter @PrimeAcuna
Main Image Credit: Embed from Getty Images