Levon Satamian| May 4th, 2019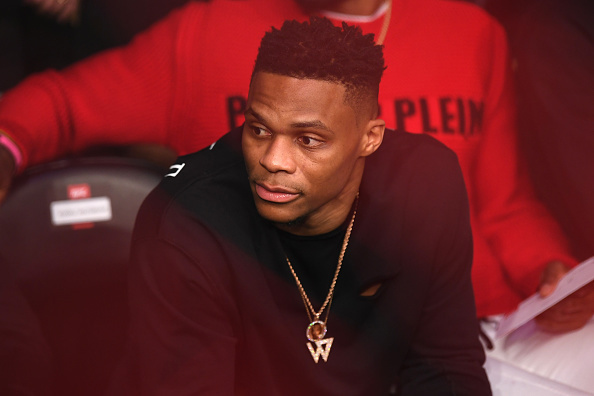 On the Bill Simmons podcast, Ryen Russillo said Thunder general manager Sam Presti could trade Russell Westbrook to the Los Angeles Lakers.
Russillo suggested the Thunder should trade Westbrook to the Lakers for Lonzo Ball. Now, the Lakers will need to give up more than just Lonzo for Westbrook. Even if they add Kyle Kuzma to that trade, the salary caps won't match up. So, there will need to be a third team willing to participate in this trade.
Let's say the third team agrees to participate in this trade, the Lakers receive Russell Westbrook and the Thunder receive Lonzo Ball and Kyle Kuzma. What does that mean for both sides?
The Thunder will probably get their franchise point guard in Lonzo Ball. Now, I know that Lonzo has not performed at the level we all expected him to perform at when he first entered the league, but he is a great perimeter defender and a playmaker. If he just plays with more aggressiveness, he will be fine, regardless of whether his shot goes in or doesn't. The shot will come as he gains more experience. The key for Lonzo is to be more aggressive and not shy away from contact. They also get a young power forward in Kyle Kuzma. Kuzma doesn't bring as much to the table as Lonzo does, but when his shot is falling, he could have 30-points in the blink of an eye. Kuzma tremendously needs to work on his defense though.
The Lakers will get that second superstar alongside LeBron James. Whatever you may think of Westbrook, whether it's the way he performs in the playoffs in crunch time or calling him a "shot chucker", Westbrook is an elite point guard and a superstar. No player has ever averaged a triple-double in back-to-back-to-back seasons, besides Russell Westbrook, let alone averaging a triple-double three times in their career. I think LeBron and Westbrook would work well together – most people may disagree – but these are two of the most complete players in the NBA, and LeBron needs that second superstar, and Westbrook may need a change of scenery, and what better place then his old stomping grounds, after playing college basketball at UCLA for two years.
Ryen Russillo said, "What's the point in OKC? What's the point in bringing everyone back and having Westbrook as the ring-leader? I understand what he means to Thunder fans. You lost two MVPs and this MVP took your money and wanted to stay home. He decided to stay. But you lost to one rookie scorer in the playoffs last year. Oklahoma City is held hostage to Westbrook in a way that I haven't seen since Iverson was with the Sixers."
If this trade is spoken into existence, it will benefit both teams. The Lakers have enough money to sign Kawhi Leonard, Kevin Durant, Klay Thompson, Kemba Walker, Kyrie Irving, Jimmy Butler, and other big name free agents, but it's no guarantee that the Lakers will land any of these players. Maybe they want to play it safe and trade for Westbrook, while still keeping Brandon Ingram. I think if you put LeBron and Westbrook on the same team, as I mentioned earlier, they are two of the most complete players in the NBA, they will go to the NBA finals, at least once.
As for the Thunder, maybe this is the change they need. I'm not saying Lonzo Ball and Kyle Kuzma alongside Paul George and Steven Adams will bring Oklahoma City a championship anytime soon. But, they will be built for the future. Think about it, Russell Westbrook isn't getting any younger, and he doesn't seem like the old player he was, going at the opposition, constantly on the attack, trying to bring down the rim every time on the offensive end. The injuries have made an impact on Westbrook, understandably, but I still think he will be able to make the finals in his career again, just not with the Thunder. Not to mention, trading Westbrook for will clear up enough cap space for the Thunder to sign another superstar to a max contract.
Lonzo Ball has not lived up to the expectations in LA, and the expectations were high when Ball was drafted. Maybe if he goes to a smaller market, he will thrive. Not with lower expectations, because the Thunder will still be a competitive team led by Paul George and possibly remain in the playoff picture, but Lonzo will play with less pressure.
As you can see, this trade could be positive for both teams. The Thunder will have a young point guard and power forward, along with Paul George in his prime, for the team to compete, and develop Lonzo and Kuzma. What happens when Paul George is a free agent? That's a whole different story, but if Lonzo Ball develops into an elite point guard, and Kyle Kuzma becomes an elite scorer, they could persuade Paul George to stay, and recruit other free agents, if they don't sign a superstar to a max contract.
As for the Lakers, I mentioned earlier, getting Kawhi Leonard, Kevin Durant, Kyrie Irving, or Kemba Walker is not a guarantee, by any means. So if you have the opportunity to keep Brandon Ingram and getting a superstar point guard in Russell Westbrook, for a win-now team alongside the best player in the NBA, LeBron James, it is worth taking the risk trading for Russell Westbrook.