Ethan Hewett | May 3rd, 2019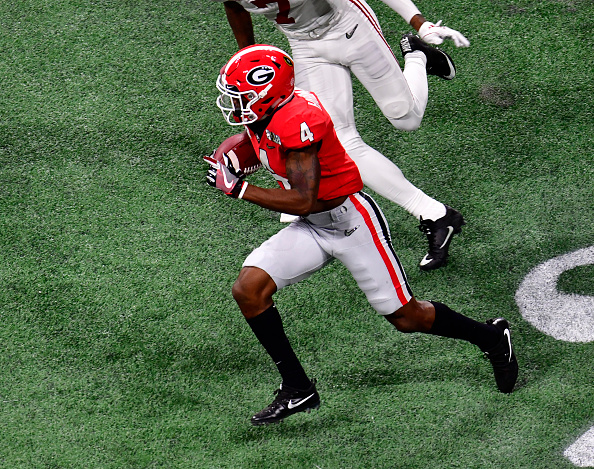 Defense, Defense, Defense. If there was anything the Chiefs needed to get fixed this offseason it was going to be on the defensive side of the ball. After trading for DE Frank Clark, and the uncertainty of Tyreek Hill, there were still quite a few pressing needs for GM Brett Veach and this Chiefs team. While 3 out of their first 4 picks went to the defensive side, how did these picks look to the eyes of an observer?
Biggest Needs Heading Into the Draft – CB, S, OG, OC, LB
Round 2, Pick 56: Mecole Hardman, Georgia, WR – With the uncertainty of Tyreek Hill, why not go after a receiver that possesses many of the same qualities? That is exactly what the Chiefs did here after trading up to grab Hardman in the middle of the second round. While the need may not have seemed very urgent, Hardman brings with him a great ability to play over the top of the defense, with his 4.3 40-yard dash speed along with his ability to turn up-field, Hardman could prove very useful to this Chiefs offense and possibly fill in for the role of Tyreek Hill if need be.
Hardman also has plenty of special teams experience and can be dangerous if he is allowed into the open field, both on punt returns and out of the backfield. If the Chiefs can help him to refine his route tree, Mecole could serve as a great target for Patrick Mahomes in his already loaded arsenal of weapons. The only thing keeping me from giving this pick an A is that they may have jumped a little too high for him.
Grade: B+
Round 2, Pick 63: Juan Thornhill, Virginia, DB/S – If there was one word that I could use to describe Thornhill, it would be "versatile." Even after just watching one game on him, you can see the many positions that Thornhill can succeed from. Whether it be in the box, playing single high safety, or two high safety, Thornhill is a ballhawk who can also occasionally come up and lay a hit down on a ball carrier. Over the past three years at Virginia, Thornhill racked up 13 interceptions and 26 passes defended.
Thornhill is also an incredible athlete with 4.4 speed along with an impressive 11.7′ long-jump from the combine back in March. His length and size fit into what you look for in an NFL safety, but his pursuit angles could use some refining along with his ability to get through blocks when lined up near the line of scrimmage. Look for the Chiefs to maybe even slide Thornhill down to cornerback where he played back in his high school days.
Grade: B+
Round 3, Pick 82: Khalen Saunders, Western Illinois, DT – Of the top three picks from the Chiefs this year, Saunders was the biggest question mark for me. While I think he will serve a purpose on this d-line that was in need of some improvement, I personally was already a fan of the interior with Chris Jones and Derrick Nnadi. Along with the fact that there was a couple of potential edge rushers still available at this spot.
Saunders certainly wasn't a disappointment at Western Illinois racking up 72 tackles, 13 tackles for loss along with 6.5 sacks from the interior. He possesses a knack for getting in the backfield and disrupting plays and also can provide good interior pass pressure with a lot of power. While this pick took me by surprise, I do think that Saunders will be able to make an impact with his run stopping abilities which the Chiefs need desperately.
Grade: B
Round 6, Pick 201: Rashad Fenton, South Carolina, CB – The Chiefs decided to wait until round six to address probably their biggest need at cornerback and filled it with a player in Rashad Fenton who, at least to me, just looks like another Steven Nelson. Fenton while is strong at the line of scrimmage, lacks fluidity in his hips which causes his transitions to be very slow and often causes him to get beat downfield. Watching his film there are a lot of pass interference calls that could have been avoided if only he hadn't panicked and played to the ball rather than attacking the receiver. This is probably the lowest graded pick for me in this Chiefs draft, but hopefully, Fenton can provide some competition in their cornerback room.
Grade: C
Round 6, Pick 214: Darwin Thompson, Utah State, RB – I actually really like this pick, Thompson burst onto the Mountian West Conference scene last season gaining 1395 yards and 16 touchdowns from scrimmage. Darwin is a shorter back, with incredible lower body strength and flexibility which aids him in being much more of a downhill runner between the tackles and shifting through the traffic. Although I like his elusiveness, for the most part, he can sometimes hesitate in his reads and allow for second level defenders to react and make a play before he can.
I also like his ability to catch out of the backfield and make a man or two miss in the open field. While running-back wasn't necessarily a need here for KC with Damien Williams and Darrell Wiliams already in the backfield, I really like the value of this pick and also the idea of Thompson being a part of that running-back trio.
Grade: A-
Round 7, Pick 216: Nick Allegretti, Illinois, OG/OC – While Allegretti may not be a super great athlete, what he does bring is a lot of experience and leadership abilities. I like the pick here, providing depth to that interior offensive line, especially after the parting of Mitch Morse, Allegretti should be able to come in and be a backup guard or center. He is a player who lacks quickness which causes him to struggle against defensive lineman who runs stunts or twists, but he has toughness and will work his way downfield. Another pick here by the Chiefs, that didn't blow me away put was a good pick at a position of need.
Grade: B-
Overall – This was one of those drafts where there weren't any names that jumped off the page, but a group of players who will most likely serve one way or another on this Chiefs team next year. While they did beef up their defensive line, to me, there is still a glaring need at CB with no true outside corner that can match up against the likes of Antonio Brown or Keenan Allen. We'll see what other moves they make in the spring but for me, overall it was a decent draft.
Overall Grade: B-
Check out our other Team Draft Recaps and Grades: New York Giants | Indianapolis Colts | Los Angeles Chargers | Cleveland Browns | Buffalo Bills | Carolina Panthers | Pittsburgh Steelers | Minnesota Vikings | Jacksonville Jaguars | Cincinnati Bengals | Oakland Raiders | Washington Redskins | Chicago Bears | Tampa Bay Buccaneers | Denver Broncos | New Orleans Saints | New York Jets | Arizona Cardinals | Miami Dolphins | Detroit Lions | Seattle Seahawks | San Francisco 49ers | Tennessee Titans
Questions and comments?
thescorecrowsports@gmail.com
Follow Us on Twitter @thescorecrow
Follow Us on Reddit at u/TheScorecrow
Follow Us on Facebook at The Scorecrow
Follow Us on Instagram at The Scorecrow
Follow Ethan Hewett on Twitter @hewett_ethan
Main Credit Image: Embed from Getty Images