Dale Money | May 3rd, 2019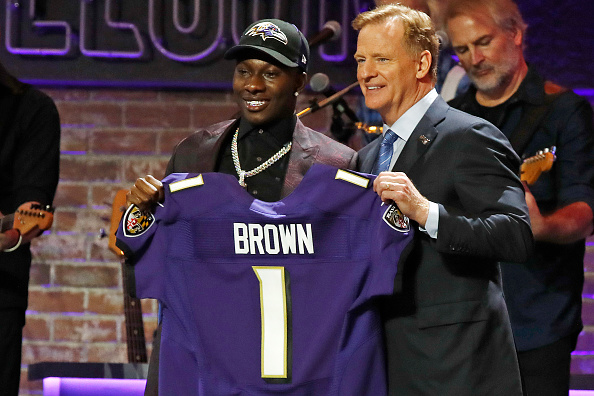 Eric DeCosta in his first draft as GM, in Baltimore, made sure to leave his mark. They were able to address, most of their glaring needs. Baltimore had 8 picks in the draft, and rightfully so, picked up a game-changing wide receiver, for Lamar Jackson.
They went offense, with three out of the first four picks, foregoing offensive line until the fourth round. The team looks to be trying to change that image of a plodding offense, but rather trying to get a bit more balance, on both sides of the ball. 
Overall Draft Grade B +
1st Round, Pick 23: Marquise Brown, WR Oklahoma
Needing to shore up that Ravens receiving game, in the Draft. They indeed got themselves a true number 1 wide receiver. Finally putting their money where their mouth is, Brown has drawn comparisons to Desean Jackson. Possessing blazing speed, along with endless energy, he is continuously moving his feet, with a breakneck burst, to separate from would-be tacklers. He does struggle as a pass blocker but is serviceable. Pairing the NFL's fastest quarterback, along with one of the faster receivers coming out of the draft. It's going to be exciting, being a Ravens fan going into September.
Grade A
3rd Round, Pick 85: Jaylon Ferguson, Edge Louisiana Tech
Ravens go edge rusher in the 3rd round, picking up Ferguson. Upgrading the pass rush was one of Baltimore's top pre-draft priorities after losing linebackers Suggs and Za'Darius Smith during free agency, two players who combined for 15 ½ sacks last season. He is able to play through edge blocks using burst and lower-body power.  Plays with toughness, when he's attacking an offense.
Ferguson had a very impressive Hawaii Bowl performance. In which he was able to break, the NCAA career sack record. Racking up 2.5 sacks and 5 tackles in that game. His 45 career sacks, who funny enough broke the previous mark set by Terrell Suggs.
Grade B
3rd Round, Pick 93: Miles Boykin, WR Notre Dame
The Ravens doubled down at wide receiver, trading up to pick up Boykin. A team that has never really been known, for the west coast type of offense.  Boykin is a big bodied receiver, with nice athleticism and body control. Has the ability to turn around for those tough back shoulder, grabs. He provides a nice balance, as a ball carrier.  Like Brown, he has a much more finesse style of play, than physical.
Grade C+
4th Round, Pick 111: Justice Hill, RB Oklahoma State
After the big offseason signing of Mark Ingram, the Ravens perhaps are looking to replicate what Ingram had in New Orleans, with Alvin Kamara. Should Hill be able to live up to his billing, as a speedy, explosive talent.  He'll indeed be a perfect sidekick for Mark Ingram, who is known much more for being a tough, physical sort of runner. Hill, however, will look to leapfrog Gus Edwards on the depth chart. And will also be getting competition from Kenneth Dixon in that Raven's stable.
Grade B
4th Round, Pick 123: Ben Powers, OG Oklahoma
Ravens went into the draft, with a goal, get some offensive weapons for Jackson. Grabbing Powers in the fourth round isn't a bad move. But I think they could have gotten, another offensive lineman earlier. A first-team All-Big 12 selection in 2018, he started all 14 games at left guard, for the top offensive line in America. Not an elite athlete or overly powerful, but a solid player with, a good overall build and frame. He is more than capable of finding and hitting targets on the move.
Grade B
4th Round, Pick 127: Iman Marshall, CB USC
Marshall is a very strong tackling corner, that truly leaves an impression on the opposing offense. Has the size, and is strong enough to make the move to safety, if the Ravens need him to. Was a consistent player at USC, playing in 50 games, over four seasons. In those 50 games, he was able to produce, six interceptions, 218 total tackles, and 42 passes defended.
Grade C
5th Round, Pick 160: Daylon Mack, DT Texas A@M
Built-in leverage gives him an immediate advantage off the snap. Mack is very explosive for his size. Given Mack is such a big lad, weighing in at 320 pounds. It really speaks to how scary this guy can be.  Quick first step consistently creates a push-up front, is very speedy of the ball.
Grade B-
6th Round, Pick 197: Trace McSorley, QB Penn State 
With the selection of Mcsorley, there is an expectation, of the Ravens using both quarterbacks, in a two-quarterback system. Similar to what the Saints have going with Drew Brees and Taysom Hill. A rather interesting player, in that he can be used in an array of different positions, which also includes defensive back.
Grade C-
Check out our other Team Draft Recaps and Grades: New York Giants | Indianapolis Colts | Los Angeles Chargers | Cleveland Browns | Buffalo Bills | Carolina Panthers | Pittsburgh Steelers | Minnesota Vikings | Jacksonville Jaguars | Cincinnati Bengals | Oakland Raiders | Washington Redskins | Chicago Bears | Tampa Bay Buccaneers | Denver Broncos | New Orleans Saints | New York Jets | Arizona Cardinals | Miami Dolphins | Detroit Lions | Seattle Seahawks | San Francisco 49ers | Tennessee Titans | Kansas City Chiefs | Houston Texans |
Questions and comments?
thescorecrowsports@gmail.com
Follow Us on Twitter @thescorecrow
Follow Us on Reddit at u/TheScorecrow
Follow Us on Facebook at The Scorecrow
Follow Us on Instagram at The Scorecrow
Follow Dale Money on Twitter @packerd_00
Main Image Credit:  Embed from Getty Images