Andrew Harbaugh | May 2nd, 2019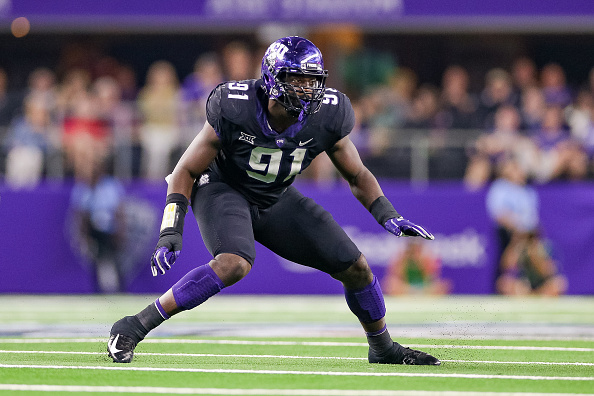 The Seattle Seahawks made a big splash before the draft trading top five pass rusher in the league Frank Clark to the Kansas City Chiefs for a couple picks that they desperately needed. They entered the draft with four picks, which was pretty low for a John Schneider led team, but by the end of draft weekend, they had accumulated seven extra picks.
This years draft had a lot of weird rises and fall for prospects and the Seahawks were one of the teams that benefited from some players falling to them. At the same time they may have reached on a couple of prospects, as did many teams this year it seems, but they still came out of this with a very solid draft and built it around the franchise that is Russell Wilson.
Round 1, Pick 29 L.J. Collier, DL, TCU Grade: B-
As I mentioned above the Seahawks did lose Frank Clark and last year they lost Michael Bennett so they are now desperately needing as much defensive line help as they can get. A lot of teams like Collier as the draft process went on and in a division with Todd Gurley, Tevin Coleman and David Johnson in it you need a good run stuffer, that's what the Hawks got in Collier.
Round 2, Pick 47 Marquise Blair, S, Utah Grade: C+
The Seahawks lost Earl Thomas and the Legion of Boom is officially dead, this is the start of Legion of Doom 2.0. A lot of people saw this as a reach but he has the athletic traits to potentially be a more free-roaming type safety but as I mentioned a lot of people, including myself didn't like this pick.
Round 2, Pick 64 D.K. Metcalf, WR, Ole Miss Grade: A+
Doug Baldwin may retire which means Metcalf has the potential to be the teams top receiver going forward. They locked up Wilson longterm so build this team around him is what the team needs to do and selecting Metcalf is the start of just that. Love this pick especially in the second round.
Round 3, Pick 88 Cody Barton, LB, Utah Grade: B
A guy who didn't test well but he seems to fit what Seattle looks for in linebackers and the type they have success with. He was right between being a reach and an okay value but he has a high upside which is what Schneider loves to take risks on.
Round 4, Pick 120 Gary Jennings, WR, West Virginia Grade: B-
Famously dubbed "Robo Gary" by his former coach Gary Jennings has some mechanics issues but Seattle is famous for turning late round picks into solid productive receivers. Another great athlete for Seattle but not a homer of a pick but more of a base hit.
Round 4, Pick 124 Phil Haynes, iOL, Wake Forest Grade: C+
Seattle has had one of the worst offensive lines in the NFL for years and in losing James Carpenter in free agency so this was a must need here for Seattle. I don't think Haynes will be anything special but he is a serviceable guard in the NFL so not a bad pick here.
Round 4, Pick 132 Ugo Amadi, S, Oregon Grade: C+
Another safety to pair up with Blair to give Seattle there new starting safeties, while it's not Kam Chancellor and Earl Thomas they certainly will be a fun pair to watch in Seattle.
Round 5, Pick 142 Ben Burr-Kirven, LB, Washington Grade: A
A high motor linebacker loved by a lot of analysts. Fell in the draft because of testing but he is a guy who could easily be a 10 tackle a game guy and even be a productive special teams player as well.
Round 6, Pick 204 Travis Homer, RB, Miami (FL) Grade: B
He is what people wanted Mark Walton to be a couple of years ago but without the character issues. Seattle didn't need another running back though so I don't like this pick even in round six of the draft.
Round 6, Pick 209 Demarcus Christmas, DL, Florida State Grade: B-
Another big bodied defensive tackle to stuff gaps up the middle. Was a late-round pick because he had a lot of success in college because of his size not so much his technique and mechanics. Is a 50/50 pick on whether he will pan out but worth the risk here in the sixth.
Round 7, Pick 236 John Ursua, WR, Hawaii Grade: A
One of my favorite receivers int he draft, great route runner with great hands. Can be a special teams guy and the teams starting slot receiver right away teamed up with Lockett and Metcalf on the outside.
Overall Grade: B-
I think the team has a lot of high upside picks but they also took a lot of risks and reached on some of them on top of that. I trust John Schneider otherwise this draft would have a much lower grade.
Check out our other Team Draft Recaps and Grades: New York Giants | Indianapolis Colts | Los Angeles Chargers | Cleveland Browns | Buffalo Bills | Carolina Panthers | Pittsburgh Steelers | Minnesota Vikings | Jacksonville Jaguars | Cincinnati Bengals | Oakland Raiders | Washington Redskins | Chicago Bears | Tampa Bay Buccaneers | Denver Broncos | New Orleans Saints | New York Jets | Arizona Cardinals | Miami Dolphins | Detroit Lions
Questions and comments?
thescorecrowsports@gmail.com
Follow Us on Twitter @thescorecrow
Follow Us on Reddit at u/TheScorecrow
Follow Us on Facebook at The Scorecrow
Follow Us on Instagram at The Scorecrow
Follow Andrew Harbaugh on Twitter @MandrewNFLDraft
Main Image Credit: Embed from Getty Images