Daniel Corrigan | May 2nd, 2019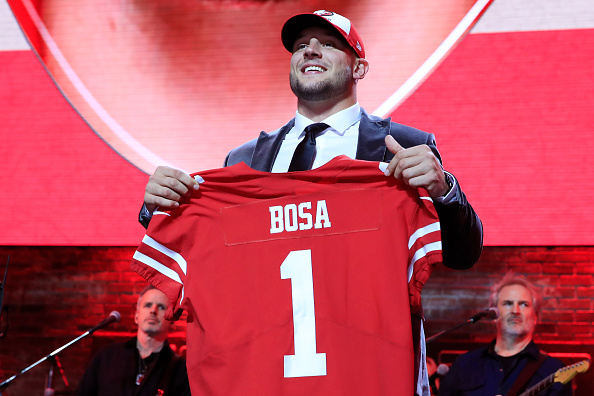 With the Arizona Cardinals selection on Kyler Murray with the first pick, it opened the door for the San Francisco 49ers to take the best player in the draft at pick two.
The 49ers were supposed to be a sleeper team last year before their star quarterback Jimmy Garoppolo went down with an ACL injury. The 49ers addressed most of their needs during the draft. I would like to have seen them work on their secondary, but the 49ers came out of the draft with some great players.
Round 1 Pick 2: Nick Bosa, EDGE, Ohio State
Bosa was the best player in the draft. Because the Cardinals wanted their franchise quarterback, Bosa fell right into the lap of the 49ers. The 49ers now have one of the deepest, and best defensive lines in football. Bosa was probably the best player in college before an injury forced him to miss most of the season.
Grade: A+
Round 2 Pick 36: Deebo Samuel, WR, South Carolina
The 49ers had a dire need for some pass-catchers. Samuel was one of the more electric receivers in college. He is better known for what he can do after the catch compared to the routes he runs. The 49ers want to run a more explosive offense and Samuel fits that mold.
Grade: B
Round 3 Pick 67: Jalen Hurd, WR, Baylor
I don't know how much I like this pick. The 49ers already added a receiver and still, need help in the secondary. Hurd is more of an athlete than a receiver. He could see some time at H-back as well as line up in the slot. Much like Samuel, he is more known for what he can do after the catch. He is another speedster and fits the 49ers system well, but I would not have picked Hurd at this pick.
Grade: C
Round 4 Pick 110: Mitch Wishnowsky, P, Utah
Ok I get it, the 49ers needed a punter, but in the fourth round? I don't get this pick at all. Wishnowsky is a great punter as he averaged 45.7 yards per punt. The 49ers had so many more needs to be worried about a punter in the fourth round.
Grade: D-
Round 5 Pick 148: Dre Greenlaw, LB, Arkansas
Greenlaw was a four-year starter for Arkansas and is a natural team captain. He is big and strong and plays the "old school" style of football. His main issue is his athletism. The 49ers pride themselves on their athletic team and Greenlaw does not fit that mold. I still like this pick because having a young, team leader is a great thing for a young team.
Grade: B-
Round 6 Pick 176: Kaden Smith, TE, Stanford
With Garrett Celek entering the final year of his deal, the 49ers needed to find a replacement. Smith had a concerning 4.92 40 time but is considered by many as a great pass catcher. I like this pick a lot. The 49ers need to think of life without Celek and Smith could complement George Kittle very well.
Grade: B+
Round 6 Pick 183: Justin Skule, OT, Vanderbilt
The 49ers lack depth at the offensive line. With Garoppolo having a career-altering injury early in his career, the 49ers need depth. Skule started 40 consecutive games in college and moved over to right tackle last year. He will be a longshot to make the roster but is worth the risk.
Grade: C+
Round 6 Pick 198: Tim Harris, CB, Virginia
About time the 49ers draft someone for their secondary. The problem is, it's a little too late. Harris is the perfect size at 6'2″ 197 lbs but has some injury concerns. He missed 2016 with a torn labrum and injured his wrist in 2017. He needed a medical redshirt and is already 24 years old.
Grade: B-
While the 49ers did get the best player in the draft, they missed out badly by not taking a player for their secondary early in the draft. If the 49ers want to be able to compete, and they are close, they need to go out and get some secondary players.
Draft Grade: B-
Check out our other Team Draft Recaps and Grades: New York Giants | Indianapolis Colts | Los Angeles Chargers | Cleveland Browns | Buffalo Bills | Carolina Panthers | Pittsburgh Steelers | Minnesota Vikings | Jacksonville Jaguars | Cincinnati Bengals | Oakland Raiders | Washington Redskins | Chicago Bears | Tampa Bay Buccaneers | Denver Broncos | New Orleans Saints | New York Jets | Arizona Cardinals | Miami Dolphins | Detroit Lions | Seattle Seahawks
Questions and comments?
thescorecrowsports@gmail.com
Follow Us on Twitter @thescorecrow
Follow Us on Reddit at u/TheScorecrow
Follow Us on Facebook at The Scorecrow
Follow Us on Instagram at The Scorecrow
Follow Daniel Corrigan on Twitter @Corrigan_Tweets
Main Image Credit:
Embed from Getty Images