Ethan Hewett | May 2nd, 2019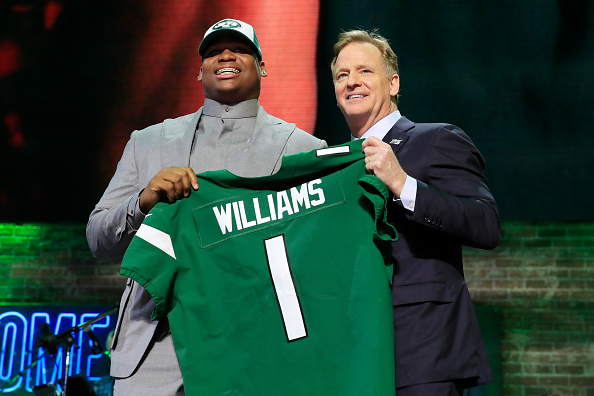 The Jets came into this draft looking to improve the trenches especially on the defensive side of the ball after finishing tied for 16th in the league with 39 sacks, and they addressed this issue early on in the draft picking up Quinnen Williams, out of Alabama in the first round, along with Jachai Polite falling right into their laps in the third round. Both picks should fare very well for them. After this, the Jets picked up an offensive tackle, tight end and rounded out their draft with a cornerback. Here's how the Jets fared in this year's draft.
Overall Draft Grade: B+
Biggest Team Needs Heading into the Draft – EDGE, OG/OC, WR, CB
Round 1, Pick 3: Quinnen Williams, Alabama, DL – This pick seemed like a no-brainer to me, as Williams was listed as some scouts top prospects for this year's draft, and easily in most people's top 5. While an interior lineman wasn't exactly a need for this Gregg Williams defense, Quinnen brings with him an incredible ability to provide an interior pass rush along with solid run defense. With great size and length, Williams also provides versatility where he could even possibly line up in either a 3 or 4 technique in the Jets 3-4 defense. In 2018 Williams racked up eight sacks along with 19.5 tackles for loss which gave him First Team All-American Honors.
With a winning personality, Pro-Bowl capabilities, and talents, Williams will be a force to be reckoned with on this Jets defense and also hopefully will be able to develop alongside Leonard Williams on that young defensive line.
Grade: A+
Round 3, Pick 68: Jachai Polite, Florida, EDGE – The Jets didn't pick in round two and for Polite to fall into their laps like this, they just had to pounce on it. I really like the value here with this pick as Polite was in most people's first-round mocks based off of field production and performance. However after a poor draft process and combine, his stock took a huge tumble here to the Jets in round three. At Florida, he was an incredible speed rusher acquiring 11 sacks and 19.5 tackles for loss. If the Jets can get control of Polite's attitude off the field and improve his pass rush moves, he could possibly develop into a solid starter and serve as a great 9-10 sack edge rusher for this Jets defense.
Grade: A-
Round 3, Pick 92: Chuma Edoga, USC, OT – The Jets might have made a slight reach here in selecting Edoga here in the mid-to-late third round. Edoga did serve as one of Sam Darnold's pass blockers at USC, but there are a few questions about Edoga's ability to both stay healthy and consistent on the field.
On the upside, Edoga is an athlete with some of the quickest feet in his class. However, he lacks true pass-blocking finesse and is much more of a run-blocker than a pass-protector. With his size of 6-3 and 308 lbs, he is a little small for a prototypical NFL tackle, and will most likely not be a day-one starter. While the Jets definitely need some help in the offensive trenches, an interior lineman would have seemed to have been a better choice based off of need.
Grade: C+
Round 4, Pick 121: Trevon Wesco, West Virginia, TE – This year's tight end class was extremely unique with how deep the talent was this year. While Wesco only caught 26 passes for 366 yards in his final year as a Mountaineer, he provides great blocking abilities from the TE spot, or even from the full back position, where West Virginia would occasionally use him. This kind of versatility is what the Jets can really use in their rather stagnant offense from 2018, and the paring of Wesco with Chris Herndon IV, whom the Jets drafted last year, could make a formidable duo and give Darnold both protection and a safety net in the passing game next season.
Grade: B
Round 5, Pick 157: Blake Cashman, Minnesota, LB – The Jets have landed themselves a freak athlete at the linebacker spot out of Minnesota. Cashman possesses incredible speed to be able to get across the field and make plays which is what allowed him to be a tackling machine for the Golden Gophers and pick up 104 tackles during the 2018 season, along with 15 tackles for loss. Cashman also dominated the combine putting up a 4.5 40-yard dash. While the Jets may not be able to play him right away due to recently signing C.J. Moseley, and also the presence of Avery Williamson, look for Cashman to make an impact on special teams plays and potentially being a rotational piece. The Jets may have found themselves a bit of a steal here in the fifth round.
Grade: B+
Round 6, Pick 196 (Via CHI from OAK): Blessuan Austin, Rutgers, CB – The Jets decided to wait until late in the draft to address a pretty strong need in the secondary, and this pick may have left a few Jets fans scratching their heads. While Austin definitely has potential and great size and length at 6-1 and 198 lbs, several injuries have restricted him, and he was only able to suit up for five games over the last two seasons. This brings up a lot of endurance questions as to whether or not he could last a full 16-game season, and this pick more or less feels like a prayer from GM Mike Maccagnan that he can provide some competition in their secondary.
Grade: C-
Check out our other Team Draft Recaps and Grades: New York Giants | Indianapolis Colts | Los Angeles Chargers | Cleveland Browns | Buffalo Bills | Carolina Panthers | Pittsburgh Steelers | Minnesota Vikings | Jacksonville Jaguars | Cincinnati Bengals | Oakland Raiders | Washington Redskins | Chicago Bears | Tampa Bay Buccaneers | Denver Broncos | New Orleans Saints |
Questions and comments?
thescorecrowsports@gmail.com
Follow Us on Twitter @thescorecrow
Follow Us on Reddit at u/TheScorecrow
Follow Us on Facebook at The Scorecrow
Follow Us on Instagram at The Scorecrow
Follow Ethan Hewett on Twitter @hewett_ethan
Main Credit Image: Embed from Getty Images