John Lepore | May 2nd, 2019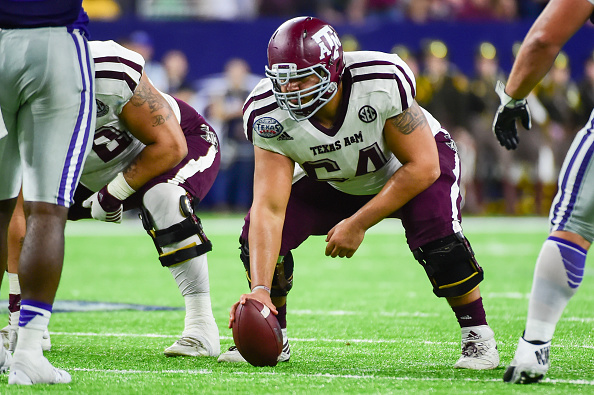 Going into the draft the New Orleans Saints didn't have a first-round pick. They also didn't have many holes to fill. Nevertheless, they traded up twice. Let's take a look at who the Saints got with their five picks.
Erik McCoy – C, Texas A&M – 2nd round (48)
The Saints originally had the 62nd pick but traded with the Miami Dolphins to move up 14 spots. This fills a void left on the offensive line by the retirement of Max Unger. Although I thought the Saints would go WR with this pick, protecting Drew Brees is priority number one for Sean Payton. McCoy started 39 games in a row for the Aggies over the past three years with two of them being at guard. He only allowed one sack in his collegiate career and seven total pressures in 470 pass-blocking snaps according to Pro Football Focus. He can also run-block as he helped Trayveon Williams lead the SEC in rushing. Even if Will Clapp wins the starting job out of camp, this was a solid pick as McCoy can fill in at any of the interior line positions.
Grade: A
The Saints moved up here by trading the fourth-round pick they got from the Dolphins to the Jets to move up 11 spots. He can play up top as a free safety or he can drop down to cover the slot. He has experience playing special teams and has good ball skills to go along with very good run-stopping ability. This was a good pick. CGJ led the SEC in targets when covering the slot last year, yet he also led the conference in lowest passer rating (45.4). PFF had him at an 89.7 rating. He will likely man the slot and compete with Patrick Robinson and P.J. Williams for the job as safety is covered well by Vonn Bell and Marcus Williams. I still would've liked to see a WR here but overall CGJ might have been the most talented player on the board at that point.
Grade: A
Saquan Hampton – S, Rutgers – 6th Round (177)
This was a bit of a head-scratcher. Still, no WR is taken and the Saints grab another safety? Hampton was 12th nationally with 1.3 passes defended per game. He is also more of a true safety as opposed to CGJ. He was also team captain for the Scarlet Knights in 2018. While Hampton has some skills, this pick was not an area of need and an offensive weapon would have been a much better pick.
Grade: D
Alizé Mack – TE, Notre Dame – 7th Round (231)
Finally another weapon for Brees albeit a 7th round TE. He will be able to learn behind Jared Cook for the next two years. Mack is a decent size at 6'4 250lbs and has good speed. His route-running leaves something to be desired and his run-blocking is not great. Hopefully, he can work with Cook and improve on the route-running aspect of the game. I trust Payton to deploy him carefully and strategically. I like the fact that they got a target for Brees but I don't foresee him being any better than Josh Hill or Dan Arnold.
Grade: C
Kaden Elliss – LB, Idaho – 7th Round (244)
He's the son of former Detroit Lions defensive lineman Luther Elliss. Kaden's strength and athleticism give Payton some flexibility. Elliss is pegged for a special teams role to start as he has backups Craig Robertson and Manti Te'o in front of him. I didn't understand why the Saints didn't go with a WR, but it is the seventh-round so best available is probably the correct way to go.
Grade: C
The Saints filled a big need in the beginning and also got an excellent player in Erik McCoy. Getting Gardner-Johnson in the 4th feels like a steal. Other than that, it was meh. Grabbing another DB didn't make sense and even though it was a seventh-round pick, getting a LB there was not necessary.
Overall Grade: B-
Check out our other Team Draft Recaps and Grades: New York Giants | Indianapolis Colts | Los Angeles Chargers | Cleveland Browns | Buffalo Bills | Carolina Panthers | Pittsburgh Steelers | Minnesota Vikings | Jacksonville Jaguars | Cincinnati Bengals | Oakland Raiders | Washington Redskins | Chicago Bears | Tampa Bay Buccaneers | Denver Broncos
Questions and comments?
thescorecrowsports@gmail.com
Follow Us on Twitter @thescorecrow
Follow Us on Reddit at u/TheScorecrow
Follow Us on Facebook at The Scorecrow
Follow Us on Instagram at The Scorecrow
Follow John Lepore on Twitter @jball0202
Main Credit Image: Embed from Getty Images