Lamarr Fields | May 2nd, 2019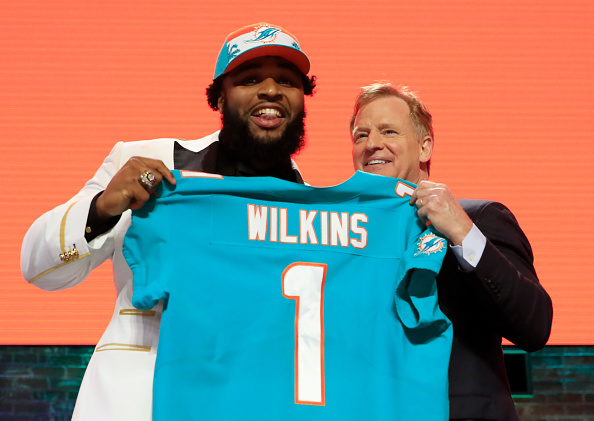 The Miami Dolphins are going through a significant rebuild after finishing the 2018 season 7-9. In the Off-season Miami hired former New England Patriots defensive coordinator Brain Flores. Also, they traded quarterback Ryan Tannehill to the Titans for draft picks.
During the draft, Miami traded for former Arizona quarterback Josh Rosen for a second round pick. The Dolphins rebuilding so drafting smart would be key here is how the fared.
Christian Wilkins was a solid pick for the Dolphins, he upgrades their defensive line. He does not have ideal size for a nose tackle but could play there if need be. Wilkins can play multiple positions on the defensive line, he is tough, quick off the block and athletic. Last season in Clemson, Wilkins had 5.5 sacks and 14 tackles for a loss. I think Wilkins will be a crucial piece on the Dolphins defense. While this was a solid pick I thought the Dolphins had needs elsewhere they could have addressed, but Wilkins will be right for them.
Grade B+
Round 3, Pick 78,   Michael Deiter  G  Wisconsin
The Michael Deiter selection is one I like a lot. Deiter is four-year start at Wisconsin and played guard, tackle, and center while there. He is an outstanding run blocker who plays to the whistle blows. The former Wisconsin star can play anywhere but I think he is better off playing guard for the Dolphins, he could struggle at pass protecting at tackle. Deiter will be starting from day one, could possibly be a future pro bowler.
Grade A
Round 5,  Pick 151,  Andrew Van Ginkel  LB  Wisconsin
Andree Van Ginkel Had 59 tackles, 5.5 sacks, and 9.5 tackles for a loss last season for the Badgers. Van Ginkel will need time to develop into the Dolphins system. He should see a lot of time on special teams in his rookie season. Once he sees the field on defense, he could be used as a hybrid OLB/edge rusher. The former Badger will need to get a bit stronger to be successful in the NFL
Grade B-
Round 6, Pick 202., Isaiah Prince   T    Ohio State
Isaiah Prince has great size and athleticism to play tackle in the NFL. He will need time to work on his craft. Prince needs to work on his footwork and his hand usage to be a better player. Prince has a lot upside, now it's up to him and the coaches to pull that potential out of him. The former Ohio State offensive lineman will need to be more consistent in his all-around blocking. This pick addressed a need for the Dolphins offensive line.
Grade B
Round 7, Pick  233,  Chandler Cox   FB  Auburn
Chandler Cox is old school like a player. He is a hard-hitting fullback that brings versatility to the position.  Cox will be used in short-yardage and goal-line situations. Also, he could be used on plays with the fullback coming out of the backfield for passes. At Auburn last season, Cox caught 11 passes for 93 yards and one touchdown.
Grade C
Round 7, pick 234, Myles Gaskin  RB   Washington
Myles Gaskin will add depth to the Dolphins backfield and could see work on special teams if he makes the roster. Gaskin can be quick, fast, explosive, and outstanding in the open field. He is not that good after contact and has a small frame. Gaskin logged a lot of touches in his time in Washington, 945 carries to go along with 65 catches. Last season he rushed for 1,268 yards and 12 touchdowns. Also, Gaskin added 21 catches for 77 yards and one touchdown. If Gaskin is on the roster, he could be used as a third down back to use his open-field talent.
Grade B
Overall grade B
The Dolphins draft was pretty good, they got players that could fit their system on offense and defense. Some will need to develop, but with proper coaching and willing players, development could happen quickly. I think the Dolphins are trying to run things like the New England Patriots, only time will tell if it will work out.
Check out our other Team Draft Recaps and Grades: New York Giants | Indianapolis Colts | Los Angeles Chargers | Cleveland Browns | Buffalo Bills | Carolina Panthers | Pittsburgh Steelers | Minnesota Vikings | Jacksonville Jaguars | Cincinnati Bengals | Oakland Raiders | Washington Redskins | Chicago Bears | Tampa Bay Buccaneers | Denver Broncos | New Orleans Saints | New York Jets | Arizona Cardinals |
Questions and comments?
thescorecrowsports@gmail.com
Follow Us on Twitter @thescorecrow
Follow Us on Reddit at u/TheScorecrow
Follow Us on Facebook at The Scorecrow
Follow Us on Instagram at The Scorecrow
Follow Lamarr Fields on Twitter @Raiderway83
Main Image Credit:  Embed from Getty Images