Dale Money | May 2nd, 2019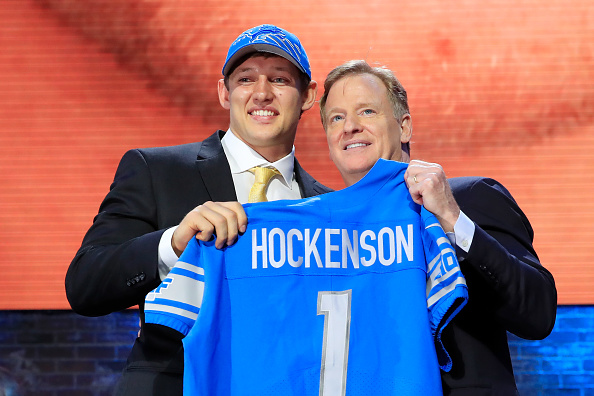 The Detroit Lions entered the NFL Draft with nine picks. They seemed pretty set on remodeling the tight end position, this offseason. That could not have been more evident in the draft. Deciding to take two tight ends, including the big fish out of Iowa, T.J. Hockenson, with the 8th pick overall. The 2nd round selection of Jahlani Tavai, may seem like a head-scratcher for many people outside the organization. We will see how that selection pans out. I really liked the additions of William Harris and Amani Oruwariye, both players should improve that Lions secondary as they get better situated. Oruwariye will look to fill the empty spot opposite Darius Slay.
Overall Draft Grade B
1st Round, Pick 8: T.J Hockenson, TE Iowa
The Detroit Lions decided to draft Hockenson with the eighth pick before the Packers got the opportunity. With Matthew Stafford having lacked a real tight end threat last year, the Lions have tried to address the problem. Along with adding Hockenson in the draft, they also picked up former Steeler Jesse James in offseason free agency. Some might argue, that it was a bit of a reach, going tight end with the 8th selection. However, I think they made the right decision.
Not only can he run, catch and makes plays with the ball in his hands, but he's an accomplished run and pass blocker. A true swiss army knife threat, that should be able to mold well with Stafford.  Look for him to become a real weapon, across the middle.
Grade A
2nd Round, Pick 43: Jahlani Tavai, LB Hawaii
Quite the surprise reach, Tavai was projected on many mock boards to go quite a bit later. The Lions management obviously sees second round potential in the linebacker from Hawaii.  Tavai has a continuous motor, never slowing down in pursuit of a play. Could be a useful reserve linebacker, that could develop into a suitable starter. Tavai is the sort of linebacker Bob Quinn likes, in terms of his size, skill, and body type.
He can play either the strong-inside, middle, or outside linebacker roles depending on the down, distance, and sub package. Missed the second half of the season, as well as much of the draft procedure, recovering from shoulder surgery.
Grade C
3rd Round, Pick 81: William Harris, S Boston College
Looking for a replacement for the departed Glover Quin. Harris is a safety that can be described as a bull in a china shop when he's out on the field. He moves all over the back end to cover, pressure and tackle. A really talented athlete, at the combine 40-yard dash, he ran a 4.41. He is rarely lost in coverage and possesses good strength and length. Look for Harris to become a staple in that Lions safety spot.
Grade B+
4th Round, Pick 117: Austin Bryant, DE Clemson
A good selection in the fourth round. Bryant is a long-legged edge rusher, with tree trunk type limbs., that he uses to his advantage. This guy can get to the quarterback, in his four years at Clemson, he collected 21 sacks. Can track players down quickly, as he burns up yardage when moving upfield. He put off surgery for a torn pectoral muscle, until after the season. So he wasn't able to participate in either the Combine or Pro Day.
Grade C
5th Round, Pick 146: Amani Oruwariye, CB Penn State
The Lions adding to their cornerback depth, go with Oruwariye. He was voted first-team all-Big 10 at Penn State. Oruwariye has a nice size, and length so can match up well with the bigger NFL receivers. He is a solid tackler and will consistently make the tackle on short passes underneath.  Has explosiveness with which to get to the ball carrier with good awareness and knows what he is doing in zone coverage. Getting Oruwariye in the 5th round is a steal.
Grade B
6th Round, Pick 184: Travis Fulgham, WR Old Dominion
The Lions sniped Fulgham deep in the draft. Fulgham played all four years at Old Dominion, however, he only really came out last year, producing over a 1,000 yards receiving along with 9 touchdown snares. That was more yardage than his previous three years combined. If Fulgham shows enough in camp, there is a chance he could stick around, as a solid depth receiver. Behind Kenny Golladay and Marvin Jones, there isn't a lot to get excited about.
Grade C
6th Round, Pick 186: Ty Johnson, RB Maryland
The Lions grabbed a running back deep in the draft, going with Johnson out of Maryland. The first round pick from last year, Kerryon Johnson was injured for quite a bit of his rookie campaign, so the need for some proper depth was needed. Is a compact sized runner, with speed to get to the edge as an outside runner.  The former Terrapin along with being a talented back is useful in the special teams as a returner.
Grade C+
7th Round, Pick 224: Isaac Nauta,  TE Georgia
The Lions decided to double down at the tight end spot. Nauta, may end up working out very nicely as a number two tight end, next to Hockenson. As its looking like the team is determined on going with a two tight end set. Nauta is quick, with very good separation, along with soft hands. Can make those tough grabs in traffic, and has great awareness of where he is on the football field.
Grade B
7th Round, Pick 229: P.J. Johnson, DT Arizona
The Lions go defensive tackle, with their last pick. Johnson is a tank of player, weighed in at 334 pounds. Last year at Arizona, he started nine of ten games, contributing 31 tackles, 8.5 of those tackles for a loss, along with 3 sacks and a forced fumble.
Grade C
Check out our other Team Draft Recaps and Grades: New York Giants | Indianapolis Colts | Los Angeles Chargers | Cleveland Browns | Buffalo Bills | Carolina Panthers | Pittsburgh Steelers | Minnesota Vikings | Jacksonville Jaguars | Cincinnati Bengals | Oakland Raiders | Washington Redskins | Chicago Bears | Tampa Bay Buccaneers | Denver Broncos | New Orleans Saints | New York Jets | Arizona Cardinals | Miami Dolphins
Questions and comments?
thescorecrowsports@gmail.com
Follow Us on Twitter @thescorecrow
Follow Us on Reddit at u/TheScorecrow
Follow Us on Facebook at The Scorecrow
Follow Us on Instagram at The Scorecrow
Follow Dale Money on Twitter @packerd_00
Main Image Credit:  Embed from Getty Images