Givanni Damico | April 30th, 2019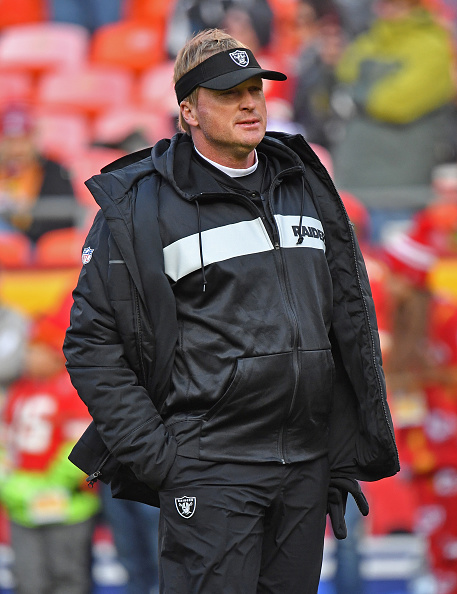 Do Jon Gruden and Mike Mayock deserve the hate that they are getting from this draft? No, no they do not.
Round 1, Pick 4: Clelin Ferrell, EDGE (Clemson)
Grade: C+
Let me explain the grade before you lynch me, Oakland Raiders' fans (no pun intended). Ferrell is a great player whom I have a first round grade on. He fills the most important need for the Raiders. My only issue is that the value is very far off. Josh Allen was still on the board. Allen was a blue-chip prospect for me, meaning that he is potentially a generational talent. Allen has a small bust factor but it's nothing to worry about. Ferrell is definitely the "safer" pick, but it seems unlike Gruden to take the safe route. I don't know if he saw something that other people didn't when watching Ferrell, but this was a questionable decision.
Round 1, Pick 24 (via CHI): Joshua Jacobs, RB (Alabama)
Grade: A
Jacobs is the most pro-ready running back in the draft. I would take him round one, pick one in rookie drafts. With the loss of Marshawn Lynch, Jacobs will carry the majority of the workload right away. He didn't have a ton of production at Alabama simply because of how crowded the backfield was there. He split carries with Najee Harris and Damien Harris. Jacobs is an all-around running back with very little bust factor. Another safe pick for Gruden, but he took the best running back available to bolster up the offense.
Round 1, Pick 27 (via DAL): Johnathan Abram, SAF (Mississippi State)
Grade: B
Don't get me wrong, I love Abram, but I have my concerns. Abram is someone who will take your head off with a hit, but can he play consistent coverage? His ability to coverage, or lack thereof, was revealed at Mississippi State and it is a bit of a red flag for me. Other than that, Abram is a great player who will play in the box. Some people argued that the value was off with this pick, but I simply disagree. Abram was the second safety on my board.
Round 2, Pick 40 (Buffalo): Trayvon Mullen, CB (Clemson)
Grade: B
Mullen has great size and superb athleticism. He is extremely physical which could be both a good and a bad thing considering he draws his fair share of penalties. I'm not too worried about that aspect of his game, though. I'm just disappointed in the Raiders for passing up on Greedy Williams. I know that he seemed to lack effort and hustle at his pro-day, but we all know how good Greedy is on the field. Sorry if you think this is unfair, but the value is slightly off here.
Round 4, Pick 106: Maxx Crosby, EDGE (Eastern Michigan)
Grade: B-
This is a nice developmental pick for Gruden and the Raiders here, but once again, the value is off. They missed out on some great talent that would have helped them out now such as Iowa defensive end, Anthony Nelson. This wasn't a terrible pick, but Gruden needs to learn what value is when drafting.
Round 4, Pick 129 (via IND): Isaiah Johnson, CB (Houston)
Grade: A-
The Raiders filled a major need here with a very underrated, very talented player. Johnson flew under the radar but he should be someone who can help the Raiders out right away. Johnson is a rare player at cornerback who is tall but contains great long speed.
Round 4, Pick 137 (via ATL): Foster Moreau, TE (LSU)
Grade: A+
Moreau didn't have a ton of production at LSU, but he is a pure pass-catcher who can play the Jared Cook role for the Raiders. He's very athletic and can be a playmaker for Derek Carr. A lot of people seemed to dislike this pick and I still don't understand why. This was fantastic value for the Raiders, considering tight ends such as Drew Sample were taken over him when Moreau is simply the better player.
Round 5, Pick 149 (via CIN, via DAL): Hunter Renfrow, WR (Clemson)
Grade: A
He might look similar to your insurance agent, but Renfrow has arguably the best hands in this draft. Even though my six-year-old cousin's hands are bigger than his, Renfrow is still able to make catch after catch. For as much hate that people give Renfrow for not being the most athletic player or for not having a hairline, he is a very reliable target. He should get significant reps in this season with Oakland. Very solid, very safe pick again for Gruden and Mayock.
Round 7, Pick 230 (via ATL): Quinton Bell, EDGE (Prairie View A&M)
Grade: D
Yes, that is a real school. I hated this pick because this is someone they could have gotten as an undrafted free agent. I hadn't heard of him until he was picked and I could hardly find tape on him. It's a seventh-round pick, so it shouldn't keep Gruden up at night, but if they wanted yet another defensive end, why not take Jalen Jelks from Oregon?
Overall Grade: B+
People acted like Gruden and Mayock totally messed up this draft, but all they did was reach for talent just a little bit. At least they didn't take Rashaad Penny in round one. This was a step in the right direction for the Raiders.
Check out our other Team Draft Recaps and Grades: New York Giants | Indianapolis Colts | Los Angeles Chargers | Cleveland Browns | Buffalo Bills | Carolina Panthers | Pittsburgh Steelers | Minnesota Vikings | Jacksonville Jaguars | Cincinnati Bengals
Questions and comments?
thescorecrowsports@gmail.com
Follow Us on Twitter @thescorecrow
Follow Us on Reddit at u/TheScorecrow
Follow Us on Facebook at The Scorecrow
Follow Us on Instagram at The Scorecrow
Follow Givanni Damico on Twitter @giodamico15
Main Image Credit:
Embed from Getty Images