Joey Ricotta | April 30th, 2019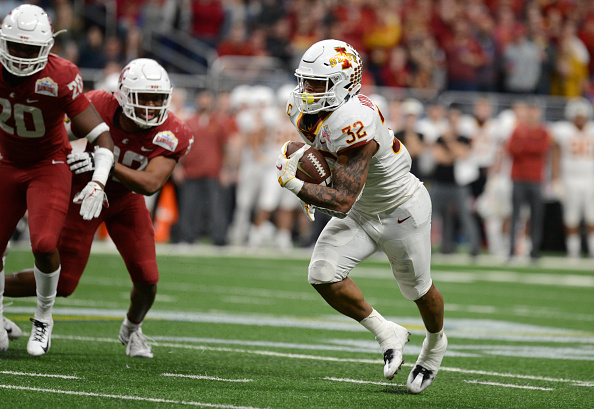 Not having a pick until the third round of the draft can change the way a fan views that particular draft. That's been the case for most Bears fans as they were expecting to wait until pick number 87 before they made their first selection. Instead, fans only had to wait until pick 73 because the Bears decided to trade up to get their guy. Nothing new for GM Ryan Pace, but how should we value this year's picks?
Round 3, Pick 73: David Montgomery, RB, Iowa State
Receiving a lot of comparisons to Kareem Hunt (the player) and apparently, Matt Nagy really likes him. This is more of the fit the Bears were looking for to compliment Tarik Cohen. Cohen is a smaller shifty receiving back that works well as a runner in special packages. The Bears shipped off Jordan Howard because he was strictly being used as a runner between the tackles. Montgomery adds versatility and will allow the Bears to become less predictable. He can be used as a real dual threat and has the ability to make defenders miss. Now, when either Cohen or Montgomery are in the game, the defense will be less inclined to lean one way or the other. The Bears will truly be able to run or pass on any given play, based on the scheme or alignment the defense presents them with.
Grade: A
Round 4, Pick 126: Riley Ridley, WR, Georgia
Calvin Ridley's brother, Riley is an excellent bargain to my estimation. I had him pegged as a top 65 player on my big board. He might have some of his brother's tools as well. Him falling all the way to the fourth round was unforeseen by many. Ridley is a very good possession receiver and a polished route runner. Ridley also high points the ball well and has strong hands to catch tough passes in traffic. The Bears add him to an already good mix, which includes Allen Robinson, Anthony Miller, Taylor Gabriel, and Trey Burton. Even with those names, Ridley has the tools to compete for a starting job on day one.
Grade: A+
Round 6, Pick 205: Duke Shelley, CB, Kansas State
Ryan Pace referred to him as very athletic, twitchy, and sticky. Yeah, the words used to describe him might be a little strange. He went on to say he was someone they have had their eyes on for quite some time internally and his ideal spot will be working the nickel. Much of that is likely because of his small size. The Bears signed Buster Skrine early in the free agency period and are looking for an adequate replacement for Bryce Callahan. If Duke Shelley can eventually fill that role, he becomes a great pick. After watching tape on him, I see what Pace meant when he said sticky. It seems like he sticks to receivers closely and closes gaps very quickly.
Grade: B+
Round 7, Pick 222 (From DEN, Via PHI): Kerrith Whyte Jr., RB, Florida Atlantic 
Whyte is a speedy back with special teams experience. One-cut ability to explode through holes and take it to the house. He has very good top-end speed, strong for his size, and can make guys miss. Reportedly, he isn't a very good pass blocker. The encouraging thing for Whyte, he was able to put up good numbers in college despite playing second fiddle to starting running back, Devin Singletary. He's another toy for Matt Nagy to deploy in this Bears offense. The only problem I have is they might've been able to address another position of need at this spot in the draft. I would've liked to have seen them use this pick on either an offensive or defensive lineman.
Grade: C+
Round 7, Pick 238: Stephen Denmark, CB, Valdosta State
Denmark is a very intriguing pick. You see this more and more with the late round picks, but this is a developmental flier. Admittedly, I knew nothing about Denmark prior to the Bears drafting him. He is a freak of nature from a physical standpoint, standing 6 foot 3, 220 lbs. He converted into a CB last year after being a WR. I could see him turning into a real playmaker. His amazing size and catch radius for a cornerback creates matchup issues for offenses. Denmark might have some of the rawest untapped tools out of anyone in the draft. When is the last time you've heard of a #GUAGI (go up and get it) cornerback? That might be exactly what Stephen Denmark is.
Grade: B+
Overall
Once again GM Ryan Pace traded up to get his guy. With no undeniable team needs, the Bears could've gone anywhere on the board. I'm very happy with the picks they made as a whole. Of course, anytime you get Khalil Mack in a trade for basically RB Josh Jacobs, and another future first round pick that might not matter, you have to look at it as a win. And with the limited amount of picks they had this year, they might have some real steals. The draft itself was only part of it. Pace said they have also agreed to terms with 21 UDFA's. More on that later.
Overall Grade: A
Check out our other Team Draft Recaps and Grades: New York Giants | Indianapolis Colts | Los Angeles Chargers | Cleveland Browns | Buffalo Bills | Carolina Panthers | Pittsburgh Steelers | Minnesota Vikings | Jacksonville Jaguars | Cincinnati Bengals | Oakland Raiders | Washington Redskins
Questions and comments?
thescorecrowsports@gmail.com
Follow Us on Twitter @thescorecrow
Follow Us on Reddit at u/TheScorecrow
Follow Us on Facebook at The Scorecrow
Follow Us on Instagram at The Scorecrow
Follow Joey Ricotta on Twitter @theriot326
Main Image Credit:
Embed from Getty Images