Joe Toscano | April 29th, 2019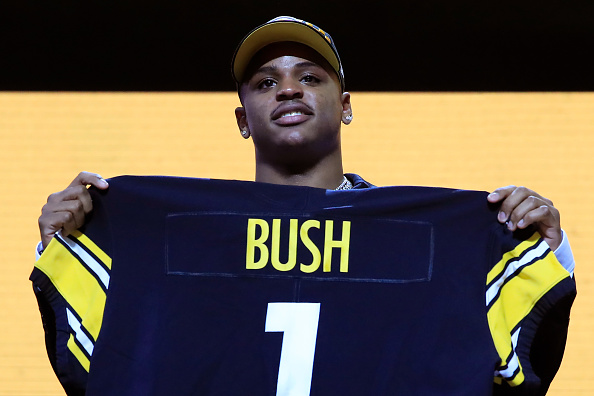 The Pittsburgh Steelers went into the 2019 NFL Draft with many needs. Their biggest need was Inside Linebacker, a need created from the injury to Ryan Shazier in 2017.  The question was – would they address that need in the draft, and when?
Pittsburgh Steelers Draft Review
The 2019 NFL Draft had two inside linebackers that were head and shoulders above the other inside linebacker prospects – Devin White from LSU and Devin Bush from Michigan. They were both expected to go in the top 10 this year and the Steelers drafted 20th. If the Steelers wanted one of those players, they'd have to trade up.
The debate in Pittsburgh was fierce – would the Steelers make a move like that?  They rarely have traded up. The Steelers tradition is to stand pat at their draft position and take the 'best player available'.
Devin White went 5th overall to Tampa Bay, as expected. Five picks later, it was the Broncos turn to draft. The rumor was the Bengals with the 11th pick really wanted Bush, so if the Steelers wanted Bush, they'd have to trade with Denver. They made the move and traded their 20th, 52nd and a 2020 3rd round pick for him.
So the Steelers got their man, but was it a good pick? How about the other picks in the draft? Let's take a look:
1st round (10th overall): Devin Bush, LB, Michigan
The Steelers get their man, but can he replace Ryan Shazier, who can do it all – fast enough to cover anyone, a tackling machine, leader of the defense? Bush checks all the boxes – he's fast and a hard tackler. He was also a team captain at Michigan which is good because he'll have to be the leader of the Steelers defense.
Grade: A
3rd round (66th overall): Diontae Johnson, WR, Toledo
This is one of the picks the Steelers got from the Raiders in the Antonio Brown trade. Is it a bit ironic that Johnson has similar size (5 foot 10, 183 lbs), speed and comes from the same conference as Antonio Brown? He's being compared to Emmanuel Sanders – not bad. The draft experts say this was a reach but the Steelers say they know teams that were going to take him. He might not contribute right away but he has the toughness, hands, and quickness to succeed.
Grade: B
3rd round (83rd overall): Justin Layne, CB, Michigan State
The Steelers addressed another big need – cornerback. There was some talk that Layne could've been taken in the 1st round so this might be considered a steal. He doesn't have great speed but does have terrific ball skills, which the Steelers desperately need. He compares to William Jackson.
Grade: A
4th round (122nd overall): Benny Snell, RB, Kentucky
Snell was highly productive at Kentucky but lacks elusiveness and speed. He makes up for that with tremendous toughness and instincts. He's almost a carbon copy of James Conner which could be perfect if Conner was hurt.
Grade: B
5th round (141st overall): Zach Gentry, TE, Michigan
The Steelers lost Jesse James to free agency. Jesse James is tall and it looks like that's how the Steelers like their tight ends. Gentry is VERY tall (6 foot 8, 265 lbs) but is known more as a blocker than receiver. There were other tight ends available that graded higher and it was uncertain whether Gentry would be drafted at all so this can be considered a reach.
Grade: C
6th round (175th overall): Sutton Smith, DE/OLB, Northern Illinois
Smith dominated in the MAC (he was MAC Defensive Player of the Year and almost led the nation in tackles for loss, sacks and forced fumbles). So why was he taken 175th overall?  His size (6 foot 0, 233 lbs). If he plays, he'll be one of the smallest edge rushers in the NFL. He could fit in as a 3rd-down specialist or on special teams.
Grade: B-
6th round (192nd overall): Isaiah Buggs, DE/DT, Alabama
The Steelers need depth on the defensive line, and Buggs could help. He didn't do well at the combine, is slow and has short arms, but could play inside or outside. Grade: C
6th round (207th overall): Ulysees Gilbert, LB/ST, Akron
The Steelers draft another Inside Linebacker, but Gilbert projects as a special teamer. He's 6 foot 0, 223 lbs but is fast.
Grade: C
7th round (219th overall): Derwin Gray, OT, Maryland
Gray played well on the field but had a very bad combine. He could be a strong run blocker but needs work in pass blocking.
Grade: B
Overall: It was obvious that the Steelers defense never recovered from losing Ryan Shazier. Devin Bush seems to be the perfect replacement and was never going to fall to them at the 20th pick, so trading for him was the right move. Diontae Johnson is considered a reach but Justin Layne is considered a steal in the 3rd round. Snell might be a perfect backup running back.
Check out our other Team Draft Recaps and Grades: New York Giants | Indianapolis Colts | Los Angeles Chargers | Cleveland Browns | Buffalo Bills | Carolina Panthers
Overall Grade: A-
Questions and comments?
thescorecrowsports@gmail.com
Follow Us on Twitter @thescorecrow
Follow Us on Reddit at u/TheScorecrow
Follow Us on Facebook at The Scorecrow
Follow Us on Instagram at The Scorecrow
Follow Joe Toscano on Twitter @Joeybagovdonuts
Main Credit Image: Embed from Getty Images