Dale Money | April 29th, 2019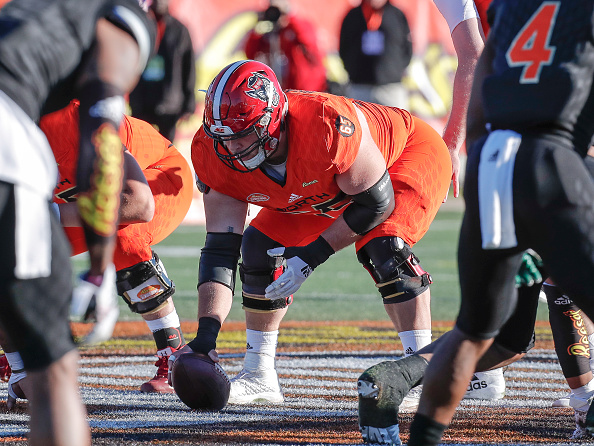 The Vikings wrapped up the 2019 draft with 12 picks, which is the most they've had in franchise history since the seven-round format began in 1994. They were able to get themselves a potential franchise tight end early, leaving offensive guard till the fourth round. They made a very solid first selection, picking one of the top interior offensive linemen in the draft, in Garrett Bradbury. Choosing a running back in the third round, was a bit of a surprise. Given the needs, they had at defensive back and on the defensive line. But you could argue, the need for an adequate backup to oft-injured Dalvin Cook was necessary.
Overall Draft Grade B+
Round 1, Pick 18: Garrett Bradbury, C NC State
Minnesota made a great pick here, getting themselves one of the best interior offensive linemen in the draft. With the addition of Bradbury, they add a natural fit with the inside zone-blocking scheme. They'll be using to try to generate, more of a running game and keep the pressure off quarterback Kirk Cousins. Bradbury solidifies the offensive line and would give the Vikings a likely starting lineup of Riley Reiff and Brian O'Neill at tackles, Elflein and Josh Kline at guards, and Bradbury at center.
Grade A
Round  2  Pick 50: Irv Smith Jr., TE Alabama
With both Kyle Rudolph and David Morgan entering the final year of their current deals with the Vikings. They took the early shot to add, a good young tight end for the future. After finishing 20th in yards and 19th in points last season, the Vikings going offense early makes a lot of sense. Smith suits the pro game and can learn a lot behind Kyle Rudolph. Along with natural ability, he has a strong work ethic.
He has good timing and handwork in his blocking. How long will it be until Rudolph is traded out of town, it is possible they decide to keep both tight ends together. However, with the expiring contract, it would make sense, for the team to try and get something, for Rudolph during the season.
Grade A
Round 3  Pick 102: Alexander Mattison, RB Boise State
Minnesota added a running back, with their round pick, foregoing positions like a defensive back and defensive line. Mattison is not the biggest back, but he has above average quickness. He is a physical back who can carry the load and catch passes. Getting more running back depth behind Dalvin Cook is not a bad thing.
Given that Cook has been oft-injured in his first 2 seasons, have it be his knee injury in his 2017 rookie season and his hamstring problems in 2018, the need for some real insurance was needed. The main backup behind Cook going into the draft was Ameer Abdullah.
Grade B
Round 4  Pick 114: Dru Samia OG Oklahoma
The Vikings went later than expected when it came to fulfilling arguably their most pressing need, on the offensive line. Samia provides the Vikings with some position flexibility given his first 10 starts in college came at right tackle before he notched 38 consecutive starts at right guard.
Grade B
Round 5  Pick 162: Cameron Smith  LB USC
The Vikings are getting a very solid inside linebacker in Smith, who along with being a good run defender, he has a very high IQ. Smith doesn't have the most impressive physique, however, it hasn't seemed to bring him down. In fact, it improved his quickness, enabling him to use upper-body strength to push off blockers.
Grade C+
Round 6  Pick 190: Armon Watts DT Arkansas
Watts led the Razorbacks with seven sacks among his 49 tackles, including 8.5 for loss. He also tied for the team lead with three forced fumbles. He is still pretty raw, having appeared in just six games in his first three years at Arkansas, before blowing up in his final season once presented with a starting opportunity.
Grade B
Round 6 Pick 191: Marcus Epps S Wyoming
Safety was a position of need for Minnesota, even if just to add depth for training camp. Epps notched nine career interceptions and defended 22 passes for the Pokes, solidifying himself as one part of the Mountain West's best safety duo.
Grade B-
Round 6 Pick 193: Olisaemeka Udoh OT Elon
This is a BIG offensive tackle. At 6-foot-5 and 323 pounds, Udoh's size and speed make him an ideal developmental prospect. If Udoh can improve his abilities as a run-blocker and in pass protection, he has a chance of sticking around.
Grade C
Round 7 Pick 217: Kris Boyd CB Texas
The Vikings managed to get a player in Boyd that was projected to go as early as the fourth round. Boyd is a physical tackler who can make plays in space or up in the box. His skills against the run and aggressiveness in playing downhill are his biggest strengths at cornerback. He will be joining former Longhorn teammates and fellow cornerbacks Holton Hill and Duke Thomas. Perhaps that familiarity will help speed up the development.
Grade B 
Round 7 Pick 239: Dillon Mitchell WR Oregon
The Vikings have no real third option behind Adam Theilen and Stefon Diggs, so going wide receiver back to back in the seventh round. In hopes of one of those players catching on, isn't a bad decision.  Mitchell also has plenty of experience on kickoff and punt return, so could be useful in other roles, should it not work for him as a receiver.
Grade C-
Round 7 Pick 247: Olabisi Johnson WR Colorado State
Johnson is a tough, effective route runner who isn't afraid to make contested plays. He developed into a deep-ball threat at Colorado State. He doesn't wow you at any one trait of his game, but is overall quite useful.
Grade B
Round 7  Pick 250: Austin Cutting LS Air Force
Cutting could end up being the replacement for long snapper Kevin McDermott, who is under contract through 2020. However, he is meant to serve 24 months in the service upon graduation but can file for a waiver to adjust when he will need to fulfill his military obligations
Grade D
Check out our other Team Draft Recaps and Grades: New York Giants | Indianapolis Colts | Los Angeles Chargers | Cleveland Browns | Buffalo Bills | Carolina Panthers | Pittsburgh Steelers
Questions and comments?
thescorecrowsports@gmail.com
Follow Us on Twitter @thescorecrow
Follow Us on Reddit at u/TheScorecrow
Follow Us on Facebook at The Scorecrow
Follow Us on Instagram at The Scorecrow
Follow Dale Money on Twitter @packerd_00
Main Image Credit: Embed from Getty Images