Connor Neal | April 29th, 2019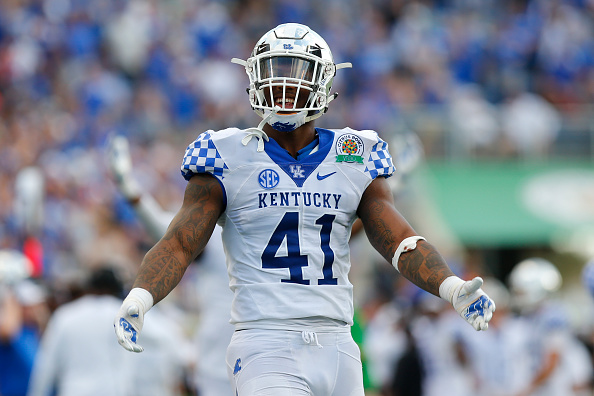 After the Jaguars finished 28th in the league, expectations were high going into the 2018 NFL season, then their downfall happened. The Jaguars were led by poor quarterback play and riddled with injuries throughout the entire season. Quarterback Blake Bortles threw for only 13 touchdowns while throwing 11 interceptions. A team who once looked promising was back to picking in their usual range, 7th overall.
In the weeks leading up to the draft, the Jaguars were commonly mocked 1 of 3 players. Those 3 players include Jonah Williams, TJ Hockenson, and Jawaan Taylor. It became apparent the team viewed right tackle as a big need.
Team needs heading into the 2019 NFL Draft:
Offensive Tackle, Tight End, Offensive Guard, EDGE, Safety, Running Back, Quarterback
Picks at the beginning of the 2019 NFL Draft:
7th, 38th, 69th, 98th, 109th, 178th, 236th
Round 1, Pick 7: Josh Allen, DE, Kentucky
Somehow, the Jaguars got the most versatile defensive player in this entire draft. Allen can do it all, from playing EDGE to playing any linebacker position or to even being excellent in coverage. Allen was mocked to go anywhere from the second pick to the sixth pick, but none had Allen falling to the Jags at pick seven.
Allen was the best player in this draft to fill the Jaguars need at EDGE. Whether the Jaguars decide not to re-sign Yannick Ngakoue or to eventually part ways with Calais Campbell, Allen will fill either role perfectly. If the Jaguars fall in love with Allen from now to the start of the season and want to start him at EDGE immediately, they could kick Campbell inside and have a killer defensive line that consists of Ngakoue and Allen playing EDGE along with Campbell, Dareus, and Bryan playing defensive tackle.
Grade: A+
Round 2, Pick 35: Jawaan Taylor, OT, Florida
The Jaguars traded up three spots to secure their second top 10 player from their big board.
The trade: Oakland sends their 35th overall pick, 140th pick, and the 235th pick, to Jacksonville in exchange for the 38th overall pick and the 109th pick. The Jaguars move up and obtain an extra pick.
After the Jaguars drafted Jawaan Taylor, who they considered taking with their 7th overall pick, many fans began to get deja vu from the Jaguars 2016 NFL Draft when the Jaguars landed Jalen Ramsey in the first and Myles Jack, who was in consideration with their first-round pick, in the second. Taylor was expected to be an early to mid first round selection but fell all the way to the top of the second.
Taylor will be an immediate starter in Jacksonville. Taylor is a very well rounded offensive tackle, who blocks well in both running and passing plays. For Foles to succeed he needs a good offensive line, Jawaan filled the need perfectly at right tackle. There isn't much he can't do and he never would have fallen to the top of the second without his injury concerns.
Grade: A+
Round 3, Pick 69: Josh Oliver, TE, San Jose State
Josh Oliver is an extremely athletic tight end who will be a great target for Foles. No other tight end in all of college football caught more contested catches than Oliver did last season. Aside from possibly Jace Sternberger, Oliver was the TE that best fit what Jacksonville wanted. Oliver's biggest downfall is that he is pretty bad at blocking. However, he has the size and skill set to develop nice blocking skills.
Oliver will be the third player in this draft who should be an immediate starter. Foles loves passing to tight ends, which he did pass to 33% of the time in Philadelphia, Oliver is exactly that, an elite passing tight end. If the Jaguars choose to do so, Oliver can play both the slot and tight end positions perfectly. Oliver definitely needs to work on his blocking skills if he wants to be an every down tight end for the Jaguars.
Grade:  B+
Round 3, Pick 98: Quincy Williams, LB, Murray State
The Jaguars picking Quincy Williams over guys such as Hakeem Butler or Chauncey Gardner-Johnson was shocking to everyone, not just fans of the Jaguars. Quincy was a fairly unknown prospect by a majority of the scouting community. Williams, the older brother of Quinnen Williams, was considered a reach until Ian Rapoport said there were many teams interested in Williams and that the Falcons almost traded up to get him.
Dave Caldwell said Williams will mostly serve as a special teams player and a backup linebacker. If the team decides to move on from Telvin Smith, Williams will compete for the starting job with Blair Brown.
The only reason I'm not giving this pick an F is because of Ian Rapoport's report on Williams, that I mentioned earlier. However, the selection cannot be justified with the players that were left on the board.
Grade: D-
Ryquell Armstead was my biggest draft crush at RB heading into the 2019 NFL Draft. Armstead is a well built, aggressive back who will be a perfect complimentary back to Leonard Fournette. Armstead provides the Jaguars with good speed, power, competitiveness, along with a high motor. I believe Armstead was a steal in the fifth round.
Armstead should be able to earn the backup position, ahead of Alfred Blue and Benny Cunningham before the season starts. Armstead may surprise all Jaguars fans with just how good he truly is when he takes over for Fournette when he inevitably gets injured again.
Grade: B+
Round 6, Pick 178: Gardner Minshew, QB, Washington State
Gardner Minshew is an extremely smart QB, who scored a 42 out of 50 on the Wonderlic score, second highest out of the entire 2019 NFL Draft class. Even though Minshew was only at Washington State for one year, the entire Washington State football team loved him. Minshew is a great locker room presence who makes everyone around him more competitive and exuberant.
Minshew should compete for the backup quarterback position with Cody Kessler. If he wins, which he should, Minshew will be a great long term developmental quarterback who has a chance of taking over as the Jaguars starter once the team moves on from Foles.
Grade: B
Dontavius Russell is a four-year starter at Auburn who will play nose tackle for the Jaguars. Russell is a consistent player who does not struggle with injuries, which is huge for the Jaguars. Russell is a big-bodied defensive tackle with good power but poor athleticism who is not easily moved by defenders. With Gerald Willis still on the board, that's who the Jaguars should have selected at defensive tackle and even better than Willis is Emmanuel Hall, who should have gone in the fourth round.
Russell could find himself struggling to find a roster spot when the final cuts happen. I wouldn't be surprised if he didn't make the final roster.
Grade: D
Overall Grade: B
Overall, the Jaguars improved where it was crucial to improving and that was in the offensive line. If their gambling pick in Quincy Williams pays off, this draft class will be very good for the future of the Jacksonville Jaguars. The Jaguars also got 3 immediate starters and 2 good backups.
The 2 best UDFA signings by the Jaguars:
Joe Giles-Harris is a former team captain and team MVP during his time at Duke. Giles-Harris excels at making plays all over the field. As you watch any Duke game from the last couple of years, you will commonly hear his name come up when Duke is on defense. He has great size for a linebacker matched with good zone coverage and play recognition skills along with great tackling skills. Giles-Harris should make the final roster as a solid backup linebacker and special teams player. I would have preferred the Jaguars taking Giles-Harris over Williams, but getting him as an UDFA is even better.
Although Tyre Brady isn't the fastest of wide receivers, running an abysmal 4.74 40 yard dash, his tape is eye-catching. Brady will be the second biggest wide receiver on the Jags roster if he makes the cut, standing at 6'3" and 211 pounds. He is built a long, lanky wide receiver who is good at catching in coverage, quick at releases, and great at getting off press coverage. If I had to bet on one wide receiver from the Jaguars UDFA class to take Keelan Cole's roster spot, it would be Tyre Brady.
Check out our other Team Draft Recaps and Grades: New York Giants | Indianapolis Colts | Los Angeles Chargers | Cleveland Browns | Buffalo Bills | Carolina Panthers | Pittsburgh Steelers | Minnesota Vikings | Jacksonville Jaguars
Questions and comments?
thescorecrowsports@gmail.com
Follow Us on Twitter @thescorecrow
Follow Us on Reddit at u/TheScorecrow
Follow Us on Facebook at The Scorecrow
Follow Us on Instagram at The Scorecrow
Follow Connor Neal on Twitter @Draft__HQ
Main Credit Image: Embed from Getty Images