Gregory Blakley  | April 29th, 2019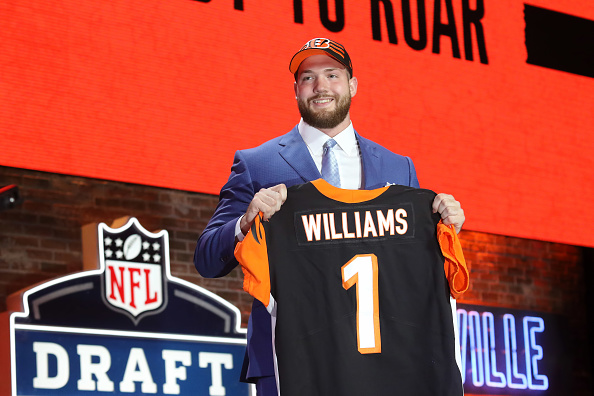 The Cincinnati Bengals are headed into a new era with a new coach in Zac Taylor after finally parting ways with Marvin Lewis. They're coming off 3 straight losing seasons and Didn't make any real noise in free agency so they must build through the draft. How did they fare this year?
Round 1, Pick 11- Jonah Williams (OL) Alabama- 
The Bengals got the best offensive lineman right here in my opinion, not only does Jonah have great character traits and leadership skills but after starting three years at Alabama and playing against some of the best defenses in the country Williams has plenty of experience and upside. He is quick off the pop and possesses the ability to play Tackle or Guard at the NFL Level. Jonah has the potential to be a pro bowl caliber player for the next Decade and will help Andy Dalton and Joe Mixon right away.
Grade- A+
Round 2, Pick 52- Drew Sample (TE) Washington- 
I'm not going to lie I did not like this pick at first because we have needs at linebacker, offensive line and other areas of the roster. But then I thought about why the Bengals would take Drew Sample in the 2nd round and I realized it's because of character and identity. Sample is a blocking tight end with good potential to become a receiving threat in the league but his biggest skill will be blocking and opening holes for Joe Mixon while also helping Eifert or CJ get open on passing plays. I expect Sample to attribute to the running game right away while progressing his receiving skills.
Grade- B- 
Round 3, Pick 72- Germaine Pratt (LB) N.C. State- 
The Bengals really filled a huge need here after having one of the worst defenses in the NFL last season. Pratt is very versatile and has played safety and linebacker before. He's not the fastest or strongest guy but he can get around linemen, Drop into coverage on slower backs and tight ends. Pratt can also make some plays with his hands racking up four interceptions in his college career but what really excites me is the fact he had six sacks his senior year and showed an ability to get to the passer. Time will tell how good of a pass rusher he can become.
Grade- B
Round 4, Pick 104 – Ryan Finley (QB) N.C. State- 
This pick made me really happy as I am a big fan of Ryan Finley. No, he's not Baker Mayfield or Patrick Mahomes but he could be Dak Prescott ( who was also drafted in the 4th round). Ryan Finley threw for 10,501 yards and 60 touchdowns with 25 interceptions in his two years at North Carolina State. He also possesses fast eyes and is 6'3 185. He will have to put on some Muscle and learn from Dalton for a few years but he has great upside if developed right.
Grade- A
Round 4, Pick 125- Renell Wren (DT) Arizona State- 
I thought the Bengals would take another linebacker here with a few decent ones still left on the board but they decided to focus on the interior line and I don't blame them. Atkins can't play forever, while Billings and Glasgow haven't lived up to expectations. Wren is very raw but he has the potential to be a great run stopper in the middle but he will never be a great pass rusher. Time will tell how Wren can contribute in the NFL.
Grade- C
Round 4, Pick 136- Michael Jordan (C/G) Ohio State- 
I absolutely love this pick and the fact the Bengals really made the offensive line a priority this year. After drafting Jonah Williams in the first round, Cincinnati traded up in the 4th round to grab Michael Jordan who can play Guard or Center and will be joining former teammate Billy Price. The Bengals now have the ability and Versatility to put the five best linemen on the field. I expect Jordan to play sooner rather than later.
Grade- A
I really like Williams and the fact he's capable of returning kicks for big plays, running the ball and catching the ball out of the backfield. He's only 5'8 but Giovani Bernard isn't much taller and has done great for us. I expect Williams to contribute on special teams and maybe even get a few carries and catches this season if he plays well in the preseason. Williams could be the next Gio when the time comes.
Grade- B-
Round 6, Pick 210- Deshaun Davis (LB) Auburn- 
The Bengals need help at the linebacker position and Davis has some potential even though he's a project. But if the Bengals develop him right he could be a contributor in the next few years. Davis will have to get better at pass coverage and reading the field if he wants to make it at the NFL Level.
Grade- C
Round 6, Pick 211- Robby Anderson (RB) Oklahoma- 
I am a fan of this pick due to the simple fact these late rounds aren't always about need but about potential, and Anderson possesses great potential when healthy. He battled multiple injuries in his college career but always fought his way back. Cincinnati now has 4 running backs and I could see Anderson going to the practice squad to develop for a year or two. In the end, I think he can be a good backup running back and contributor if he can stay healthy.
Grade- C+
Round 7, Pick 223- Jordan Brown (CB) South Dakota State- 
Brown is a good pick in the 7th round after showing great playmaking ability in college racking up eight career interceptions. Although corner isn't a need anymore Brown could very well work his way up the number five spot and contribute on special teams.
Grade- B
The Bengals really needed to nail this draft under new Head Coach Zac Taylor and I think they did pretty well. Adding two versatile offensive linemen in Williams and Jordan that will allow them to have their best five linemen on the field. Grabbing another great blocker to help out the run game in Sample. The Bengals also grabbed 2 linebackers, another interior defensive lineman, a backup quarterback with the potential to develop into a starter and 2 running backs with low-risk high reward. They even used their 7th round pick smartly snagging a cornerback with 8 career interceptions who could translate to the NFL well over time. The Bengals are headed in the right direction and I couldn't be more excited. Even Mel Kiper gave us A- grade!
Overall Grade- A
Check out our other Team Draft Recaps and Grades: New York Giants | Indianapolis Colts | Los Angeles Chargers | Cleveland Browns | Buffalo Bills | Carolina Panthers | Pittsburgh Steelers | Minnesota Vikings | Jacksonville Jaguars
Questions and comments?
thescorecrowsports@gmail.com
Follow Us on Twitter @thescorecrow
Follow Us on Reddit at u/TheScorecrow
Follow Us on Facebook at The Scorecrow
Follow Us on Instagram at The Scorecrow
Follow Gregory Blakley On Twitter @GregoryBlakley
Main Image Credit:
Embed from Getty Images