Lamarr Fields | April 29th, 2019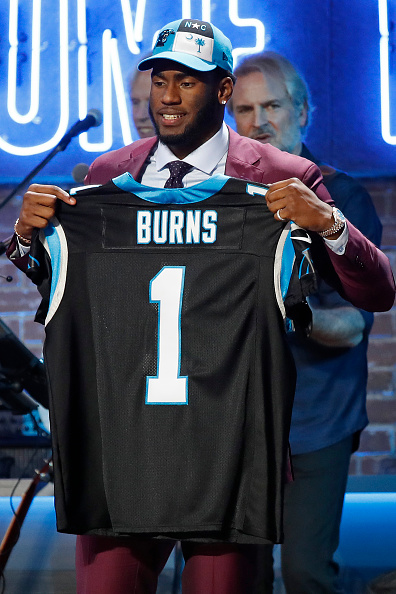 The 2019 draft is done, and the Carolina Panthers drafted seven players, they hope can contribute to the team. The Panthers were able to draft some players that filled needs for their team. With seven picks the added some pass rushers to get to the quarterback and some offensive line to protect Cam Newton.
Round 1, No. 16 overall: Brian Burns, OLB Florida State
The Carolina Panthers improved their pass rush with the selection of Brian Burns. Burns is athletic and has traits to be good on the NFL Level. At Florida State last season, Burns had 10 sacks and 15.5 tackles for a loss. Burns will fit perfectly in Ron Rivera's 4-3/3-4 hybrid defenses. Drafting Burns will upgrade the Panthers pass rush, which was very underwhelming last season. There are some concerns about Burns size, he only weighed in at 249 pounds at the combine. The Panthers will need to use him wisely.
Grade A
Round 2,  No. 37 overall: Greg Little, OT Mississippi
Along with edge rusher, the offensive tackle was a significant need for the Carolina Panthers. So the Panthers moved up ten spots and took Greg Little in the second round. Greg Little strength is pass protecting, which is good with quarterback Cam Newton coming off Shoulder surgery. Little is 6'5, and 310 pounds has the exceptional size to play the left tackle in the NFL. Little is raw but should develop into a starter that the Panthers really need.
Grade B
Round 3,  No. 100 overall: Will Grier QB West Virginia
With Cam Newton getting up there in age and coming off shoulder surgery it was time for the Panthers to draft a quarterback. Newton's contract is also up after the 2020 season. Will Grier has a quick release and delivers a very accurate ball. Although his arm is not very strong, he knows how to read the defense and is smart with the football. Another quality Grier has is he is a proven leader, that is huge on the NFL level. Last season Grier threw for 3.864 yards, 37 touchdowns, eight interceptions, on 67 percent passing. Grier will get the chance to sit behind Cam Newton and learn for a couple years.
Grade B
Round 4,  No. 115 overall: Christian Miller   LB/DE Alabama
Christian Miller, will be situational pass rusher at the NFL Level. He brings good athleticism and pass-rush ability to the table. Miller does not defend well against the run, so I see him as a pass rush specialist at the NFL level. Last season at Alabama, Miller had 8.5 sacks and 11.5 tackles for a loss a situational defender. Durability could be an issue he missed a lot of time in Alabama.
Grade B
Round 5,  No. 154 overall: Jordan Scarlett  RB Florida
Scarlett ran 4.4 at the combine, has shown some flashes at Florida. He has good size and strength to run through tacklers. Scarlett is very elusive if it can reach the second level of the defense. He will be a good 1st and 2nd down back but he not that good at catching so will not be needed on third down. There are some possible character concerns as well. Scarlett was cited for marijuana as a freshman and was also suspended for credit card fraud. Last season he rushed for 776 and five touchdowns for the Gators. I feel this pick was kind of a reach, but we will see how it turns out.
Grade D
Round 6, No. 212 overall: Dennis Daley  T South Carolina
Daley is not a special player but could develop to one in time. He allowed too many sacks and pressures last season. During the season he improved and put up some good games towards the end of the season. Daley will have to work on not lunging at defenders, or he will be in trouble in the NFL. Hopefully, he can continue to improve and turn into a starter for the Panthers sometime soon.
Grade C
Round 7, No. 237 overall: Terry Godwin  WR Georgia
Goodwin is a receiver with the willingness to block, and he does the little things well, By that, I mean like concentrating and tracking the deep ball. Goodwin is used to playing in a run-oriented system so he can contribute without getting many touches. I can see him as the fourth receiver on the team and being a core special team player. In his career at Georgia Goodwin caught 133 passes for 1.788 yards and 11 touchdowns.
Grade B
Conclusion
I think the Panthers had a good draft. They beefed up their offensive and defensive lines by adding two new players to each group. Also. The Panthers found their back up quarterback they can develop. The only thing I did not like was drafting a running back again. I felt they could have added some secondary depth instead. Other than that I feel the Panthers got better.
Overall Draft Grade: B
Check out our other Team Draft Recaps and Grades: New York Giants | Indianapolis Colts | Los Angeles Chargers | Cleveland Browns | Buffalo Bills
Questions and comments?
thescorecrowsports@gmail.com
Follow Us on Twitter @thescorecrow
Follow Us on Reddit at u/TheScorecrow
Follow Us on Facebook at The Scorecrow
Follow Us on Instagram at The Scorecrow
Follow Lamarr Fields on Twitter @Raiderway83
Main Image Credit: