Kody Clawson | April 28th, 2019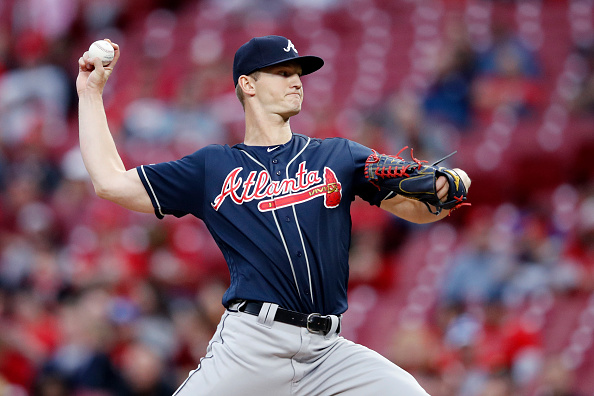 So here's the deal. I had a bad April. Statistically, it was not great. Not only that, but my process was flawed. To try to come up with early season streaming matchups, I tried to use run projection models from FanGraphs. Unfortunately, those did not account for early hot streaks from teams like the Mariners and Twins. They also didn't take into account various left vs. right or home vs. away strengths and weaknesses, mostly because those were things that projections just couldn't account for early on. Also, I had significant flaws in the way that my spreadsheet credited teams for different home/away splits when I did try to account for them. Nevertheless, I'm still here, either as a glutton for punishment or as an attempt at redemption. The first month is the hardest month to try to stream anyway. It can only get better from here, right? RIGHT?!? Anyway, here's the best matchup plays for the first half of the week.
Monday, April 29
Mike Soroka, ATL vs SDP (17% Rostered)
Soroka was once regarded as a top pitching prospect on a team with a lot of top pitching prospects. Drafted 28th overall by the Braves back in 2015, he had the pedigree and the stuff to be a frontline starter. But the injury bug has played with his career as of late, reinstigating thoughts of TINSTAAPP (There Is No Such Thing As A Pitching Prospect) and making some wonder if he'll be able to carve out anything close to what his ceiling seemed to be. Flash forward to this year, where injuries and ineffectiveness has kept the Braves' rotation a shuffling deck, and he has jumped himself into the starting rotation yet again, posting two short but sweet outings with 10.2 IP, 2 ER, 5 BB, and 13 K. He's certainly become a useful starter in fantasy again, and one has to imagine he can dispatch the Padres at home, since they hold a 91 wRC+ on the road and only hit at a 77 wRC+ against righties.
Others Receiving Votes:
Frankie Montas, OAK @ BOS (39% Rostered)
Michael Wacha, STL @ WAS (19% Rostered)
Tuesday, April 30
Sandy Alcantara, MIA vs CLE (6% Rostered)
Of all the young arms in Miami to be excited about, I have to say that Sandy Alcantara is the one I'm the least interested in. Sure, he throws hard, as his fastball can touch close to triple digits at times, although it averages 95.2 MPH so far this season. He also has an interesting slider and changeup, and his curveball has flashed at least average at times. But he doesn't seem to have a hold of the strike zone, and his control is all over the place at times. Still, he has the stuff to overpower even average lineups, and his stuff plays up at home, where even long fly balls can go out to die. Despite getting Lindor back, Cleveland hasn't looked great away from home, owning a 66 wRC+ on the road, and they've only hit at a 67 wRC+ against righties. Look for Sandy to perform admirably here.
Others Receiving Votes:
Vince Velasquez, PHI vs DET (14% Rostered)
Griffin Canning, LAA vs TOR (0% Rostered)
Wednesday, May 1
Felix Pena, LAA vs TOR (1% Rostered)
Mike Fiers, OAK @ BOS (7% Rostered)
Wednesday looks like a day to avoid running anyone out. There are a lot of high-owned starters going here. There are only two decent streaming options to even consider, in my opinion. Felix Pena is an interesting young arm with the Angels, and he gets the Blue Jays, who have hit at an 89 wRC+ on the road and an 83 wRC+ against righties. The other, if you like to play with fire, is Mike Fiers. He's going against a struggling Red Sox lineup that has hit at a 92 wRC+ at home and an 86 wRC+ against righties. Good luck with either of them.
Questions and comments?
thescorecrowsports@gmail.com
Follow Us on Twitter @thescorecrow
Follow Us on Reddit at u/TheScorecrow
Follow Us on Facebook at The Scorecrow
Follow Us on Instagram at The Scorecrow
Follow Kody Clawson on Twitter @kodyclawson
Main Image Credit:  Embed from Getty Images