Givanni Damico | April 28th, 2019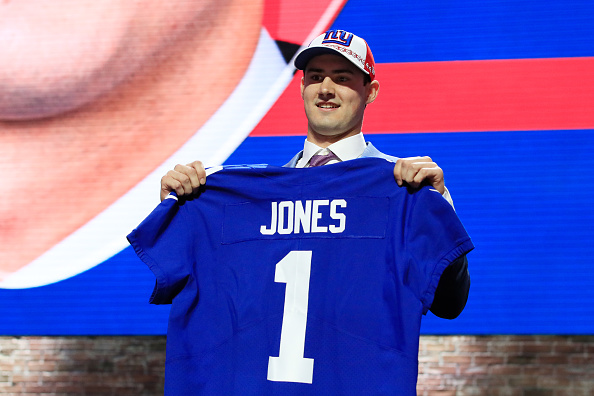 The 2019 NFL Draft was a mixed bag for Dave Gettleman and the New York Giants. Did he hit on all of his picks like he did last year? Not exactly.
Round 1, Pick 6: Daniel Jones, QB (Duke)
Grade: D+
Not many people loved this pick, and I especially hated it. First of all, Dwayne Haskins and Drew Lock were still available for the taking. These two quarterbacks are better quarterbacks than Daniel Jones and more pro-ready. Second of all, Daniel Jones would have still been there for the Giants at pick 17, but they reached and took him at 6 when they could have gotten someone like Josh Allen on the defensive line. Third of all, Dave Gettleman, the wizard of drafting and the emperor of scouting young talent, said that Jones could sit for up to three years behind Eli Manning before he starts. If you're drafting someone in the top 10, you aren't going to wait three years to start them, especially a quarterback. This was one of the dumber comments that I've heard from Gettleman before, which is saying a lot because there's a whole vault of them. Jones just isn't good enough mechanically to be a first-round pick, let alone top 10. I'd give them a lower grade, but it fills a need so they at least hit that point.
Round 1, Pick 17 (via CLE): Dexter Lawrence, DT (Clemson)
Grade: C
There was so much better talent on the board with less red flags that filled positions that the Giants needed even more. If they wanted to take a defensive tackle and didn't care about the red flags that came with it, they should have gone Jeffery Simmons from Mississippi State who is a better player with an arrest in his past. For someone who is supposed to be a run stopper, Dexter Lawrence is surprisingly susceptible to the run. There are flashes of excellence in the run game, but Lawrence is so inconsistent that it is hard to tell who the real Dexter Lawrence is. His pass-rushing capability is weak as well. He relies on his size instead of actually using his hands and using good technique to get to the quarterback. Lawrence is a fantastic bull-rusher, but he isn't worth pick 17 when there are other players at his position that trump him in talent.
Round 1, Pick 30 (via GB, via NO): Deandre Baker, CB (Georgia)
Grade: B
The Giants did a good job filling a need here, but they picked the wrong guy again. The Giants picking Deandre Baker is like your uncle giving you a sweatshirt that you already have for your birthday, but you act as though you like it to make him happy because it's the thought that counts. It's the thought that counts here for the Giants. Their heads were in the right place with a cornerback in mind, but with Byron Murphy, Rock Ya-Sin, and Greedy Williams still on the board, I can't justify picking Deandre Baker. There's no doubt in my mind that Baker will be a good starter for the Giants, but the value is just off. Baker gets beat up the field because he doesn't have superior long speed. This could be a problem for the Giants. But once again, it's the thought that counts which is why this grades out to a B for Gettleman and the Giants.
Round 3, Pick 95 (via NE, via CLE): Oshane Ximines, EDGE (Old Dominion)
Grade: A
Gold star for Dave Gettleman! Oshane Ximines was a monster at Old Dominion and was one of "My Guys" going into this draft. Ximines was a four-year starter at ODU and had 32.5 sacks and 51 tackles for loss in those four seasons. One thing that Giants' fans should love about Ximines is that he is consistent. In his time at ODU, he would record sacks game after game. He wouldn't have one good game every now and then that boosted his stats. He's got great hand usage and is quick to get to the quarterback. He tends to struggle against strong run blockers. He should also never play inside because he gets caught up in the middle of everything and is rendered useless. So Ximines is a bit of a prospect, but I like the risk that Gettleman took in picking him and he has star potential (Ximines, not Gettleman). Also, congratulations to the X-Factor for being the first player ever drafted from Old Dominion University!
Round 4, Pick 108: Julian Love, CB (Notre Dame)
Grade: A+
Gettleman must enjoy drafting in the later rounds more than the early rounds because he hit on two picks in a row here. Earlier, the Giants picked up Deandre Baker, and now they add Julian Love to the cornerback group. Let's not forget about Sam Beal, who the Giants took in the supplemental draft last season. Their top four corners are Janoris Jenkins, Sam Beal, Deandre Baker, and Julian Love. This is a solid group, but Jenkins might be gone soon. Nonetheless, Love was a great value pick here. He is someone who I had a second-round grade on, but this draft saw many people fall farther than anyone expected. Against burners, Love might not fare too well, but other than that, I would trust Love in man coverage against a lot of receivers. He does lack long speed and tends to get caught on blocks, but Love is a really solid pickup for the G-Men.
Round 5, Pick 143: Ryan Connelly, LB (Wisconsin)
Grade: C+
Welcome back to the world of mediocre drafting, where the Giants continue to reach on players that they could have gotten in the next round. No disrespect to Ryan Connelly, he is an extremely tough player who plays every game like his life depends on it, but there were plenty of better linebackers who would have been better value at this point. This pick does fill a need, but personally, I would have loved to see Blake Cashman or Mack Wilson rather than Connelly. Connelly just had season-ending surgery so there are red flags involved in this pick. He plays slower than the 4.66 he ran. His sideline to sideline speed is not impressive and he couldn't even catch Shea Patterson when he had the angle. Sorry if it seems like I'm hating on Connelly, but this was a round-six or seven guy.
Round 5, Pick 171: Darius Slayton, WR (Auburn)
Grade: B+
This was a solid pick that filled a need for the Giants. Slayton is a great deep ball receiver that I had a third-round grade on. His best traits all have to do with his speed, lateral quickness, and acceleration. Slayton does have soft hands at times, but he's too inconsistent and has far too many drops. It seems as though he isn't ready for the pass half of the time, but he shouldn't have to worry about catching too many bullets from Eli Manning or Daniel Jones. Slayton should be a contributor in year one.
Round 6, Pick 180: Corey Ballentine, CB (Washburn)
Grade: A-
I always loved Corey Ballentine while he was at Washburn. I was worried that he wouldn't get noticed because of the small school aspect, but Ballentine's ability speaks for itself. He does it all. He is great in zone and man coverage and has great wrap up technique when tackling. He also plays well on special teams and could be used as a return man. The only real weakness for Ballentine is that he isn't a great press corner. That being said, Ballentine played against small-school competition so we don't truly know his real potential. Either way, very solid pick.
Round 7, Pick 232: George Asafo-Adjei, OT (Kentucky)
Grade: D
I had no clue who this was when the Giants picked him, so I proceeded to watch his tape and was unimpressed. He has some serious issues with his footwork and ran an extremely slow 40-yard dash (5.32). I doubt that he will be able to stay at offensive tackle in the NFL, so he will probably be relegated to play guard. I understand the need to reach for an offensive lineman though because they were flying off of the board. It just wasn't a good pick, but it's the seventh round pick so there are no busts.
Round 7, Pick 245 (via LAR): Chris Slayton, DT (Syracuse)
Grade: B+
Despite his lack of production at Syracuse, Slayton is still a great addition here in the seventh round. I had a fifth-round grade on him and was very impressed by his quickness and athleticism. He struggles with hand placement and has a somewhat low motor, but he is good depth for the Giants.
Overall Draft Grade: B-
The Giants really struggled to draft competently in the first round, reaching on three players. They came back with some great value picks, but it wasn't enough to propel them to a "good draft." For as much crap as we give Dave Gettleman, he had a good draft last season and made a couple good picks today. That being said, he picked Daniel Jones in the top 10.
Questions and comments?
thescorecrowsports@gmail.com
Follow Us on Twitter @thescorecrow
Follow Us on Reddit at u/TheScorecrow
Follow Us on Facebook at The Scorecrow
Follow Us on Instagram at The Scorecrow
Givanni Damico on Twitter @giodamico15
Main Credit Image: Embed from Getty Images