Levon Satamian | April 28th, 2019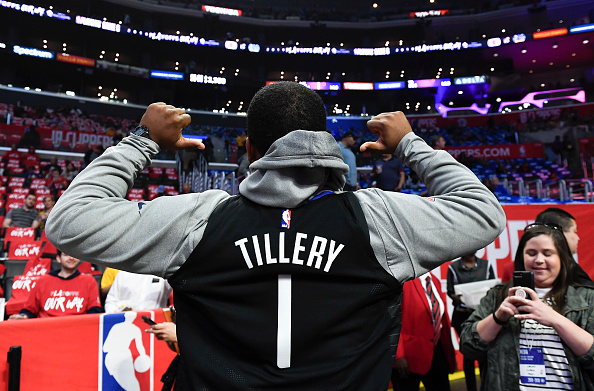 The Los Angeles Chargers had a very successful draft. In the first round, the Chargers drafted defensive tackle from Notre Dame, Jerry Tillery, 28th overall. In the second round, they drafted a safety from Delaware, Nasir Adderley, 60th overall. In the third round, they drafted offensive lineman from Sioux Falls, Trey Pipkins, 90th overall. In the fourth round, they drafted a linebacker from Notre Dame, Drue Tranquill, 130th overall. In the fifth round, they drafted the quarterback out of North Dakota State, Easton Stick, 166th overall. In the sixth round, they drafted another linebacker, this time from the University of Houston, Emeke Egbule, 200th overall. In the seventh round, they drafted another defensive lineman, from University of Cincinnati, Cortez Broughton, 242nd overall.
Jerry Tillery is a great run defender. The Chargers biggest weakness for the past few seasons has been the rush defense. Now, Tillery will look to compete with Justin Jones for the starting job. I think Tillery will be able to win that starting job and pair with Brandon Mebane in the middle for LA. What's really going to benefit Tillery, is that Joey Bosa and Melvin Ingram will be on the defensive end, meaning, the offensive lineman will look to double up on Bosa and Ingram, opening up room for Tillery and Mebane to get to the quarterback. Tillery is one of the best defensive tackles in the draft, that's exactly what the Chargers needed, and they drafted.
Grade: A+
This was my favorite pick from the Chargers. Adderley is another player the Chargers needed after they had no choice but to play Jahleel Addae in that position last season. He is a versatile free safety. We may see the most promising duo in the league, not named Joey Bosa and Melvin Ingram. Derwin James and Nasir Adderley. He's already focused on winning a Super Bowl championship, and I love it. He said, "I really enjoyed my meetings with the coaching staff. I mean, I'm part of a winning team. They were on the brink of a Super Bowl … I want to contribute to bringing a Super Bowl they deserve." This should be a fun team to watch, especially with the pairing of James and Adderley.
Grade: A-
NO. 90: Trey Pipkins, OL, Sioux Falls
Trey Pipkins is very athletic, the Chargers were in desperate need of new offensive lineman, and this is a good start. Trey Pipkins is 6'6″ and he could be in the Chargers long-term plans, but hopefully gets a chance to prove himself this upcoming season, if they don't make any changes in the offensive line during the off-season.
Grade: B
This was a solid pick for the Chargers. Drue Tranquill is a coverage specialist, but he is not as good of a run stopper. That is what the Chargers mainly need now, and they got that in Tillery. Don't expect to see Tranquill get many snaps this season, but he will be good in a few years.
Grade: B+
NO. 166: Easton Stick, QB, North Dakota State
Easton Stick is 6'1″ and he is an evasive scrambler and throws with good accuracy. This was a good pick for the future. Philip Rivers still has a lot left in him, and I don't think he will retire until he gets a chance to win the Super Bowl. This season could be the season for Rivers and the Chargers. It was reported that the Chargers would extend Rivers' contract so Stick will not be in the Chargers' immediate plans. He is a good option for developing under Rivers and taking over once Rivers retires.
Grade: B+
NO. 200: Emeke Egbule, LB, University of Houston
The Chargers need help at the linebacker position, Egbule's game is still raw, but he is a hybrid player, and he plays with explosiveness. Egbule could be in the Chargers rotation this season, but, he will be a good option for LA in the future.
Grade: B
NO. 242: Cortez Broughton, DL, University of Cincinnati
Cortez Broughton has a quick first step. Broughton is one of the biggest draft sleepers, and although he may not be in the rotation for the Chargers this upcoming season, he will definitely be in the Chargers plans for the future. He has great athleticism for his position, and if he pairs up with Jerry Tillery in the future, that front for the Chargers could be deadly.
Grade: A+
Overall Grade: A
The Chargers did a great job during this draft. They got the players they needed. An offensive lineman was vital, and they were able to secure one in the third round. They built for the future, but they are also built to compete for a Super Bowl championship this upcoming season. The pairing of Nasir Adderley and Derwin James is going to be a scary duo for years to come. It will also be fun to watch Jerry Tillery, Melvin Ingram, and Joey Bosa, wreak havoc for quarterbacks.
What the Chargers defense could look like this upcoming season:

DE: Melvin Ingram-Joey Bosa
NT: Brandon Mebane
DT: Jerry Tillery
OLB: Thomas Davis-A. Phillips/Uchenna Nwosu
MLB: Denzel Perryman
CB: Desmond King-Casey Hayward-Trevor Williams
SS: Derwin James
FS: Nasir Adderley pic.twitter.com/F8QrPvMkqG

— Sports Notes (@TheSportsNotes) April 27, 2019
Check out our other Team Draft Recaps and Grades: New York Giants | Indianapolis Colts
Questions and comments?
thescorecrowsports@gmail.com
Follow Us on Twitter @thescorecrow
Follow Us on Reddit at u/TheScorecrow
Follow Us on Facebook at The Scorecrow
Follow Us on Instagram at The Scorecrow
Follow Levon Satamian on Twitter @TheSportsNotes
Main Credit Image: Embed from Getty Images