Dale Money  | April 28th, 2019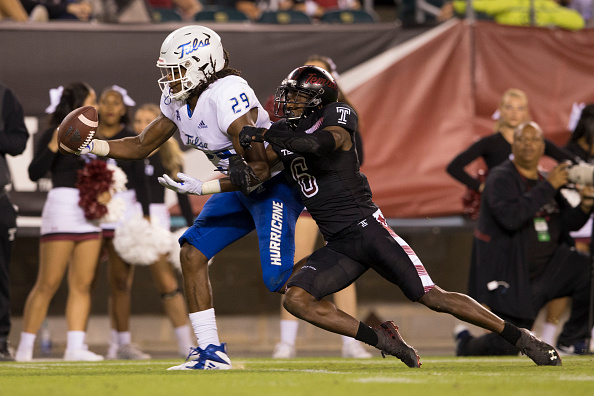 The Indianapolis Colts started their draft off by trading themselves out of the first round. Giving up their 26th pick to the Washington Redskins, in exchange for the 46th pick, and a 2020 2nd round choice. The Colts focused on the offensive line in the early parts of the 2018 NFL Draft, which paid off by seasons end, as they gave up the least amount of sacks with 18. This enabled them to focus, almost solely on defense in this draft.
They added a lot of secondary help, selecting a corner with their first pick, along with two safeties back to back in the 4th and 5th round.  They were also able to add the wide receiver help they needed, picking up Parris Campbell in the 2nd round. It was good for the Colts. Ya-Sin and Banogu were legit selections and should blossom as the years roll by.
Overall Draft Grade: B
2nd Round, No.34: Rock Ya-Sin, CB Temple
The Colts made their first overall pick count, adding one of the better young corner prospects in Ya-Sin. He only played the one year at Temple, recording 47 tackles, 12 passes defended and two interceptions. Ya-Sin might not be a starter right away, but there is a ton of upside here if the Colts can develop his technique on the boundary. He has superb ball skills and brings an aggressive mindset to the Colts.  He joins a secondary that includes Kenny Moore, Quincy Wilson, and Pierre Desir. The Colts ranked sixteenth in the league in passing yards allowed in 2018.
Grade: A
2nd Round, No. 49: Ben Banogu, Edge TCU
Needing to fix their problems with the pass rush, the Colts decided to take a shot on Ben Banogu.  Banogu had 106 tackles, including 34.5 for a loss, and 17 sacks in his two seasons at TCU. He earned first-team All-Big 12 honors in 2018. He jumps off the ball quickly and moves pretty well in space.  His hand usage could use some work, however. If Banogu can live up to his true potential in the NFL, Banogu will be a true staple in the Indianapolis defense sooner rather then later.  He expects to be asked to play alongside Darius Leonard.
Grade: B+
2nd Round, No. 59: Parris Campbell, WR Ohio State
The Colts had to address the receiver position, early.  WIthout anybody that was even close to a viable option, next to Ty Hilton. Chester Rogers was second among receivers on the team, with 485 yards through the air, and that was having played all 16 games. Campbell is right up there among skill players in this class. A very quick player, having run a 4.31 at the Scouting Combines 40-yard dash. He could be the offensive weapon, they sorely need, if he can just manage to improve on his route running.
Grade: A
3rd Round, No. 89: Bobby Okereke, LB Stanford
The Colts decided to pick up a linebacker in the 3rd round. Okereke has steadily built up his accolades during his four years with the Cardinals, going from a reserve defender in his freshman season, and finishing up as an honorable mention All-Pac-12 selection last season as a senior. A player with keen instincts, he will be very well suited to what the Colts are looking for in a linebacker.
Grade: C+
4th Round, No 109: Khari Willis, S Michigan State
The Colts needed to add some safety help at some point during the draft. deciding to swap out both of their fourth-round picks, in order to pick Willis. Willis recorded 196 tackles, including 6.5 tackles for loss and four sacks, along with four interceptions and 16 pass break-ups at Michigan State.
Grade: B+
With their first selection in the fifth round of the 2019 NFL Draft, the Indianapolis Colts went back to back to the safety position deciding to pick the former Trojan. Tell owns an elite wingspan and arm length. He has a lot of range but needs work as a tackler. He is pretty explosive in his own right. Has a potential role in the Colts secondary. Could end up being a nice selection down the line.
Grade: B
5th Round, No 164: E.J. Speed, LB Tarleton State
With the second pick of the fifth round, the Colts selected a bit of a lesser known player in Speed. A former wide receiver turned linebacker. Speed posted a team-high 106 tackles, 55 solos, and 2 forced fumbles, in 2018. He is quite fast, with good elusiveness and playmaking ability. 
Grade: D-
6th Round, No 199: Gerri Green, Edge Mississippi State
The run on defensive depth continued in the sixth round as the Colts added an athletic member to the front seven. Green is solid pass-rusher, with nice size and height. He does need to further develop his body, as he lacks functional and lower-body strength.
Grade: C
7th Round, 240: Jackson Barton, Tackle Utah
Barton was seen as a minimal possibility to get selected in the draft, with a good chance of signing a free-agent deal the more likely possibility. Barton athleticness will provide the chance to compete for a reserve role on the offensive line. Earning himself a spot on the 53 man roster might be difficult but he could find additional work on the Colts practice squad if worst comes to the worst.
Grade: C-
7th Round, 246: Javon Patterson, Center Ole Miss
After acquiring the 246th pick in a trade with the Eagles, which sent fourth-year veteran defensive tackle Hassan Ridgeway to Philadelphia. Picking Patterson, the Colts add depth to a Colts offensive line group that gave up the fewest sacks in the NFL in 2018. He played at both guard spots throughout his career as a Rebel.
Grade C
Check out our other Team Draft Recaps and Grades: New York Giants
Questions and comments?
thescorecrowsports@gmail.com
Follow Us on Twitter @thescorecrow
Follow Us on Reddit at u/TheScorecrow
Follow Us on Facebook at The Scorecrow
Follow Us on Instagram at The Scorecrow
Follow Dale Money on Twitter @packerd_00
Main Image Credit:   Embed from Getty Images