Daniel Corrigan | April 28, 2019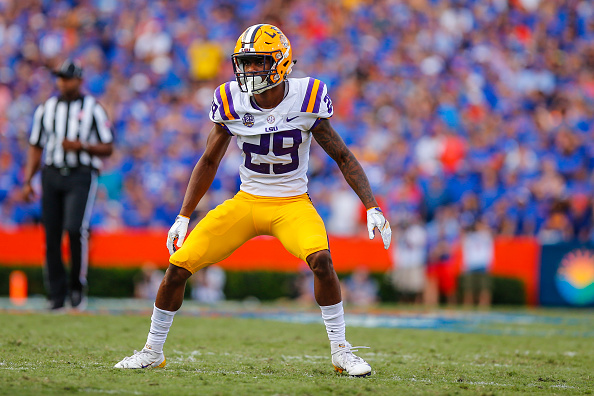 For the first time since 2008, the Browns did not have a first-round pick. They traded their first-round pick (17) to the Giants for a decent receiver. You may have heard of him.
The Browns had seven picks in total. Their main focus was defensive depth. I would have liked for them to take an offensive lineman earlier on in the draft. But I'm fine with everything the Browns did. The Browns got an absolute steal with their second-round pick and I'll tell you why their fourth-round pick was one of the steals of the draft.
Round 2 Pick 46: Greedy Williams, CB, LSU
I CAN NOT BELIEVE HE FELL THIS FAR. The Browns did trade up with the Colts three spots to pick Williams. His main issue is tackling. He is 6'3 but has a slim frame. His biggest concern was his lack of physicality.  Corners are not paid to tackle. Stop this nonsense. Williams is a first-round talent. I'm just imagining a backfield that has Denzel Ward and Williams. Good luck NFL.
Grade: A
Round 3 Pick 80: Sione Takitaki, LB, BYU
This pick was a little……interesting. Takitaki was projected to be a late-round pick. Takitaki got into some trouble early on in his BYU career. Takitaki led BYU with 119 tackle last season. I thought for sure they would go safety here. I've convinced myself that this is a decent pick. Takitaki is a physical player. A typical "Football Guy." His athleticism leaves a little to be desired.
Grade: C
Round 4 Pick 119: Sheldrick Redwine, S, Miami
I LOOOOOOOOOOVE THIS PICK. This is an absolute steal. Redwine (awesome last name btw) stands only 6'0, 195 pounds. But if you have ever watched this dude hit, ooh boy. He is just born-tough. Its a culture, having these young guys in the secondary. Ward, Williams, Redwine. That is going to be a nightmare for opposing QB's. Redwine reminds me of Jabrill Peppers. Awesome pick. Maybe the steal of the draft.
Grade: A+
Round 5 Pick 155: Mack Wilson, LB, Alabama
Another good value-pick. Wilson was disappointing for Alabama. He was a five-star recruit for a reason, people, he is damn athletic. A lot of scouts compared him to C.J. Mosley. With Joe Schobert entering his contract year, Wilson, if he lives up to potential, could be his replacement.
Grade: B-
Round 6 Pick 170: Austin Seibert, K, Oklahoma
It's official, we traded Josh Gordon for a kicker. He is a good kicker, I'll give him that. But I don't believe in drafting kickers.
Grade: D+
Round 6 Pick 189: Drew Forbes, T, Southeast Missouri State
It was about time they took a lineman. I know its not a dire need, but I would have liked them to draft one with their third-round pick. Forbes is athletic and strong. He was a three-time starter at left tackle and earned first-team all Ohio Valley Conference. honors.
Grade: C+
Round 7 Pick 221: Donnie Lewis, CB, Tulane
Just another depth pick. Maybe Lewis can become a special teams player. It's always fun to try and see if you can find a gem in this draft.
Grade: C
Check out our other Team Draft Recaps and Grades: New York Giants | Indianapolis Colts | Los Angeles Chargers
Questions and comments?
thescorecrowsports@gmail.com
Follow Us on Twitter @thescorecrow
Follow Us on Reddit at u/TheScorecrow
Follow Us on Facebook at The Scorecrow
Follow Us on Instagram at The Scorecrow
Follow Daniel Corrigan on Twitter @Corrigan_Tweets
Main Image Credit: Embed from Getty Images