Joel Dorcas | April 26th, 2019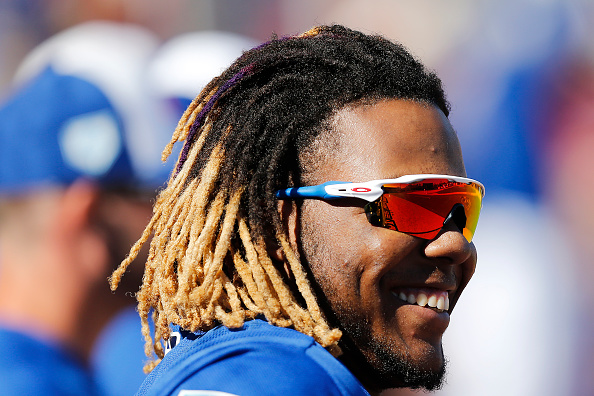 Happy Friday everyone! A whole plethora of new series begins tonight. There are some weather concerns in Philadelphia, Washington, Boston and New York(Mets), so we will focus our attention elsewhere just to be safe before lineups lock. A lot of games to target so no better time than now to go Around the Horn!
Pitcher
James Paxton NYY $9,600
Paxton gets a cushy matchup at San Francisco tonight and should provide good value as an SP1. Paxton has 43 Ks in 29 innings of work while allowing just eight walks this season and he will face a less than stellar Giants lineup. On the season the Giants are hitting a brutal .212, third worst in the majors.
Infield
Miguel Cabrera DET 1B $3,600
Cabrera at this price versus a lefty, sign me up! Over the last two years, Cabrera is 64-312 with four HR versus left-handed starting pitching. He has very good numbers against tonights White Sox starter Carlos Rodon, in nine at-bats he has a homer and a 1.361 OPS. In the same game rostering first baseman Jose Abreu is a good play as well, but it will cost you $900 more.
Trevor Story COL SS $4,900
Story is appropriately priced tonight as the Rockies hitters will face a lefty starter in a very good hitters park(Sun Trust Park). Atlanta will hand the ball to lefty Max Fried in this one. Story has moderate success with a round-tripper and three RBI in four at-bats versus Fried. Story is 6-for-13 in his last five games and also is a threat to steal making him even more valuable.
Vladimir Guerrero Jr. TOR 3B $4,300
Finally, Vlad, the Glad Junior gets his long-awaited first crack at big league action. The Jays will face right-handed fly ball pitcher Mike Fiers whom they've had decent success against. Lifetime they are 14-for-41 with a .957 OPS off the A's veteran. Vlad has been tearing up the minor leagues to nobody's surprise. He slashed .360/.429/.640 in 28 plate appearances at Triple-A-Buffalo.
Outfield
Andrew Benintendi BOS $4,600
There is light rain in the forecast in Boston so we will have to monitor this one a bit before lock. Either way, we must not forget Red Sox hitters as they may be finally getting things back on the right track. Benintendi and Betts at the top of the order followed by Martinez are just lethal and they will look to punish right-hander Charlie Morton at Fenway. Benintendi is nearly hitting .500 in his last five games going 8-for-20. Head to head he is 6-for-15 with 2 HRs lifetime versus Morton.
Nelson Cruz MIN $4,700
Cruz and plenty of Twins bats are in play tonight as they draw the Alex Cobb and the Baltimore Orioles. In a two-year sample, Cruz has eight hits in 23 at-bats versus Cobb. he has also taken him deep two times.
Eloy Jimenez CWS $4,000
Taking as many right-handed bats versus crafty left-handed pitcher Daniel Norris is a good strategy. Make sure to monitor the White Sox lineup, he has been out of the lineup for the past few games because of the passing of his grandfather but the Chicago White Sox press has stated that he, in fact, is scheduled to play.
Questions and comments?
Follow Us on Twitter @thescorecrow
Follow Us on Reddit at u/TheScorecrow
Follow Us on Facebook at The Scorecrow
Follow Us on Instagram at The Scorecrow
Follow Joel Dorcas on Twitter @Joel_Dorcas6
Main Image Credit:
Embed from Getty Images