Pranav Ramasubramanian | April 24th, 2019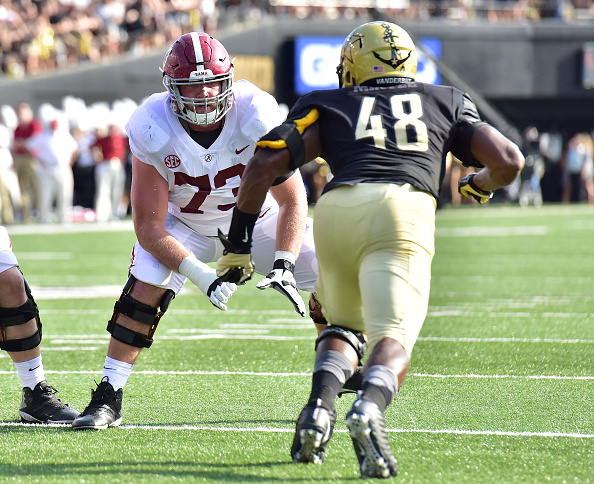 The draft is less than 36 hours away and all the teams are getting to ready for three of the busiest days of the year. Nick Foles saved the Eagles from falling into oblivion, but they need some help around Carson Wentz this year if they want to make it back to the playoffs. The Eagles have seven picks overall and to formulate this mock draft I used the thedraftnetwork.com's simulator.
1st Round
Pick 25: Jonah Williams, Offensive Left Tackle, Alabama
Williams protected Jalen Hurts and Tua Tagovailoa in Alabama's runs to the National Championship doing it with ease giving them extra time to move around the pocket and scramble or find an open receiver. The Eagles offensive line is getting older and is constantly banged up so getting Williams would mean adding a fresh body. His versatility to play multiple spots on the line would allow the Eagles to move him around if needed. The Eagles need to make sure Wentz gets hit less so he doesn't get injured again and Williams would do a good job of limiting such hits.
2nd Round
Pick 53: Taylor Rapp, Safety, Washington
Malcolm Jenkins has emerged as a very solid safety, but he just isn't getting it done in terms of production and with him getting older the Eagles are looking to slowly, but surely replace him. Rapp would be a good choice because he flies around the field getting tackles, but is primarily a ball hawker that goes after the ball whether it's pass deflections or interceptions adding some needed aggression and intensity to the defense. Rapp can provide that extra boost of energy when needed on defense and should use it in late-game situations to gain trust.
Pick 57: Ben Banogu, Defensive End, TCU
Pass rushers are at a premium in this draft and the Eagles need one so they can get more pressure on the quarterback and Banogu could help fix that. Banogu will use his change of direction skills, and dynamic explosion to get quarterbacks on the ground and could get the Eagles some crucial wins within the division. If the environment around Banogu is good and he refines his skills a little more through training camp and practices he could be a star pass rusher that could terrorize opposing defenses alongside Fletcher Cox.
4th Round
Pick 127: Devin Singletary, Running Back, Florida Atlantic
The Eagles don't really need a running back despite not re-signing Darren Sproles or Jay Ajayi because they already have a ton of depth at that position so if Singletary gets picked it could turn into a real logjam. He has great strength that helps him get through holes with good speed that also helps with his initial burst off of the line of scrimmage. The receiving game is where Singletary needs to become more consistent so that he can help the Eagles when they run that deadly run-option that confuses defenses.
Pick 138: Darius Slayton, Wide Receiver, Auburn
Slayton didn't have the best college career, but in his junior year, he made some serious strides including in the bowl game where he had three touchdowns and 160 yards receiving putting himself on the map. He is tall and has great hands so Wentz should have no problem hitting him for short passes. Slayton should use his speed to easily get to balls thrown to him. Wentz also likes to spread the ball out among receivers so while attention will be on three of the top tier receivers they have in DeSean Jackson, Nelson Agholor and Alshon Jeffrey, it will open up the field for Slayton so he must make the most out of his opportunities.
5th round
Pick 163: Mark Fields, Cornerback, Clemson
The bench is where Fields spent most of his time at Clemson due to injuries and violating team rules. It's really unclear what he can do with a full season of him just playing. The Eagles secondary did step up when needed last year, but that doesn't excuse their very pathetic play before that and it seems like they still haven't found a proper replacement for Patrick Robinson. It's at least good to see they are adding some depth and experimenting with young talent, but Fields probably won't be the one that makes them stop experimenting.
Pick 197: Cameron Smith, Inside Linebacker, USC
Jordan Hicks decided to go to the Arizona Cardinals in free agency so now there is a gap in the middle of the defense. Even though they did sign L.J. Fort, it's unlikely that he matches the same type of production, but Smith could. Smith was good at scrambling to the ball and getting quick tackles to limit the run so he should help the Eagles in that department as they struggled with tackling last year. In a division with Saquon Barkley, Ezekiel Elliott, and Adrian Peterson, Smith has to help try to keep them close to the line of scrimmage so that Jim Schwartz will play him more by putting him in more schemes.
The settings used for this draft in terms of drafting players was that it would go off of TDN's Predictive Board and it would be automatic drafting the seven picks out based on team need. It decided to go with four on defense and three on offense to show that the Eagles have more of a need on that side of the ball. If the Eagles draft the suggested players, especially with an easier schedule this year they can win the NFC East and make the playoffs.
Check out our other Team Mock Drafts: San Francisco 49ers| Washington Redskins | Indianapolis Colts | New York Giants  |Arizona Cardinals| Jacksonville Jaguars | Detroit Lions | Tampa Bay Buccaneers | New York Jets | Green Bay Packers | Cleveland Browns | Los Angles Rams | Pittsburgh Steelers | Chicago Bears | Tennessee Titans | Baltimore Ravens | Seattle Seahawks | Buffalo Bills | New Orleans Saints | Atlanta Falcons| Cincinnati Bengals  | Kansas City Chiefs | Denver Broncos | Houston Texans | Oakland Raiders | Carolina Panthers
Questions and comments?
thescorecrowsports@gmail.com
Follow Us on Twitter @thescorecrow
Follow Us on Reddit at u/TheScorecrow
Follow Us on Facebook at The Scorecrow
Follow Us on Instagram at The Scorecrow
Follow Pranav on Twitter @PranavRama1
Main Image Credit:
Embed from Getty Images