Daniel Corrigan | April 24th, 2019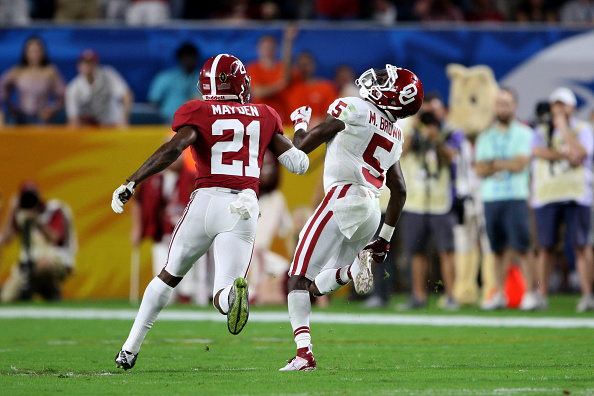 The Miami Dolphins hold seven picks in the 2019 NFL draft. They need to take advantage of every pick in this draft. This next season will not be pretty for the Dolphins. They need a QB but are better off waiting until next season when they will most likely have a very high pick.
The Dolphins have many needs as they enter a true rebuild. They need to focus on building a team before they grab their QB next season. So here is my seven round mock draft for the Miami Dolphins.
No Trades will be in this mock
Round 1 pick 13: Marquise Brown, WR, Oklahoma 
The Dolphins will have a lot of options with this pick. They could go Offensive Line or maybe an edge rusher in a loaded class. One of the many problems that the Dolphins have is that they do not have a good skill group. Brown is an electric football player. He is built like Tyreek Hill. A fast, slot guy who can play many positions, and do many things for your offense. This may not be a popular pick, but I'm sticking true to my own personal mock draft.
Round 2 Pick 48: L.J. Collier, Edge, TCU
The Dolphins need a pass rusher. Actually, they need everything. I think with this years deep pass-rushing class, the Dolphins can afford to go after a skilled player in the first round and wait for someone like Collier to fall to them. Collier is strong and plays very physical. He has a slow first step. That's the biggest concern with Collier.
Round 3 Pick 78: Chase Winovich, OLB, Michigan
The Dolphins could very well go offensive line with this pick. At this point in the draft, I don't think there are a lot of good enough prospects at the offensive line. I discussed this on my podcast this week, without a good front seven, you will not succeed as a team. This could be an underrated pick. Winovich plays like his hair is on fire. He is the typical Big Ten linebacker. He is kind of small for an outside linebacker, but with the way he plays, this could be a steal.
Round 4 Pick 116: Lamont Gaillard, C, Georgia
At some point, they need to take an offensive lineman. I think that since the Dolphins don't have the pressure of protecting a young quarterback, they can afford to do this (Sorry Ryan Fitzpatrick.) Gaillard has that typical center frame (I should know because I was a center with the same frame) He is short and big. He is very strong and has great hand placement. He has that "team captain" mentality which is huge for a group that is so dependent on the guy next to you.
Round 5 Pick 151: David Long, CB, Michigan
I have to make one bold prediction per mock. Long is a guy who very well may be taken in the third-fourth round. Because he doesn't have the length and is not the biggest guy, I have him falling in this draft to the Dolphins. Like I said, the Dolphins should be worried about creating a mold for the future, rather than try winning games in April. Long is a physical guy and a tone-setter in the defensive backfield. He is very physical when he plays. Could be a steal, if he falls to this spot.
Round 7 Pick 233: Elijah Holyfield, RB, Georgia
I'm putting Holyfield here because of his draft grade. I think some team may take a chance on him a little earlier, but this a great project pick. He is the son of former Heavyweight champion, Evander Holyfield, and it shows. Holyfield is "yoked" (has really big muscles) as we young kids like to say. He is a big, big boy. He does have a quick first step but doesn't have a "fluid" game. His 40 time (4.78) was a big concern. He could become a great special teams player.
Round 7 Pick 234: Jake Browning, QB, Washington
Why not? There is a 100 percent chance that Fitzpatrick gets hurt/benched this season. So…… Why not? Maybe Browning could get some starts this year once the Dolphins enter "super tank mode." Maybe they find their Tom Brady?
Dolphins have a lot of work to do. They have needs almost everywhere. I think the Dolphins should focus on building a great defense while grabbing an electric offensive player. They will be really bad this season. They are in full rebuild and just need to trust the process.
Check out our other Team Mock Drafts: San Francisco 49ers| Washington Redskins | Indianapolis Colts | New York Giants  |Arizona Cardinals| Jacksonville Jaguars | Detroit Lions | Tampa Bay Buccaneers | New York Jets | Green Bay Packers | Cleveland Browns | Los Angles Rams | Pittsburgh Steelers | Chicago Bears | Tennessee Titans | Baltimore Ravens | Seattle Seahawks | Buffalo Bills | New Orleans Saints | Atlanta Falcons| Cincinnati Bengals  | Kansas City Chiefs | Denver Broncos | Houston Texans | Oakland Raiders | Minnesota Vikings | Carolina Panthers
Questions and comments?
thescorecrowsports@gmail.com
Follow Us on Twitter @thescorecrow
Follow Us on Reddit at u/TheScorecrow
Follow Us on Facebook at The Scorecrow
Follow Us on Instagram at The Scorecrow
Follow Daniel Corrigan on Twitter @Corrigan_Tweets
Main Image Credit:  Embed from Getty Images