Kit Shepard | April 22nd, 2019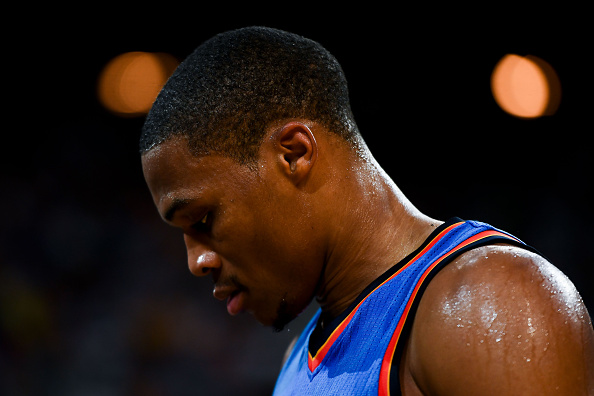 We keep waiting for the post-Kevin Durant Oklahoma City Thunder to become true contenders, but their hopes of a title are, if anything, dwindling by the year. And after a season which once promised so much, they find themselves on the brink of a third consecutive first-round playoff exit. So, has this iteration of OKC reached their peak?
Although the Thunder, in the most basic sense have improved over the three seasons since Durant left for the Golden State Warriors, progression has been minute. They won 47 regular season games in 2016-17, as Russell Westbrook captured the MVP trophy with his one-man triple-double show. In the subsequent campaign, the arrival of all-star Paul George was meant to turn OKC into title challengers, but they could only improve their wins total to 48, falling well short of expectations. This season has been an all too familiar story, as they won 49 games, enough for only the sixth seed.
In 2017 and 2018, the Thunder's season ended in comfortable playoff defeats at the first hurdle, and this year will almost certainly be no different. Last night, OKC lost a crucial game four at home to the Portland Trail Blazers to go down 3-1 in the series, leaving them in a hole which only 11 teams in NBA history have climbed out of, and only three succeeded by winning game seven on the road, which the Thunder will have to do to defy history.
Yet for so much of the season, things seemed different. George had become one of the league's bona fide superstars, dominating on both ends of the floor to put him in the MVP conversation for the first time in his career while Westbrook, despite enduring a horrendous and continuing shooting slump, averaged a triple-double for the third straight season, a historic feat regardless of how much value the stat truly has.
After George spearheaded this comeback against a major conference rival and the team that dumped them out of the playoffs last season, there was a growing consensus around the league that OKC had the best shot out of anyone at beating the Warriors in the postseason. However, after PG went down with a shoulder injury, which forced him to miss three games and clearly hampered him when he returned, the Thunder finished the season on an 11-13 stretch. Even with this disappointing finish, OKC found themselves on the weaker side of the West playoff bracket, avoiding both the Warriors and Houston Rockets.
They have not been able to take advantage, though, as the Blazers have dominated the contest so far. George's shoulder continues to bother him; he is sporting plenty of tape on both sides and said that he could not even lift it on the eve of the playoffs, perhaps explaining why is shooting just 37% from the field and 31% from three in the series. That being said, Portland is missing a vital piece in Jusuf Nurkic, but have shown OKC how to cope with injury issues.
If the Thunder exit the playoffs after five games, a scenario that seems likely, then it will be a harsh reality check for the franchise. They have managed to remain relevant even after losing a generational talent, but have shown no signs that they have the ability to separate themselves from the Western Conference middle ground. This series has epitomized this perfectly, as Damian Lillard has outplayed Westbrook, George appears unable to lead the team and, to put it bluntly, the Blazers look streets ahead of OKC.
With George, Westbrook, and Steven Adams on the books for the next two seasons at least, there is no reason to expect anything other than more of the same. Nevertheless, they may not get a better chance to make a serious push for the Finals. George's regular season heroics were not enough for a major progression regarding their wins total, and he has been able to transfer them to the playoffs for whatever reason, preventing them from capitalizing on a favorable playoff seeding. It is far too early to make predictions for next year, but it is difficult to envisage anything other than a season of 40-something wins and a first-round loss for the Thunder.
Questions and comments?
thescorecrowsports@gmail.com
Follow Us on Twitter @thescorecrow
Follow Us on Reddit at u/TheScorecrow
Follow Us on Facebook at The Scorecrow
Follow Us on Instagram at The Scorecrow
Follow Kit Shepard on Twitter @KitShepard
Main Credit Image:
Embed from Getty Images