Lamarr Fields | April 21st, 2019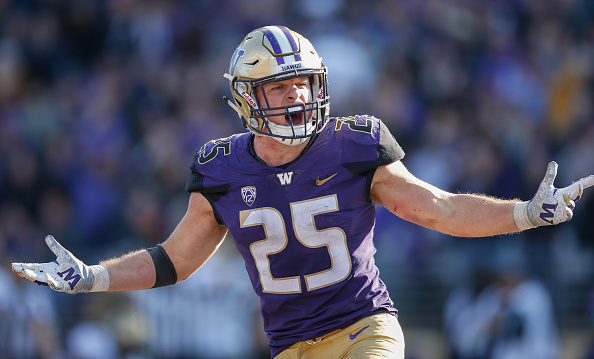 Last week I did five offensive sleepers, now it is time to do the defensive side of the ball. There are some excellent players here in the mid-to-late rounds that can help some teams.
Ben Burr-Kirven makes players all over the field; he posted 176 tackles last season at the University of Washington last year. Burr-Kirven diagnoses plays quickly and is excellent in pass coverage. Although he has short arms, he still is an efficient block shedder because of his strong hands.
At his size, Burr-Kirven will need to add weight to get stronger to be effective at the NFL level. I can see him fitting in good with 4-3 base defense because of his size. In a 4-3 defense, the defensive tackles can protect a small inside linebacker. Burr-Kirven will be a great mid-round draft pick.
Hollins has the build and athleticism the NFL teams love in edge rushers. Hollins has gotten better every year, but he lacks consistent aggressiveness. At the NFL level, he will need to play with more aggression are he will be eaten alive. The last two seasons at Oregon, Hollins had a combined 11 sacks, not very good. Although he only had 11 sacks the previous two seasons, Hollins does have a knack for getting strip sacks and causing turnovers.
Hollins will fit with a 3-4 defensive team but could be a situational pass rusher in a 4-3 system. I could see Hollins getting drafted in the late rounds, but he will need to go to a team that will coach him up and he will need to get a little stronger to hold up on the edge.
Khalen Saunders – DT, Western Illinois, 6'0 325 LBS
Saunders is a big guy with tremendous athleticism and agility for his size. He proved to be a disruptive force against upper-level talent. Also, Saunders showed some disruptiveness at the senior bowl. In 2018, Saunders had 6.5 sacks and 13 tackles for a loss.
Saunders will be an excellent run-stopper at the next level with the potential to become an adequate inside pass rusher with his quickness off the ball. His bread and butter will be a disruptive force against the run. Although Saunders will be a day three pick, this guy could be unique on the NFL Level. He will need to improve his conditioning to be disruptive for more extended periods.
David Long – CB, Michigan, 5'11 196 LBS
Long is a very physical corner for his size. At his time at Michigan, Long played a lot bump and run coverage and opposing quarterbacks rarely tried or completed passes against him. Long plays man and zone coverage well and is a willing tackler. He has quick feet, loose hips, and does not waste steps in coverage.
Long is an excellent cover guy, but his size will worry teams at the NFL Level. He lost out on a lot of jump balls because of his height. Receivers were able to box him out and make catches. Long would be an outstanding slot corner, with his quick feet and loose hips, he will be able to change directions fast and cover the slot receivers. Long will be a third or fourth round pick.
Maxx Crosby – Edge, Western Michigan, 6'5 255 LBS
Crosby ran a 4.66 40 at the NFL combine. The last two seasons at Western Michigan he had a combined 18.5 sacks. In his career, he had 133 pressures and 72 run stops. At the NFL Level, Crosby will need to get stronger and work on his technique to be successful.  He plays with high intensity but lacks the strength that will be required at the NFL level.
Crosby will probably be a day three pick; He could make a great 4-3 defensive end if the former Western Michigan star goes to a team that will put in the time with him to improve.
Questions and comments?
thescorecrowsports@gmail.com
Follow Us on Twitter @thescorecrow
Follow Us on Reddit at u/TheScorecrow
Follow Us on Facebook at The Scorecrow
Follow Us on Instagram at The Scorecrow
Follow Lamarr Fields on Twitter @Raiderway83
Main Credit Image: Embed from Getty Images