Pranav Ramasubramanian  | April 21st, 2019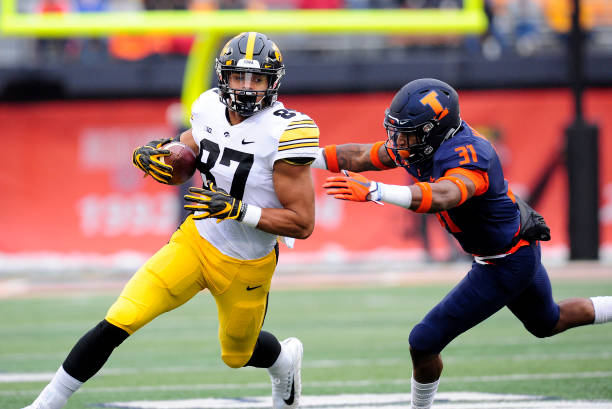 The 2019 NFL Draft is going to be happening in less than a week and all the organizations are preparing their draft plans to fill their needs. Some organizations draft really well and it helps them have good seasons while others fail to address needs that make them have to wait another year. The war rooms are going to get crazy and the player's emotions are going to be at a high, but before that let's take a look at one of the players.
Position: Tight End
Height: 6'5″
Weight: 241 pounds
College: Iowa
College Statistics
Year        Class                   Receptions      Yards                  TD
2016       Freshman           9                          70                      1
2017       Sophomore        30                        494                    11
2018       Junior                 39                         519                    7
Best game of collegiate career
On November 24th, 2017 the Iowa Hawkeyes played the Nebraska Cornhuskers in their annual Black Friday game and the Hawkeyes needed the win to get into a good bowl game while the Huskers were 4-7. Kirk Ferentz, who was the Iowa Hawkeyes' head coach had seen that Noah Fant's numbers had been going up all year and decided to draw up some plays for Fant to throw off the Husker defense while also giving Fant some confidence. Nate Stanley didn't throw much as the Hawkeyes relied more on the running game with Akrum Wadley, but the Hawkeyes were trailing 14-7 with 30 seconds left in the Half needing a score to even the game so when they had the ball in the red zone they ran a play where Fant would move to the right side of the field pretending to block the edge rusher and disguising the play for James Butler to slip Fant to the outside so when Fant successfully slipped out for just enough separation that's when Stanley threw the bullet pass that went past the linebacker's hands falling into Fant's lap for a four-yard touchdown for his first reception of the game along with the game-tying score.
The Hawkeyes came out swinging in the second half scoring on their first drive and were looking for a nail in the coffin so Nate Stanley dropped back to throw a deep pass and saw that Fant had outrun the defense so he flung the ball downfield towards Fant, who caught it down the seam, but fell down making the catch so it went down as a 44 yard reception that set the Hawkeyes up for another score.
After that score, it really opened up the game and the Hawkeyes scored again going up 35-14, but they weren't done yet and neither was Fant. On a 2nd and 10, Noah Stanley was looking to throw a quick pass and he saw Fant, who this time slips open to the left side of the field, but the route is jumped only for the cornerback to not have proper hand position so the ball falls in Fant's hands, who uses his speed to get to the sideline to outrun the defense for a 68 yard touchdown to give the Hawkeyes an insurmountable lead.
Noah Fant ended with 3 receptions for 116 yards and 2 touchdowns with the Hawkeyes winning 56-14 with this turning out to be Fant's best game in yardage and touchdowns even though he only had three receptions.
The tape shows…
Noah Fant is a better blocker than a pass catcher and he uses his size to will his way against bigger pass rushers and linebackers while also moving his feet quickly to cover up physical deficiencies. Iowa didn't run many plays for Fant in the passing game, but like in the Nebraska game, his ability to get behind linebackers with his speed makes him a matchup nightmare for anyone trying to guard him. It's not just linebackers he can outrun with his speed, but also cornerbacks, while also jumping up high to catch balls that are thrown up to him making his catch radius limitless. He's also aware in terms of where he needs to be on the field to make smart plays that ultimately help out his quarterback.
The quality that Fant has that no one seems to be talking about enough is his willingness to take a smaller role for the betterment of the team as he could've had more receptions and touchdowns, but he sacrificed for the other top tight end, T.J. Hockensen, on the team. Fant could've easily transferred to another school to get more touches, but he had no complaints about his reduced role. Fant is a viable red zone target, which should help him rack up the touchdowns in the NFL because it's valuable for a tight end to have that skill, especially when the field shrinks and the coverage gets tighter.
Draft Meter: Medium
Many teams have the need for a tight end, but the New England Patriots especially need one after the loss of Rob Gronkowski so they may look at Fant if he's still available, but he could get scooped up by Seattle, Houston or Oakland before that. This is a heavy defensive draft so the offense won't be picked too much in the first round and his teammate T.J. Hockensen actually will get picked higher likely to No.12 to the Green Bay Packers, but that shouldn't affect Fant's stock in the draft. Iowa has produced some good tight ends in the past with Greg Kittle being the most recent successful product so the expectation on Fant will be high on him from day one. Even NFL draft expert Jim Nagy had good things to say about Noah Fant, but he did have one crucial concern.
Immediate mismatch player in pass game. Atheticism jumps off tape. Better blocker IMO than I heard him having thru the fall process before I studied him myself. He will be a factor at the next level as soon as he get comfortable with a playbook. I have no clue how he learns.

— Jim Nagy (@JimNagy_SB) April 9, 2019
Fant started out slow in college and then picked up the pace so given the ample time and system he has shown he can succeed. Fant shouldn't go further than 32 in this draft and he should be gone by the end of the 1st round Thursday reaching the ultimate goal of becoming an NFL player, but he must build on his last two years in college in the NFL to truly make a good impact in the league.
Prediction: Noah Fant gets drafted in the first round by the Houston Texans at 23.
Questions and comments?
thescorecrowsports@gmail.com
Follow Us on Twitter @thescorecrow
Follow Us on Reddit at u/TheScorecrow
Follow Us on Facebook at The Scorecrow
Follow Us on Instagram at The Scorecrow
Follow Pranav on Twitter @PranavRama1
Main Image Credit:  Embed from Getty Images