Levon Satamian | April 19th, 2019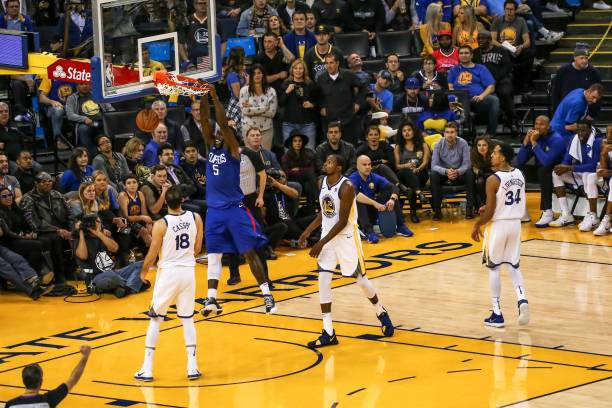 He has gone from being a bench warmer for the Houston Rockets, to being one of the most important players for the Los Angeles Clippers.
Montrezl Harrell was born in Tarboro, North Carolina. He attended North Edgecombe High School, where he was the star player. After high school, he was prepping for a year at Hargrave Military Academy in Chatham, Virginia. He led that team to a 38-1 record, averaging 25.2 points and 13.6 rebounds per game.
At first, Harrell committed to play at Virginia Tech, for coach Seth Greenberg. But, prior to Harrell going to Virginia Tech, coach Greenberg was fired. Harrell was released from his commitment to Virginia Tech and chose to attend Louisville. In Harrell's first season at Louisville, he was the backup power forward, playing just 16.2 minutes per game, averaging 5.7 points and 3.6 rebounds per game. He had his best game during freshman year, in the Big East Conference championship, scoring 20 points and getting the win against Syracuse. Harrell helped Louisville win the 2013 NCAA Championship as well. In the 2014-2015 season, Harrell saw an increase in playing time, due to the departure of Gorgui Dieng. He averaged 15.7 points and 9.2 rebounds per game. At the end of the season, Harrell received the Karl Malone Award for the nation's top power forward.
In June 2015, the Houston Rockets drafted Harrell 32nd overall. Four months later, he signed a three-year deal with the Rockets. In his rookie season, Harrell went back and forth between the NBA and Developmental league. He had a few big games in Houston but was never given a chance to shine. In 2017, during the off-season, Harrell was traded, along with Lou Williams, Patrick Beverley, Sam Dekker, Darrun Hillard, DeAndre Liggins, Kyle Wiltjer, and a 2018 first-round draft pick in exchange for Chris Paul.
After this trade took place, Harrell had a more prominent role with the Clippers.
Last season, Harrell averaged 11 points, on .635% shooting, and 4 rebounds per game, in 17 minutes of play. However, he took advantage of an even bigger opportunity this season, averaging 16.6 points, on .615% shooting, 6.5 rebounds, and 1.3 blocks, in 26.3 minutes of play. Harrell has been very consistent this season off the bench, he's been the second most valuable player to the Clippers' success this season, behind Lou Williams.
If there were a 7th man of the year award, Harrell would be the unanimous 7th man of the year. He has been that good. If Lou Williams was not the 6th man of the year or 6th man for the Clippers, Harrell could have won the 6th man of the year award this season.
If Harrell continues this type of play, the Clippers will have a chance of upsetting the Warriors. It's a slim chance, but they have a chance. He is averaging 25.5 points, on 85.5% shooting, and 5 rebounds against the Warriors, off the bench, going into game 3 of this series. Those are pretty good numbers for a player that was drafted 32nd overall in the NBA draft. Harrell is just 25-years old, and the more of an opportunity he gets, the more he will be able to produce on the basketball court.
Harrell's energy is unmatched. His perseverance and tenacity are second to none.  His drive to win has a positive impact on his teammates. When Harrell is in the game, the Clippers are more engaged and don't give up for the full 48 minutes of play even if they're down double digits.
Check out other Playoff Player Spotlights: CJ McCollum | Donovan Mitchell
Questions and comments?
thescorecrowsports@gmail.com
Follow Us on Twitter @thescorecrow
Follow Us on Reddit at u/TheScorecrow
Follow Us on Facebook at The Scorecrow
Follow Us on Instagram at The Scorecrow
Follow Levon Satamian on Twitter @TheSportsNotes
Main Image Credit:
Embed from Getty Images