Levon Satamian | April 17th, 2019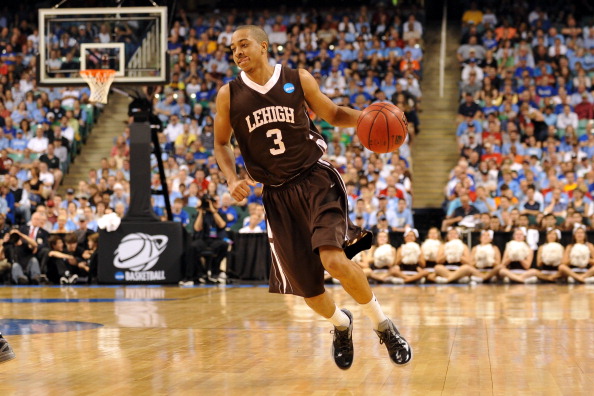 C.J. McCollum is one of the best shooting guards in the NBA. But how did he get there?
McCollum was born in Canton, Ohio. In McCollum's freshman year at GlenOak High School, in Canton, Ohio in 2005, McCollum was just 5 feet 2 inches tall. In the first game of his junior year, McCollum scored 54 points, setting the school's new single-game scoring record. During his senior year, McCollum averaged 29.3 points per game. He graduated as the leading scorer in Golden Eagles history with 1,405 career points.
Coming out of high school, he had a 3/5 recruiting star rating, and a grade of 83. McCollum grew to 6 feet 2 1/2 inches tall. He was listed as 6 feet 3 inches and 165 pounds. He had committed to Lehigh University in 2009. McCollum was a standout on the basketball court and a standout in the classroom. He graduated from Lehigh University in 2013 and received a Bachelor of Arts in Journalism.
During McCollum's college career, he won a few awards. 2× Patriot League Player of the Year (2010, 2012), 3× First-Team All-Patriot League (2010–2012), 3× Patriot League All-Tournament team (2010–2012), Patriot League Tournament MVP (2012), Patriot League Rookie of the Year (2010), Patriot League's all-time leading scorer (2361 points). As you can see, McCollum was the real deal.
He fought against many odds, being undersized and shorter than other players in high school, going to Lehigh, a private University, that was a Division 1 school. But, McCollum did not give up and worked hard on and off the court.
In 2013, C.J. McCollum was drafted 10th overall by the Portland Trail Blazers, and the rest is history. From there, McCollum has been an elite shooting guard in the NBA, averaging 17.8 points, on 45.5% shooting, 3.1 rebounds, and 2.9 assists. You may look at those numbers and say, that's not elite. But, keep in mind, McCollum in his first two seasons averaged 6.05 points, on 42.6% shooting, 1.4 rebounds, and 0.8 assists. In the last four seasons, he has averaged 21.55 points, on 45.8% shooting, 3.7 rebounds, and 3.6 assists. As you can see, C.J. has drastically improved from his slow start in the first two seasons of his career.
McCollum could have given up because he was just 5 feet 2 inches in his freshman year of high school, but, he used that as motivation, to work harder, on and off the court. McCollum knew that making it to the NBA was not a guarantee, so he went to college, completed his Bachelor of Arts degree in Journalism, and made the NBA, with a strong plan B.
Questions and comments?
thescorecrowsports@gmail.com
Follow Us on Twitter @thescorecrow
Follow Us on Reddit at u/TheScorecrow
Follow Us on Facebook at The Scorecrow
Follow Us on Instagram at The Scorecrow
Follow Levon Satamian on Twitter @TheSportsNotes
Main Credit Image: https://media.gettyimages.com/photos/mccollum-of-the-lehigh-mountain-hawks-dribbles-against-the-duke-blue-picture-id142518225?k=6&m=142518225&s=594×594&w=0&h=LtT2DlUPKQysmedJ7Q_w6MAbpSigESU6X12AUncASCU=