Cyrus Tarapore | April 16th, 2019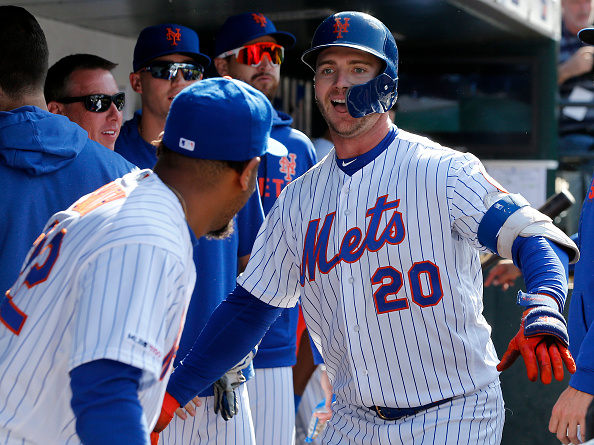 Not too long ago Dominic Smith was a first-round draft pick by the New York Mets. In 2013 the Mets selected him 11th overall. In six seasons in the minors, Dom slashed .296/.361/.426.  He and the Mets both expected him to take over the first base job for the Mets on a daily basis. Then reality hit, Dom struggled, and the Mets were again left with a question mark for an everyday productive first baseman.
Just for timeline purposes, Dom came up to the Majors in 2017. The year before, Pete Alonso was selected in the 2016 draft. Alonso produced in the minors from the start of his career. As Dominic Smith struggled to bat above .220 in the majors, Alonso was leading the minors in home runs and RBI. Alonso finished last year with 36 home runs and 119 runs batted in and a slash line of .285/.395/.579. These are extremely promising numbers for a young player, even if it was against minor league pitching. Conveniently, the buzz for Alonso started.
Brodie stated early in spring training the top 25 players would make the opening day roster. Alonso clearly was one of the top 25. However, holding Alonso back in Syracuse for 10 days or so would enable the Mets to have another whole year of controllable service time when it comes to Alonso's eventual free agency. For this reason, many thought the Mets would do the "cheap" thing and hold Alonso back. But Brodie kept his word, and not only did Alonso make the roster as the starting first baseman, but Dominic Smith also made the team. Dom did not make the team by default; he earned his way by having a superb spring training.
It's great to see Alonso clobbering the ball, making nifty stretches at first base. And it's also great to see Dominic Smith producing in a backup, pinch hitter type role. But the camaraderie between Alonso and Smith is astounding. Alonso went for Smith's job, and when Dom saw that coming he got rolling. He lost weight. He started using a CPAP machine. Whatever was causing Dom to be dormant has vanished. But you don't see Dom trying to hold Alonso down. Instead, they're celebrating almost daily. It's infectious. High fives, bro hugs, and jubilation. These guys just want to win. The hell with the small stuff! Smith is using the opposite field for clutch hits. Alonso is hitting for average, and for power. The potential in Alonso seems endless and Mets fans can only hope this is the real deal.
Again, small sample sizes. But Alonso is slashing .339/.418/.763 with six bombs in 67 PAs. Dom Smith is batting .421 with a .500 OBP. I think the Mets may have solved their vacancy at first base.
If Alonso turns out to be an all-star this year or if he manages to win Rookie of the Year that would be a huge bonus for the Mets. Brodie should try to snag Dallas Keuchel. With things looking the way they look, the Mets should go all in. That is, after all, what Brodie proclaimed many times. If we get Keuchel and tweak the roster as need be, then maybe some fans will start to proclaim "come get us" as Brodie proclaimed this winter.
As the season progresses, undoubtedly the scouting report on Alonso will grow. He will hit a rut here and there. But the sky is the limit for Alonso, and his rise is helping the Mets immensely.
Questions and comments?
thescorecrowsports@gmail.com
Follow Us on Twitter @thescorecrow
Follow Us on Reddit at u/TheScorecrow
Follow Us on Facebook at The Scorecrow
Follow Us on Instagram at The Scorecrow
Main Credit Image: Embed from Getty Images