Joel Dorcas | April 16th, 2019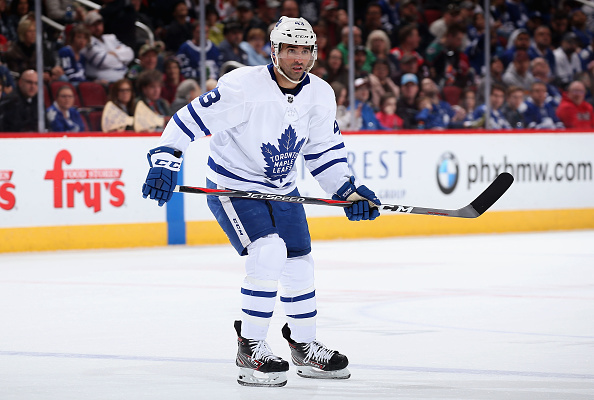 Toronto Maple Leafs super pest Nazem Kadri has been handed a pretty significant suspension.  This isn't the first time for Kadri to be punished by the NHL
Kadri has had five suspensions over the course of nine NHL seasons. Here is an official tweet by NHL Player Safety:
Toronto's Nazem Kadri has been suspended for the remainder of the First Round for Cross-checking Boston's Jake DeBrusk. https://t.co/doqkyMVrLS

— NHL Player Safety (@NHLPlayerSafety) April 15, 2019
This comes to no surprise for those who have followed the fiery Kadri over the year. He has always been an agitator and isn't shy to physical play. Where Kadri gets into trouble is he tends to cross the line and can be very irresponsible with the stick(case and point) and for his constant yapping/ trash talking. Kadri couldn't out of his head that the Bruins, and especially Jake Debrusk, were keying in on Kadri because they knew that Kadri is prone to retaliate quickly without hesitation. Coach Mike Babcock is clearly growing thin with Kadri's antics and was seen telling Kadri to sit the *expletive*down earlier in the game when Kadri and Debrusk were trash-talking each other.
The unfortunate part to all of this is that Kadri is actually a really good player that provides a spark and physical element to the game that will be missed. William Nylander is thought to be the next man up to fill the third line center role. Another storyline to follow is who will dress to replace the vacated forward on the fourth line. Tyler Ennis, Nic Petan, Trevor Moore and maybe even Nicholas Baptiste could slot into bigger roles.
Questions and comments?
Follow Us on Twitter @thescorecrow
Follow Us on Reddit at u/TheScorecrow
Follow Us on Facebook at The Scorecrow
Follow Us on Instagram at The Scorecrow
Follow Joel Dorcas on Twitter @Joel_Dorcas6
Main Image Credit:
Embed from Getty Images