Andrew Harbaugh | April 15th, 2019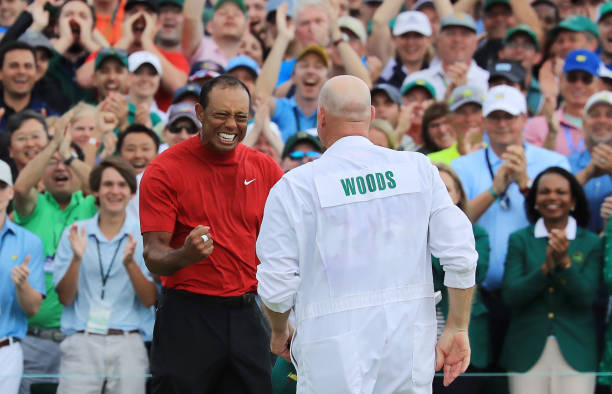 I won't pretend to be any sort of a golf expert but I am a fan because of my grandfather. I remember seeing golf balls from different courses in his office at home and I would always ask where they were and had he been there. My favorite piece of golf memorabilia he had was a pen holder that said Worlds Greatest Golfers and below it listed Gary Player, Arnold Palmer, Jack Nicklaus, and then his name. That was the first time I remember being introduced to the history of golf and his legendary names.
A name that was missing from that pen holder was Tiger Woods, the greatest golfer of my lifetime. We would always talk about who was the best and coming off his incredible 2008 U.S Open win we all thought for sure he would break Nicklaus' all-time majors' record. Little did we know that the events of November 27th, 2009 would change the trajectory of an all-time great.
This leads me to ask, where were you November 27th, 2009? Most people reading this were probably Black Friday shopping, back when it was on Friday, or recovering from a hefty Thanksgiving meal. As for me? I remember my 15-year-old self enjoying holiday break by playing on the computer when I got a text alert from ESPN saying Tiger Woods had been involved in a one-car crash.
ESPN and all major media outlets obviously jumped all over it and began diving into what it could have been. Was it drugs? Alcohol? Or was it an angry wife chasing him out of the house? Maybe it was all the above but regardless of what happened in the middle of the night on November 27th, 2009 the entire sports world was about to change.
Tiger Woods, the greatest golfer of his generation, was not in the news the following weeks for his celebratory fist pumps or raising major titles. No, he was in the news for cheating on his wife with over a dozen women.
He took off the rest of 2009 due to his injuries sustained in the crash and his public image cost shareholders billions due to his image being tarnished. Nevertheless, Nike and so many others both companies and fans stuck behind Woods. We knew he would get back on the wagon. Even after we watched his first public statements after the crash and infidelity reports we stuck by him, and when he said he would be at the Master's that April we all took a deep breath.
We shouldn't have but we did.
Skipping ahead 11 years Woods would suffer missed cuts, major back surgery, and missed tournaments Woods would only have won one tournament since that early morning in 2009. He would often show glimpses of the old Tiger but never enough, he lacked so much that I said to my grandpa, the same grandpa who introduced me to golf that Tiger Woods would never sniff or so much as win another major the rest of his life.
Then came April 13th, 2019.
11 years later we would be brought back to Augusta National Golf Course and just like everything else Tiger Woods had faced in those many years he faced another uphill battle. He had never overcome a 54-hole deficit in his entire career but would that make a difference to Tiger now? He had his priorities straight and he knew no matter what he would have Sam and Charlie waiting for him at the green of hole 18.
His final round at Augusta would have its ups and downs, its birdies and bogeys but the moment we all took a deep breath again was the tee shot at 16.
This deep breath would mean something more though.
While it wasn't a hole in one it was as close as we could expect and we all smiled and said to ourselves "okay, this is different". That something different was him never breaking a smile or any show of emotion. He reminded us all of the finisher that had been inside him, dormant, and waiting to come out again. 11 years it built up and it culminated in something special at 2:32 P.M Est.
Tiger Woods finally was back.
Twitter overflowed of people skipping flights to stand outside bars at airport terminals to watch that walk up 18. People were stopping whatever they were doing to watch the man in the red polo finish off the greatest comeback in sports history. So many images would come out from this legendary event but the most important one was yet to happen. Tiger sank his final put he gave us all a fist pump that we have all imitated time and again, he would then embrace his caddie Joe Lacava and then he would head off the get his fifth gold jacket. One last thing had to happen though to complete this journey, something was waiting for him like it had so many times before.
We have so many images of Tiger embracing his dad Earl Woods after major victories but instead, we had the only people who never left his side through it all, Sam and Charlie. That is the greatest image from this legendary weekend of golf we all will never forget.
Tiger, we missed you and we are glad to have you back.
Questions and comments?
thescorecrowsports@gmail.com
Follow Us on Twitter @thescorecrow
Follow Us on Reddit at u/TheScorecrow
Follow Us on Facebook at The Scorecrow
Follow Us on Instagram at The Scorecrow
Follow Andrew Harbaugh on Twitter @MandrewNFLDraft
Main Image Credit:  Embed from Getty Images