Andrew Harbaugh | April 13th, 2019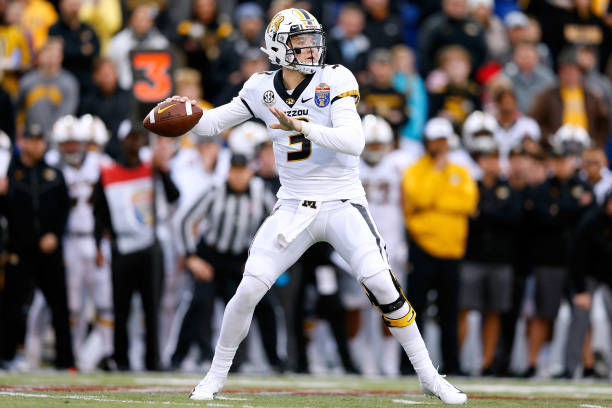 Well, folks, we are finally at the tail end of my position rankings and we saved the big guns for last, the quarterbacks. This quarterback class lacks the pop at the top that last years had but it does have some decent talent about 5-7 deep.
Many experts are saying and mocking between three to four of them to various different teams. Josh Rosen and where he may land also will play a big impact on where they land and what teams will do. That being said let's dive into who truly deserves to go high in this draft and who doesn't.
Rankings 1-6
Player Profile: Drew Lock
I was very vocal all year and all draft season that I was not very high on Drew Lock but he has aced the process more than anyone else. Lock had some lower body issues with his hips and feet moving like he was on skates, he realized that and brought in quarterback coach Jordan Palmer. Palmer is the same guy who cleaned up Josh Allen last year enough to where he was seen as a top ten pick in the draft. You pair these improvements with his electric arm it's hard not to see why teams and scouts fall in love with him.
Rankings 7-12
Player Profile: Brett Rypien
I have bestowed upon him the title of owning the sexiest deep ball in this draft. His placement and pure arm strength are just amazing, he isn't your stereotypical Boise State Bronco quarterback. Rypien also has the accuracy to go with his deep ball which is why I feel I am so high on him. The media I think is still holding the Boise State thing against him which I don't think is fair with him. He has shown he is much more and he is going to surprise whatever team gives him a shot on day three of the draft.
Rankings 13-18
Player Profile: Easton Stick
I'm sorry North Dakota State twitter, I am fully anticipating the hate here but I just don't get the hype with Stick. Yes he won all these national titles, yes he is a proven leader but his mechanics and arm strength are horrendous. So many times he is forcing his receivers to make adjustments or just under throwing them completely. His arm looked best hitting Bruce Anderson on wheel routes but even then he wasn't anything special. I wouldn't be surprised to see him go undrafted and become a training camp and practice squad arm for a team.
On that rather positive note, my twitter handle is @Mandrewnfldraft for you NDSU fans, please don't get too rough with me.
Check out my other final positional rankings: Running Back | Wide Receiver |Tight End
Questions and comments?
thescorecrowsports@gmail.com
Follow Us on Twitter @thescorecrow
Follow Us on Reddit at u/TheScorecrow
Follow Us on Facebook at The Scorecrow
Follow Us on Instagram at The Scorecrow
Follow Andrew Harbaugh on Twitter @MandrewNFLDraft
Main Image Credit: Embed from Getty Images