Mike Fanelli | April 12th, 2019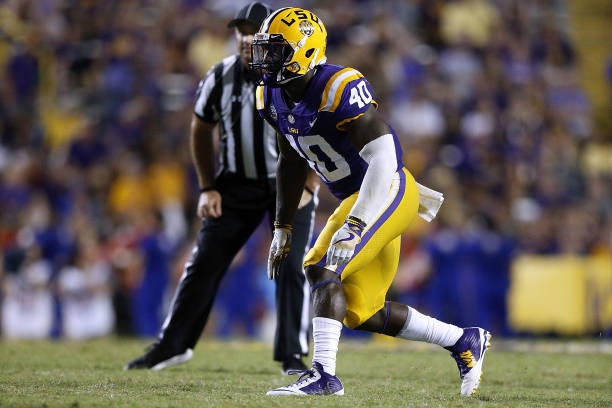 The 2019 NFL draft is less than a month away and teams are putting the finishing touches on their player evaluations. Every year we see several surprising picks that come out of nowhere like when the Seattle Seahawks drafted Rashaad Penny in the first last year. Everyone loves mock drafts so here is a seven round mock draft predicting every Tampa Bay Buccaneers' pick. To help with this mock draft, I used the fan speak on the clock simulator.
Round 1, 5th Overall: Devin White, LB, LSU
This has been the worst-kept secret during draft season; the Buccaneers really like White. After losing Kwon Alexander to the 49ers in free agency, the Buccaneers signed Deone Bucannon but he is under contract for just one year and isn't a difference maker. The Buccaneers' defense last year was horrible and the team needs a tone setter on that side of the ball; insert White.
Most draft personnel believe White is the best linebacker in the draft class, yet he is still learning the position. He was a converted high school running back but has improved each season at LSU. White has a strong work ethic and competitiveness as he never takes plays off. While White is still a developing player he is already an ideal sideline-to-sideline linebacker who will make plays on the ball both in the run and pass game. He should be a lock for a top-five pick.
Devin White is a raw, 'see ball/get ball' LB at this stage but boyyyy does he have some athletic gifts off the bus. SL/SL range and a thump when he arrives!

White is a size/speed freakshow that will make someone's defense better in 2019 pic.twitter.com/4Io7VFRa0U

— Ben Fennell (@BenFennell_NFL) January 11, 2019
Round 2, 39th Overall: Josh Jacobs, RB, Alabama
While there is still hope for last year's second-round pick Ronald Jones to bounce back from a historically bad rookie season, the Buccaneers can't pass up on the opportunity to take Jacobs with this pick. Many either have first-round grades on Jacobs or expect him to be selected on the first night of the draft. The Buccaneers ranked 22nd in the league in rushing attempts last year and while Bruce Arians likes his vertical passing attack, the team needs to find balance on offense if they want to have any success next season.
During the 2016 season while in Arizona, Arians' up and coming star running back David Johnson set the NFL on fire; finishing with 373 touches for 2,118 scrimmage yards and 20 total touchdowns. Jacobs and Johnson have a lot of similarities in their games. Despite just 299 career touches at Alabama, Jacobs showed an ability to be a three-down back in the NFL while making an impact in both the run and pass game. One of my favorite parts of Jacobs' game is his attitude and how he isn't afraid to make a big-time block.
My favorite Josh Jacobs (8) play…explosive & attitude. Love it! pic.twitter.com/Z3q3Tu78VB

— Daniel Jeremiah (@MoveTheSticks) January 19, 2019
Round 3, 70th Overall: Jachai Polite, EDGE, Florida
Last season the Buccaneers ranked tied for 19th in the league with 38 sacks. While that isn't a terrible performance, they were only a handful of sacks away from being in the bottom five of the league. Other than Jason Pierre-Paul, no other Buccaneer player had more than 6.5 sacks last season. There have been rumors that longtime defensive tackle Gerald McCoy could be on the chopping block and if so, the Buccaneers will lose their franchise's third all-time leader in sacks. Even if McCoy returns for the 2019 season, another pass rusher needs to be added.
In the history of the NFL draft, there haven't been many players that have had a worse draft process than Polite. After declaring back in December, Polite has gone from potential top-15 selection to possibly falling into day three of the draft. Reportedly he was awful during combine interviews and he hurt his hamstring at the combine and his pro day. However, his on the field play is very good and he makes athletic play after play. If the Buccaneers can get the Florida version of Polite in the third round, that would be a steal.
This is probably one of the most athletic plays you'll see a defensive lineman make on tape all year. Jachai Polite is a freak. pic.twitter.com/7LJYmVi5Jq

— Jonah Tuls (@JonahTulsNFL) December 27, 2018
Round 4, 107th Overall: Jaquan Johnson, SAF, Miami
Even after spending two second-round picks on cornerbacks last year, the secondary still needs a lot of work. Justin Evans played well in his second season after a rocky rookie year and has one of the starting safety spots locked down. However, despite spending a fourth-round pick last year on Jordan Whitehead and signing former Packer Kentrell Brice in free agency, the Buccaneers still need to add another safety to the mix.
Despite measuring in a 5'10" 191 lbs at the combine, Johnson doesn't lack physicality in his game. He isn't afraid to deliver big time hits when given the chance and plays with urgency every snap. During his four years at Miami, Johnson often wore "the turnover chain" as he had nine career turnovers. Johnson is a good open field tackler and can set the tone in the box. His downhill and physical style of play will perfectly offset Evans' deep coverage ability.
Round 5, 145th Overall: Dennis Daley, OT, South Carolina
Starting right tackle Demar Dotson will turn 34 years old during the 2019 season and is entering the last year of his contract. The Buccaneers need to have a succession plan for the 2020 season. As a two year starter, Daley has plenty of experience going up against NFL talented pass rushers in the SEC. He does a good job with drive blocks and getting out in the open field on screen passes. While some of his snaps may not look pretty, he does a good job of recovering when he makes a mistake at the snap.
Winning ugly >>>>>>> losing. Something @BrandonThornNFL and I have always talked about with OL. Gotta be able to win when a play goes to hell once in awhile. Dennis Daley keeps fighting despite messing up snap count pic.twitter.com/lL39b7W1Dp

— Jon Ledyard (@LedyardNFLDraft) December 22, 2018
Round 6, 208th Overall: Iman Marshall, DB, USC
The is the pick the Buccaneers got from the Eagles in the DeSean Jackson trade and it is only fitting that they use it on a player who could end up coverage Jackson sometime during his career. Even after investing three picks last year and a fourth-round pick earlier during this mock draft in the secondary, the Buccaneers need more help. Marshall played cornerback at USC but some believe he should move to safety in the NFL. Either way, adding Marshall can't hurt as the Buccaneers gave up the third most passing touchdowns last season.
Round 7, 215th Overall: Terry Godwin, WR, Georgia
With the loss of Adam Humphries and Jackson this offseason, the Buccaneers need to bring in some wide receiver depth. Justin Watson and Breshad Perriman are solid pieces but competition is needed. Terry isn't related to Chris Godwin but it would be interesting to see two Godwins on the field at the same time. However, don't mistake this pick as a joke; Terry can play. Coming from Georgia, Godwin didn't have a lot of production but he made the most out of his targets. Godwin has natural hands, good field awareness and is not a wide receiver who will be tackled without a fight.
Terry. Godwin. 😳 pic.twitter.com/v0VVrrtYgP

— SEC Network (@SECNetwork) October 7, 2018
Check out our other Team Mock Drafts: San Francisco 49ers | Washington Redskins | Indianapolis Colts | New York Giants  |Arizona Cardinals| Jacksonville Jaguars
Questions and comments?
thescorecrowsports@gmail.com
Follow Us on Twitter @thescorecrow
Follow Us on Reddit at u/TheScorecrow
Follow Us on Facebook at The Scorecrow
Follow Us on Instagram at The Scorecrow
Follow Mike Fanelli on Twitter @mikesports22
Main Credit Image:Embed from Getty Images