Pranav Ramasubramanian | April 9th, 2019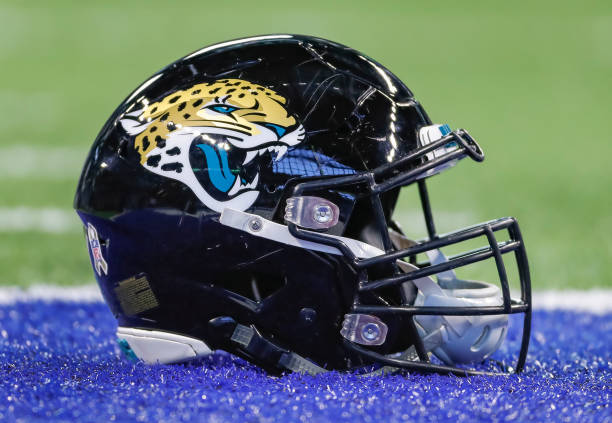 I projected the Jacksonville Jaguars at 12-4 and winners of the AFC South, but they seemed to really fall off a cliff this year. The Jaguars never seemed to find their footing this year and saw themselves out of the playoff picture. So why was it that they lost their footing this year?
Leonard Fournette's leg issues resurfaced this season as he pulled his hamstring in their Week 1 win against the Giants and was out for 3 weeks. This injury didn't shake the Jaguars as they seemed to keep their balance intact until he returned in Week 4 despite low production from T. J. Yeldon. However, his return didn't last long because he felt tightness in his hamstring and was forced to come out of the game and it kept him out all October. The Jaguars had decided that they needed a strong bruising back and traded with the Browns for Carlos Hyde and signed Jamaal Charles to try and get some balance, but the failure of integrating both of these players into their system led to a brutal October stretch where they lost four games in a row ultimately cutting Charles. Leonard Fournette returned in November, but even he couldn't save them as they lost all three of their games in November putting them at 3-8 and out of the playoff picture. Blake Bortles was asked to do more than the bare minimum he had done last year because of Fournette's absence and with a new receiving core around him, he just seemed lost at times resulting in him getting benched in favor of Cody Kessler. The Jaguars only managed to win two more games finishing at 5-11 because even when given the opportunity to win close games they came up empty and Fournette's injury had him playing too cautious rather than playing at his hardest and best.
A statistical look at the offense
Leonard Fournette finished the year with 133 carries for just 439 yards and 5 touchdowns in eight games this season due to injury while quarterback Blake Bortles had a horrid year although he did throw for 2,718 yards he only threw for 13 touchdowns and had 11 interceptions in 13 games. The backup Cody Kessler got the nod for the starting job for five games at quarterback and Kessler really made the Jaguars miss Bortles as Kessler had very poor performances finishing with just two touchdowns and two interceptions, but did get decent yardage throwing for 709 yards. The only other running back on the roster to get close to Leonard Fournette's yardage was T.J. Yeldon, who had 104 carries for 414 yards in 14 games with just one touchdown while Carlos Hyde had 58 carries for 189 yards in eight games, Corey Grant had 13 carries for 40 yards in five games and Jamaal Charles had 6 carries for 7 yards in his short two-game stint with the Jaguars. It's ideal to have the running back also help with receiving the ball on the run and T.J. Yeldon did just for that for the second-most receptions on the team with 55 receptions for 487 yards and four touchdowns while the player who had the most receptions and receiving yards on the team this year was Dede Westbrook, who had 66 receptions for 717 yards and five touchdowns. The other receivers didn't have such an impact as Donte Moncrief had 48 receptions for 668 yards and three touchdowns in his first year with the team while Keelan Cole had 38 receptions for 491 yards and one touchdown and DJ Chark and Rashad Greene didn't even get to 200 yards with the consistency not being there leading to lots of confusion on offense. The tight ends only accounted for one touchdown and weren't very engaged on offense even James O'Shaughnessy only had 24 receptions for 224 yards while Niles Paul and Austin Seferian-Jenkins never got going leaving it up to the defense to try and help them out to win games.
Defense fails to save the season
The legendary defense wasn't able to sustain the same energy this year as they were put on the field too much because of the offense's inability to sustain drives. The cornerbacks had a nice year scrambling to the ball with the help of linebackers Telvin Smith and Myles Jack but were unable to disrupt the passing lanes. The pressure on the quarterback was low because it seemed like throughout the course of the game the schemes were the same and opponents were easily able to see where the pressure was coming from and countered well. Although Jalen Ramsey had a disappointing campaign he kept his hands active with 13 pass deflections trying to break up as many passes as possible, but offenses tended to throw away from him because they wanted to test D.J. Hayden or Barry Church, which usually worked well. The trade of Dante Fowler wasn't a good look either because they lost a good pass rusher for a future draft pick that they might just use on offense instead. The Jaguars let opponents build leads and then milk the clock away rather than getting the stop to give Bortles more chances even though the offense wasn't much help this year.   
A statistical look at the defense
The only two effective pass rushers this season for the Jaguars were both of the defensive ends with Calais Campbell having 10.5 sacks along with 72 combined tackles, 52 solo and 19 assisted and Yannick Ngakoue having 9.5 sacks along with 28 combined tackles, 25 solo and 3 assisted really getting in the quarterbacks faces, but they didn't get much support from the other players on the frontline part of the defense. The defensive tackles either have to be good at stopping the run or get sacks and none of the defensive tackles did that this year as Marcell Dareus and Malik Jackson had just 32 tackles while Abry Jones had 29 tackles with just 5.5 sacks from all three of them combined so they relied on the linebackers to bail them out. Telvin Smith and Myles Jack had a great year limiting the run as Smith had 134 combined tackles, 100 solo and 34 assisted while Jack had 107 combined tackles, 75 solo and 32 assisted, but they couldn't help rushing the quarterback because of this immense focus on the running back. A knee injury couldn't stop one of the NFL's best cornerbacks in Jalen Ramsey, but he did regress in terms of impact on the field despite putting up similar numbers to last year with three interceptions and 65 combined tackles, 62 solo and 3 assists while the rest of the players in the secondary each only had 1 interception on the year. The cornerbacks were decent tackling this year as D.J. Hayden had 46 combined tackles, 39 solo and 7 assisted, and A.J. Bouye had 54 combined tackles, 46 solo, and 8 assists, but this still didn't make up for their lack of effort on defense. The backend of the defense that is usually solid didn't show up this year as even tackling-wise the numbers weren't that impressive as Barry Church only had 38 combined tackles, 32 solo and 6 assisted while Tashaun Gipson had 54 combined tackles, 44 solo and 10 assisted so the Jaguars never found form.
The Jaguars were able to snag Super Bowl champion quarterback Nick Foles for 4 years and 88 million to bring some firepower to their offense and cut Blake Bortles so they will be ready for another Super Bowl push next season. This may change their plans for the draft as they may forgo drafting a quarterback for some defense early. They also made some other roster cuts cutting running back Carlos Hyde, defensive tackle Malik Jackson, offensive tackle Jermey Parnell, free safety Tashaun Gipson, long snapper Carson Tinker, and kicker Kai Forbath. If they want next season to be a success they need to learn from this year's failures and start training camp with a new fresh attitude.
Check out our other Team Reviews: Atlanta Falcons | Minnesota Vikings | Washington Redskins | Miami Dolphins | Cincinnati Bengals | San Francisco 49ers | New York Jets | Denver Broncos | Indianapolis Colts | Oakland Raiders | Baltimore Ravens | Green Bay Packers | Tampa Bay Buccaneers | Detroit Lions | New York Giants | Cleveland Browns | Buffalo Bills | Pittsburgh Steelers| Arizona Cardinals | Los Angeles Rams | New England Patriots | Chicago Bears | Dallas Cowboys | Kansas City Chiefs | Carolina Panthers | Los Angeles Chargers | Houston Texans | Tennessee Titans | New Orleans Saints | Seattle Seahawks
Questions and comments?
thescorecrowsports@gmail.com
Follow Us on Twitter @thescorecrow
Follow Us on Reddit at u/TheScorecrow
Follow Us on Facebook at The Scorecrow
Follow Us on Instagram at The Scorecrow
Follow Pranav on Twitter @PranavRama1
Main Image Credit: Embed from Getty Images